January 13th, 2011 by
david brothers
| Tags:
marjorie liu
,
new mutants
,
zeb wells
Here's a couple of bits from X-Men comics I dug, mainly for their writing.
---
First bit's from New Mutants, Vol. 2: Necrosha
, with words by Zeb Wells and art by Diogenes Neves. I really dig Wells's work in general and his work on New Mutants in specific, but this trade is such a mixed bag. As soon as Wells sets up what was clearly meant to be his second arc (the soon-ending New Mutants: Fall of the New Mutants
), he has to write a few tie-in issues to Necrosha (a crossover I did not read) and Kieron Gillen interrupts to clean-up some crap from Siege (a crossover I did not like). The switchover from regular New Mutants to Necrosha was pretty smooth, and the story was good, but the overall picture of v2 is that it's a hodgepodge. I thought New Mutants, Vol. 1: Return of Legion
was a really strong book, too. The ship was righted after all this crossover crap wrapped, but man. Ugly business. Death to events.
Anyway, here's one page from a Necrosha issue. It's from the POV of a recently revived Doug Ramsey, whose mutant power is that he listens well. Or understands every language ever. Unsurprisingly, his mutant power didn't protect him from being shot and killed years ago. Wells introduced a neat twist on his powers in this issue, and hopefully the red on black text (why?) is legible.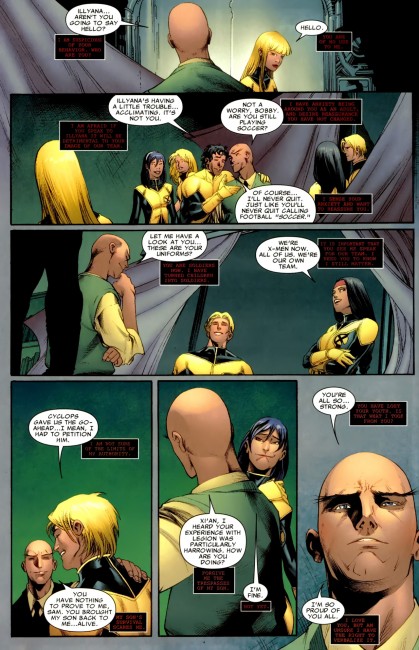 I like this, because it makes what's honestly a pretty crappy power for adventure stories into something interesting. He can decipher what they mean, rather than what they're saying. He can also now "read" other things, from cities to computer programs, but this was the bit I liked the best. Wells nailed the characterization here, and I particularly like how Sam Guthrie and Bobby Dacosta come off. I've liked those guys since I was a kid and high on that Nicieza/Capullo X-Force. Clever work.
---
Next is X-23 4, words by Marjorie Liu and art by Will Conrad and Marco Checchetto. Colors by John Rauch. I think this page is Checchetto, but don't quote me. I picked up the first issue because Marjorie Liu is a pretty ill writer, but I was left pretty underwhelmed. The "Wolverine is in Hell. Hell! HELL!" stuff that's spread across the Wolverine family of books right now is a huge drag, and that first issue wasn't really for me. 4 was the start of a new arc, and actually feels like where the series should have begun. It's much better than before, though I'm still not feeling the art. I think that may be due more to Rauch's colors, though. He makes stuff seem really washed out, sort of like how Pete Pantazis did on JLA a while back. We'll see how it shakes out.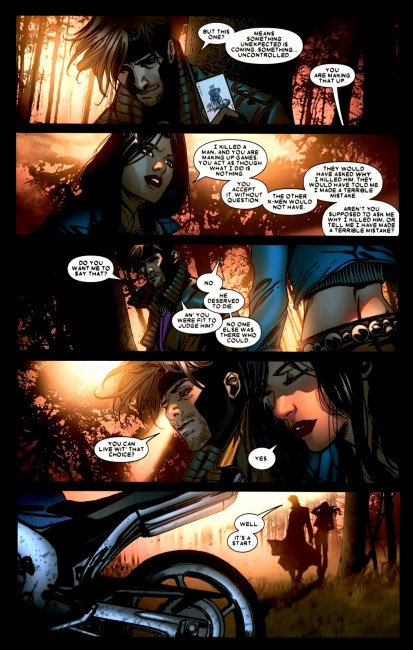 I think the "Heroes don't kill!" thing in comics is dumb, and have harped on it ad nauseam. I like this bit, though, because it's more… honest. X-23 is a character who has gone from killer to child prostitute and back around to being a killer again. Only this time, she's a Wolverine-style killer, where it's hyped up and encouraged until someone decides it isn't cool. And that always rubbed me the wrong way, like the guy who rails about how drugs are for idiots but is down to hit a blunt at a party. Which is it? Pick one and stick with it.
This, though, is a more honest treatment than the either/or that infests cape comics. It's just, "You did this thing. Can you live with it?" "Yes, he deserved to die." "Well, all right." I like that. When your mutant power is "kills people real good," a different approach from your usual superheroic code of honor is required. Here, the killing isn't treated as something positive, or something to be encouraged, but it is treated as necessary, or maybe even just. More like this, please.
Similar Posts: