October 15th, 2010 by
david brothers
| Tags:
frank quitely
,
pretty girls
I'd intended to have a Pretty Girls ready for today, but NYCC caught up to me last night and I passed out pretty much as soon as I got home from work. But whatever, there's no shortage of good art online, so I can flip the script this week and present you with this: Babes With Big Bazookas, written by Robbie Morrison, drawn by Frank Quitely, and posted by Joe Bloke at Grantbridge Street.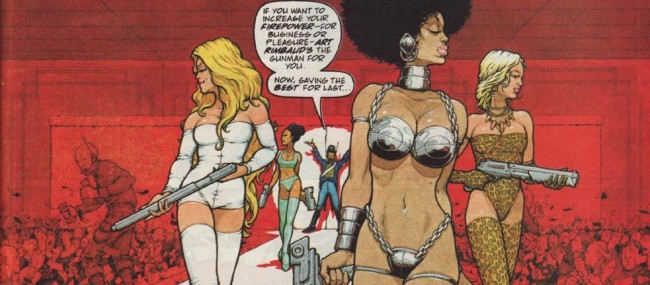 It's from Judge Dredd Megazine vol 3 #26, and if anybody reading this knows word one about British comics, leave a comment or email me with some info on where I can buy a collected edition because I need this.
Any readers feel like schooling me on British comics? I know a little, but not enough, and I want to know more.
Similar Posts: