September 9th, 2010 by
Esther Inglis-Arkell
| Tags:
batman and robin
,
damian wayne
So Batman has a son conceived under unfortunate continuity circumstances.  And this son becomes Robin while displaying no interest in justice, goodness, or preserving life.  He's an eight year old who kills people, and throws in some attempted murder of the hero's family.
He provides a permanent tie to one of the most annoying families in comics: a father who is always causing trouble for no reason while trying to achieve his goal of nobody knows, and a daughter whose one goal in life seems to be proving Freud right about that whole 'penis envy' theory.
Meanwhile the kid is shown, at eight or ten, to be better at everything than everyone.  Occasionally he provides some flashes of amusement, because he's rude about it.  However, mostly he's a more violent, more angry, more disrespectful version of Batman.
Really not my cup of tea, but at least he was a cup of some sort of boiling liquid and that proved useful last month when he was thrown in the face of The Joker.  Finally, finally, finally, the guy who can mow down anything and feel good while doing so started something I've been hoping was going to happen for years.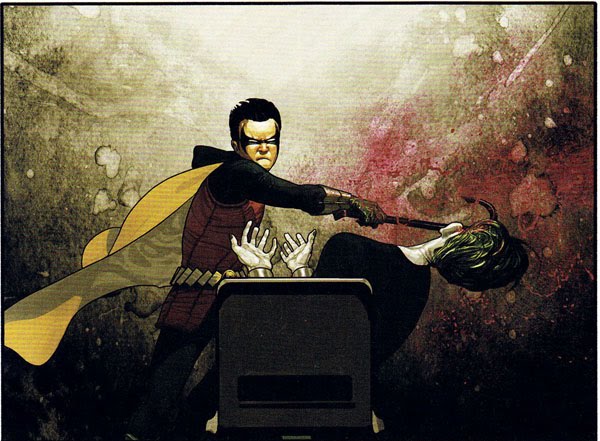 Finally!  Finally, in Batman and Robin #13, Damian did something I can approve of.  And don't tell me that the Bat universe would be poorer for losing The Joker.  Go ahead and tell me about one good Joker story from the last twenty years.
But he's Damian, and his primary purpose for existing seems to be bugging me, so I was not surprised to see the preview for Batman and Robin #14.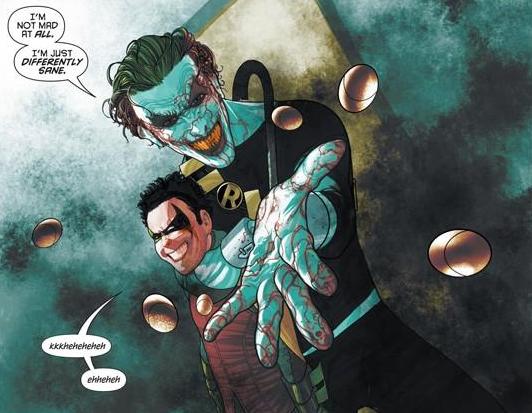 Oh, for crying out loud, Damian.  The one thing I like you for, and you can't do it.  Remember when you decapitated that guy?  All you had to do was bring a sword instead of a crowbar, and this could have been over by now.
Idiot.  What are you good for, anyway?
Similar Posts: