May 11th, 2010 by
david brothers
| Tags:
eiichiro oda
,
manga
,
one piece
Good villains deserve what they get. We look forward to it and revel in it when it finally happens. That's why they commit crimes, make us afraid, or do terrible things. Sometimes this leads to situations where the accumulated crimes of the villain are too heinous to be settled by a punch in the face. When done properly, however, the fistfight on top of a burning building is just what's needed to salve the wounds caused by a villain's actions in a story. The villain catches a bad one, the hero gives with a quick one-liner, and fade to black.
It's a tried and true formula. Someone does something bad, someone else punches that first person in the face, and we all feel better. In One Piece 16, subtitled "Carrying On His Will," Eiichiro Oda switches up the formula a little. Wapol, the villain of the volume, was introduced in a scene that was more funny than threatening. He chewed up a bit of the Merry Go and was punched over the horizon for his folly.
Later, the Straw Hats show up on Drum Island looking for a doctor. Wapol shows up once again and attempts to reassert his control over the kingdom. He does some more buffoon-type things, in addition to beating up a former subordinate, and then moves along. He causes some more minor mayhem, but nothing overly serious, on the way to reclaiming his throne at Drum Kingdom's castle. He eventually scales the sheer cliff face that sits below the castle, only to find Luffy, Nami, Sanji, and their two new allies, Dr. Kureha and Tony Tony Chopper, occupying it. He flips out.
The problem is that despite his antics thus far, he hasn't quite managed to become a worthy villain. He's an obstacle. He is, at best, on the level of a mid-boss, someone you beat up on your way to tackling the real bad guy. Wapol's arrival is just a stepping stone to the point. He's been completely undersold. There's no "Oh no, Wapol!" or "Grrr, this guy!" at work. He's just a funny fat guy with an eating disorder-based superpower.
Oda seems to recognize this, too. There's no build-up or no big speech from Luffy. He just says "I've got a score to settle with you guys!" and whips his arm back for a Gum Gum Bullet. Quick, easy, to the point. Pop him once and we're on to the next one.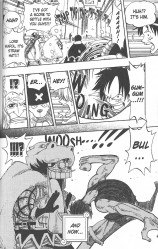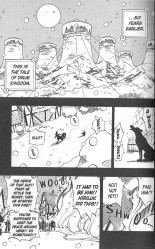 Freeze frame, director. Wapol's eyes are bugged out in surprise. Luffy's fist is six inches away from impact. His muscles have gone tight from the strain. He got as far as "Bul-," with the "-let" sitting somewhere in the future. The record scratches and we pick up six years in the past.
We see the story of how Tony Tony Chopper came to be. We meet Dr. Hiriluk, a quack doctor who does about the same amount of harm as he does good, in the service of a kingdom that is lacking in doctors. We see Dr. Hiriluk rescue and befriend Chopper, who is drawn considerably more round and fuzzy than he is later in the series, and we watch their relationship blossom over the course of the year. We meet Dr. Kureha back when she was a spry 133 years old.
And then there is Wapol, the spoiled prince who became king and immediately began squandering his father's legacy. We get a proper introduction to Dalton, a warrior who doesn't like where Drum Kingdom is headed. We see how Wapol ignores the politics and civility that are required of his station. In a remarkable coincidence, we see Wapol literally bump into a young Nefeltari Vivi, bruising her forehead, and watch her react with poise and sincerity. And then we see Wapol cause the death of Dr. Hiriluk and motivate Chopper to become the greatest doctor the world has ever seen.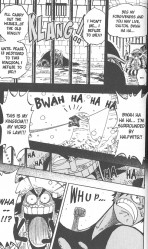 The film skips and fades out on Wapol's laughter. The camera fades back in eighty-eight pages and six years later. We're looking from Wapol's perspective and see Luffy's fist swung back and a hard grimace on his face. The camera turns 180 degrees and focuses on Wapol's face contorted in surprise. Wapol says, "Wha–!!?" Luffy says, "-let!!!!"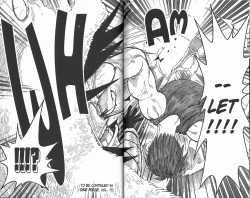 Impact. To be continued in volume 17.
Hey, Wapol of Tin, leader of the Tin Tyrant Pirates… you earned that.
Eiichiro Oda's skill at pacing, building tension, and and creating believable characters puts many other creators to shame.
Similar Posts: