April 16th, 2010 by
david brothers
| Tags:
bbbw
,
frank miller
Chad's talking about Family Values while Sean is over here making connections between That Yellow Bastard and Who Framed Roger Rabbit. Booze, Broads, & Bullets: we got it covered from all angles. Start at the index, work your way down.
Page 63 of 9-11: Artists Respond features a story by Layla Lawlor. It's a one page story about the impermanence of things, but also about the way things live on and on in new forms. It's a hopeful piece, about the way life ebbs and flows and then becomes great again. Pages 66 and 67 are about Peter Pachoumis's memories of 9-11. Frantic phone calls, live television broadcasts, a slow return to normalcy. It has the iconography of most 9-11 related tales– firemen, cops, flags, and dust. It's about shock, rather than Lawlor's hope. And then you have pages 64 and 65.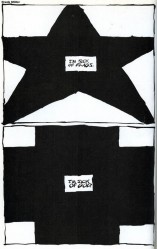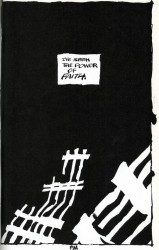 An atom bomb of anger and cynicism dropped into the middle of a book filled with stories about unity and tolerance and sadness. The rest of the book is your mother comforting you and putting ice on your black eye, while Miller's two pages are your father asking you if you gave as good as you got, and if not, you better do better next time. It's a mood-killer, a bug crawling across your dinner plate on the night you want to propose to your lady.
It's cynical and ugly and I don't know that he was wrong for doing it. Something about the sparse art and jagged lettering makes me think that this is just as personal and honest as the rest of the stories in the book. Miller is a big fan of New York City, whether it was the mythical one in his Daredevil run or the city he moved to with a portfolio full of art in an attempt to make it big.
There's anger and hurt in these two pages, these fourteen words, but there's also a love. Most of all, though, there's hurt feelings. Miller's reaction is short, curt, and mean. It's a slap in the face. Miller uses a star and a cross, specifically American symbols of church and state, to symbolize the ideas that he's disgusted with. It's a very pointed choice, and feels like a backlash against the reactionary patriotism that swept the country in the wake of 9-11. "They weren't right, but we aren't right, either."
His views have changed in the years since. 2006 saw him deliver an impassioned essay on the subject of how his belief in the flag turned around. He's a supporter of the war on terror, and considers it to be vitally important to the survival of the country. Holy Terror, Batman! was going to be a "piece of propaganda" that will "offend just about everybody" before it changed into something else entirely.
I don't know enough about Miller's political views to accurately judge him. He's libertarian, I'm not. He supported the War in Iraq, I don't. But this quick blast of anger, this "Get real!" in the middle of "It'll be all right!", is fascinating to me. You can see where he was coming from and exactly how he felt, and it's all in three panels and fourteen words.
Similar Posts: