March 18th, 2010 by
Gavok
| Tags:
big show
,
bret hart
,
edge
,
hulk hogan
,
john cena
,
randy orton
,
shawn michaels
,
triple h
,
undertaker
,
wrestlemania
,
wrestlemania countdown
,
wrestling
,
wwe
,
wwf
,
yokozuna
Since I'm spending all this time talking about every Wrestlemania match, I thought it would be worthwhile to take a quick gander at what didn't occur at Wrestlemania. Here's a list of the various pre-show matches.
Wrestlemania 6: Paul Roma defeats the Brooklyn Brawler
Wrestlemania 7: Koko B. Ware defeats the Brooklyn Brawler
Wrestlemania 8: The Bushwackers defeat the Beverly Brothers
Wrestlemania 9: "El Matador" Tito Santana defeats Papa Shango
Wrestlemania 10: The Heavenly Bodies defeat the Bushwackers
Wrestlemania 12: The Bodydonnas defeat the Godwinns to win the Tag Team Championships
Wrestlemania 13: Billy Gunn defeats Flash Funk
Wrestlemania 15: Jacqueline defeats Ivory, D'Lo Brown and Test win a battle royal where the last two survivors get a tag title shot at the PPV
Wrestlemania 17: Justin Credible and X-Pac defeat Steve Blackman and Grand Master Sexay
Wrestlemania 18: Rikishi, Scotty 2 Hotty and Albert defeat Mr. Perfect, Lance Storm and Test
Wrestlemania 19: Lance Storm and Chief Morley defeat Kane and Rob Van Dam
Wrestlemania 21: Booker T wins a Raw vs. Smackdown battle royal
Wrestlemania 22: Viscera wins a Raw vs. Smackdown battle royal
Wrestlemania 23: Ric Flair and Carlito defeat Chavo Guerrero and Gregory Helms
Wrestlemania 24: Kane wins a battle royal to earn a match against the ECW champion at the PPV
Wrestlemania 25: Carlito and Primo defeat John Morrison and the Miz in a Lumberjack Match to win the Unified Tag Team Championships.
Now on with the chlorophyll.
#23) WRESTLEMANIA 25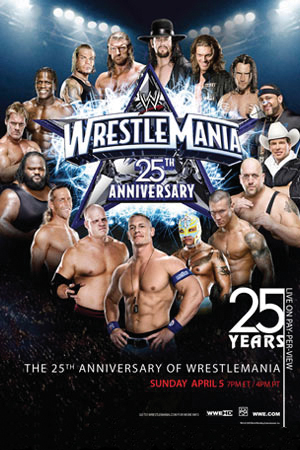 Date: April 5, 2009
Era: Cena Era
Location: Reliant Stadium in Houston, Texas
Notable Debuts: Kofi Kingston
Wrestlemania 25 is constantly advertised as "The 25th Anniversary of Wrestlemania" even though it most certainly isn't. That isn't how anniversaries work and they based the entire show on it. The show certainly shows off the problem with the company at the time: it was stale as all hell. Nearly every main event pairing had been beaten into the ground by this point that the only enticing match outside of Money in the Bank is Shawn Michaels vs. Undertaker, who despite being on the roster for the longest, haven't feuded in over ten years. Now that I think about it, the tagline of this being the 25th Anniversary of Wrestlemania is a fair microcosm of this show. It has a cool style on the outside, but when you look at the content and quality, you come down fast.
The Atmosphere
The intro package is extremely cool, where all different wrestlers sit down and discuss their favorite Wrestlemania moments and how they've grown up wanting to be part of it. Then it goes into different wrestlers discussing their plans for victory, all repeating the line, "Tonight." The video packages for the matches are cool, especially Michaels vs. Undertaker. They have AC/DC for the theme song and a classy style where everything in the arena is blue and platinum. Even the backstage moments shine, as Randy Orton prepares alongside Legacy while Triple H meets with Vince and Shane – all while no words are uttered!
And yet, therein lies the problem. So much of the show is dedicated to non-wrestling that it suffers. After they do the Hall of Fame call-out segment, Steve Austin rides around on an ATV and drinks beer for a while. I guess the idea is that this is his big farewell and he won't be making any more WWE appearances, but we already know that's bullshit. They're too busy showing off all this crap, as well as a segment about how great Fan Axxess is that they can barely even fit eight matches into a four-hour show. I mean that literally. Wait until I get to the Triple H/Orton match.
The worst offender of the night is having a Kid Rock performance, as if wrestling fans gives a shit about him in this day and age. He goes into a medley of over ten minutes, but I can't be sure because the performance didn't even make the DVD, making it even more worthless. The show spends so much time with its hands in its pockets that we end up losing two matches out of it. The idea of having Jack Swagger defend the ECW title (probably against Evan Bourne) is dropped because they knew they wouldn't have time for it, which is a great way to bury their second best show at the time. Then they drop the Lumberjack Match between the team of Miz and John Morrison vs. the Colóns for the Unified Tag Titles and make it pre-show fodder. The show couldn't even fit in an 8-minute match. Style over substance, thy name is Wrestlemania 25.
The Matches
If there's one thing you can count on later Wrestlemanias for, it's the Money in the Bank. This one features Christian, CM Punk, Finlay, Kane, Kofi Kingston, Mark Henry, MVP and Finlay. This is a match where I don't care who wins because I like all eight of them. In a way, I suppose condensing a bunch of my favorites into one match does hurt the overall show. A nice touch is that Finlay (accompanied by Hornswoggle) comes in wearing his old Road Warrior jacket.
The spots are insane. Kofi Kingston wows everyone by hopping over and through ladders like Super Mario, adding an obligatory Boom Drop onto a ladder draped over Christian and Shelton. When two ladders are set up with four of the competitors climbing and brawling with each other, Kane and Mark Henry glance at each other, walk into the center of the ring and part both ladders to the side like Moses. A series of jumping-into-a-crowd-of-wrestlers spots occur outside the ring, including a nasty jump by Shelton off a tall ladder and a comedic showing of Hornswoggle hopping off Mark Henry's back and into everyone else. Finlay tries to climb up the ladder, but gets Trouble in Paradise from Kofi to bring him back down. Kofi then pulls off the coolest bit of the match where Mark Henry picks up a closed ladder, Kofi hops onto it, climbs it and is almost able to get the briefcase all thanks to Henry's strength. Henry gets Kofi to fall, catches him and hits the World's Strongest Slam onto the fallen ladder.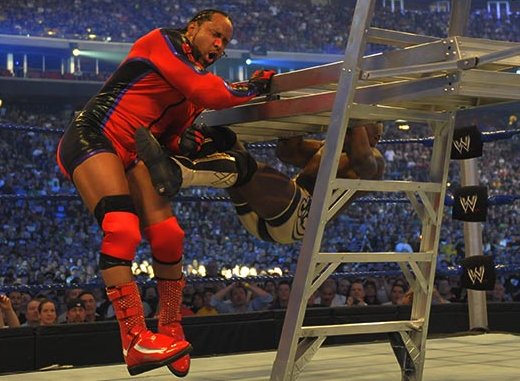 Then the spots start to get a bit muddy. If you look at the image above, they add a third ladder into that structure, with a closed ladder going from the outside of the ring into that horizontal ladder. Off the horizontal ladder, Christian hits a very awkward Kill Switch on Punk. That move just isn't made for long drops. Shelton runs up the triple ladder, which rules, and gets into a fight with MVP. MVP tries to flip over Shelton and do a Sunset Powerbomb, but he screws up completely and the spot is ruined. Things pick back up as Christian and Shelton each stand atop a ladder. The ladders fall to the side, causing Shelton to fall out of the ring, but Christian is able to casually step on the top rope and bounce himself back up. Rocking. The end has Kane strangle CM Punk on top of a ladder until CM Punk kicks him repeatedly to the point that Kane falls off and Punk can get the briefcase unopposed.
Great start! Then we get Kid Rock and the Diva Battle Royal for the title of Miss Wrestlemania, featuring Alicia Fox, Brie Bella, Nikki Bella, Eve Torres, Gail Kim, Jackie Gayda, Jillian Hall, Joy Giovanni, Katie Lea Burchill, Kelly Kelly, Layla, Maria, Maryse, Michelle McCool, Mickie James, Molly Holly, Natalya, Rosa Mendes, Santina Marella, Sunny, Tiffany, Torrie Wilson, and Victoria. Jackie, Joy, Molly, Sunny and Torrie are making their big "one night only" returns here, but you would barely know it, since they're only mentioned as afterthoughts by the commentators. Like, "Oh, hey! I think that was Sunny who just fell out of the ring!" Maybe some kind of quick intro would have worked, at the very least instead of the women coming out during the Kid Rock performance, as it would have helped to figure out who is who.
The whole thing is a mess, but Beth Phoenix dominates by tossing out both Bellas, Eve, Katie Lee, Kelly, Maryse, Melina, Molly, Natalya, Sunny, Tiffany and Torrie. Santina, who appears to be Santino in drag but claims to be his twin sister, eliminates Beth at the end to win the title of Miss Wrestlemania. Not only does it dump on the women's division, but it brings forth the end of the Glamarella romance. Too soon, guys.
Next up is Chris Jericho in an elimination handicap match against "Rowdy" Roddy Piper, "Superfly" Jimmy Snuka and Ricky "The Dragon" Steamboat. The team of legends has Ric Flair in their corner. It's a match that's far better than anyone expected, but that still isn't saying all that much. Originally, they were trying to go with the possibility of Chris Jericho vs. Mickey Rourke to capitalize on his successful movie The Wrestler. Rourke spilled the beans by publicly saying he'd kick Jericho's ass at Wrestlemania. Then his people whispered into his ear that doing something like this would probably hurt his chances at winning an Oscar, so that was scrapped. Jericho vs. Ric Flair? Flair just did a high-profile retirement at the last Wrestlemania, so they didn't want to spit in the face of that. The best they could come up with was having Jericho fight the three non-Flair legends that he's beaten up leading up to the show. It's one of those fights where nobody truly wins. Either Jericho beats up three old men or three guys win the numbers game against one guy.
Rourke is in the crowd for this and looks completely uncomfortable, like he only sat down for this match and would rather be anywhere else. The match starts with the three legends each going to town on Jericho. Piper is only half mobile and almost immediately knocks Jericho out of the ring. He's certainly seen better days, that's for sure. He hits a dropkick out of nowhere, but it's not a pretty one. Tags are made and Jericho suffers until Snuka comes in. Snuka looks like a goddamn zombie and has less mobility than Piper. Without any build-up, Jericho grabs Snuka by the legs and puts him in the Walls of Jericho. Snuka taps. Piper comes in and puts Jericho in the sleeper. Jericho escapes and hits an enziguri, allowing him a pin. Now it's just Jericho vs. Steamboat.
Steamboat without a doubt saves this match from certain doom. Holy shit, the man's still got it! He hits the top-rope crossbody. He does the top-rope chop. When thrown out of the ring, he skins the cat and gets back in. He evades the Lionsault and maneuvers his way out of the Walls of Jericho. It's amazing. Unfortunately, it isn't to last and Jericho hits him with a surprise Codebreaker. Jericho wins. Flair runs in for the attack, but Jericho takes him out with a Codebreaker as well. Jericho calls out Mickey Rourke to come into the ring and apologize. Rourke, still looking like he doesn't want to be part of this, slowly comes in and the two start boxing. Rourke knocks Jericho out with one punch, thereby making him superior to Piper, Snuka, Steamboat and Flair put together. Great.
And you know what? This entire situation could have been fully redeemed if Rourke hit Jericho with the Ram Jam!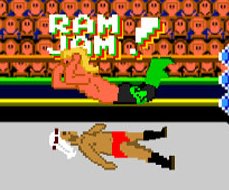 Jeff Hardy battles Matt Hardy in an Extreme Rules Match. The whole story here is that Matt's been trying to make Jeff's life hell for the past few year, including taking the credit for Jeff legit losing his dog to a fire. Their match is a fun little romp as the two nail each other with whatever weapons they can find. This includes Jeff breaking a framed poster of the PPV's advertisement over Matt's head. The most righteous part of the match has Jeff go off the top for a Whisper in the Wind and Matt bats him out of the air with a chair. Then he hits Jeff with a Wet Vac of all things. Points for originality, I suppose.
Things heat up and go back and forth. Matt hits the Side Effect on a chair. Jeff breaks out weapons like a Singapore cane, a garbage can and a crutch (using the latter two together). Then he puts Matt on a table on the outside of the ring and stacks another table on top of it. He splashes through the two tables, driving the top table through Matt and Matt through the bottom table. He sets up two ladders in the ring and attempts to leapfrog from one over the other and hit a legdrop. Matt moves out of the way, gets up, grabs Jeff and does the Twist of Fate with a chair folded over Jeff's throat. It's a good garbage match, with a funny ending in the way that it's Jeff's crazy stunts that cause Matt to get over, just like Matt was complaining about in the lead-up to the match itself!
John "Bradshaw" Layfield defends the Intercontinental Championship against Rey Mysterio in what is the first time the title has been defended at a Wrestlemania in seven years. JBL has been feuding with his very own irrelevance. His attempts to use Shawn Michaels to win the World Title have failed. His attempts to fully own Shawn Michaels have failed. His attempts to face the Undertaker and potentially end the streak have failed. Now all he has is an Intercontinental Title defense, but it's good enough for him. He promises Texas that he's going to give them the most dominant victory in Wrestlemania history.
Before the bell, JBL boots the bejeezus out of Rey's face. The ref checks on Rey – who is wearing a Heath Ledger Joker outfit for this show – and asks if he can continue. With Rey's go-ahead, the bell rings and he immediately goes to town on JBL. An enziguri, 619 and a top-rope splash later, Rey gets his title win at a mere twenty-one seconds. Once Rey has left the scene, JBL gets up and tries to talk his way over the boos from the crowd. To his own surprise, he yells, "I QUIT!" Then he walks up the ramp and angrily tells the fans, "You're gonna miss JBL!"
And I do! Just as long as he has a shirt on and he's doing commentary. The man was the second coming of Ventura.
Next up is this show's big saving grace, Shawn Michaels vs. the Undertaker. What a top-notch showing. The two get their totally badass Heaven vs. Hell entrances, where Michaels comes from above while dressed in white and Undertaker comes from under the floor with fireballs rising around him. The setup has had Michaels play mind games with the Undertaker to rile him up and it continues into the beginning of the match. Michaels keeps chopping Undertaker in the chest and repeatedly dodges every attempt at a haymaker. Finally, Undertaker grabs Michaels' hand out of a punch and Michaels realizes that he's fucked.
Michaels works on Undertaker's knee, putting him into the Figure Four at one point. Undertaker attempts a chokeslam, but Michaels reverses it into the Crossface. They have a completely rad exchange where Michaels tries for a top-rope attack, gets choked, escapes the slam attempt, goes for Sweet Chin Music, misses due to ducking, tries the Figure Four and momentarily gets pulled into the Hell's Gate. Later on, Michaels tries an Asai Moonsault to the outside, but Undertaker sidesteps and swats him away. So much of the match is these two having everything scouted. Then we get the unfortunate moment where Undertaker does a running jump out of the ring and suicide dives at Michaels. Michaels pulls in a fake cameraman (Sim Snuka, who is promptly fired afterwards) who fails to catch the Undertaker. Undertaker lands right on his head and it's pretty nasty to see.
Michaels hopes to win by count-out, but Undertaker makes it in in time. Sweet Chin Music fails to hit and he instead gets a chokeslam. A second chokeslam attempt leads to a successful Sweet Chin Music. Undertaker performs the Last Ride, but Michaels kicks out. Undertaker goes for an elbow off the top and misses. He throws Michaels out of the ring, causing Michaels to skin the cat back into the ring – right into the arms of the Undertaker, who Tombstones him in the center of the ring. Michaels kicks out of this and Undertaker gives a most hilarious facial response.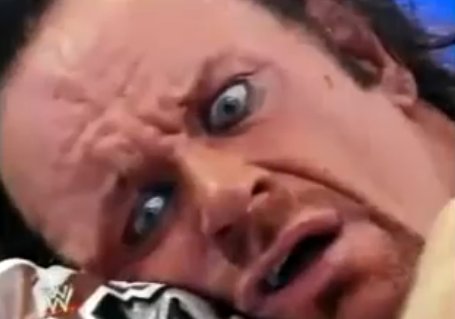 He tries another Tombstone, but Michaels turns it into a botched DDT. He hits the top-rope elbow drop. He's able to hit a second Sweet Chin Music, but is too tired to make the cover. They get to their knees at the same time and starts grappling. They stand and it turns into a slugfest. For a second, the match is no longer about scouting, but hitting as much as possible. Michaels tries for a Moonsault, but Undertaker's ready for him. He catches Michaels, Tombstones him, gets the pin and just about passes out. Incredible, incredible match. As a nice touch, the video wall at the entrance shows a giant "17-0" graphic.
It's hard to follow up on that, but the next match does a good job on it. Edge defends the World Championship against Big Show and John Cena in a Triple Threat Match. Chavo Guerrero wheels out Vickie, who is in the middle of a love triangle with Big Show and Edge. Cena gets style points for his intro that involves an army of guys dressed like him standing on the sidelines of the entrance way as Cena runs forth. The whole idea of a Triple Threat is perfect for all three wrestlers. John Cena gets something of a break from his predictable match formula by adding in this 3-way dynamic. Big Show gets to rest by not being directly involved every few minutes. Edge has more angles to play as the Ultimate Opportunist. It's a sweet deal. Another thing working for it is that Big Show refuses to team up with fellow heel Edge against Cena.
The moment it looks like Cena has the match won, Chavo drags him out of the ring, following up with an Attitude Adjustment of Chavo. Big Show gets tied up the ropes ala Andre, allowing Cena vs. Edge where Vickie stands on the apron and accidentally gets Speared off by Edge. Big Show gets free and crushes both guys repeatedly. He goes for a double-chokeslam and only gets Edge, as Cena escapes. Doesn't matter, since Show hits Cena with a Knockout Punch. On the outside, Edge is able to toss Big Show through the barricade and into the crowd. Since dragging Big Show back into the ring is no picnic, Edge tries to pin Cena. Not happening. Cena reverses a Spear into the STF, but Big Show is able to save Edge. Cena and Edge have no choice but to double-team the Big Show until it's just the two of them again. This leads to a fine spot where Edge goes to the top rope and gets shoved off from behind by Big Show, causing him to get Speared in mid-air by Edge. Edge jumps on Big Show's back and tries a Sleeper Hold, but Cena is able to pick up both Edge AND Big Show for an Attitude Adjustment. Well, Edge falls off before the toss, but Cena picks him up and hits a second Attitude Adjustment on Edge onto Big Show. Cena gets the pin on Big Show and wins the title.
The post-match makes it all worth it. Cena goes by a cluster of rabid anti-Cena smarks who are spewing crazed hatred his way. Cena stands there, points to the title and gives a big shit-eating grin to the camera. I hate the way he's booked 90% of the time, but I'll always love Cena for that. Oh, and all those sick kids he visits for Make a Wish. But mostly for goofing on those guys in the front row.
The main event is Triple H defending the WWE Heavyweight Championship against Randy Orton. I feel vindicated in hating this match, considering both Triple H and Orton have publicly stated their disappointment. The angle leading in is explosive and at times ridiculous, but it gives you the strong feeling that these two want to possibly kill each other. Then we get the stipulation that if Triple H gets disqualified, he loses the title. Well, shit. That takes the wind out of the sails. Though not as much as the opening minute of the match. After a quick beatdown, Orton hits a surprise RKO. He misses a punt to the head and gets hit with a Pedigree. Neither guy is knocked out, but they are completely sluggish for the rest of the match. Good psychology? Arguably. Entertaining match for the main event of the biggest show of the year? Not in the slightest. It becomes a little too methodical and all of the supporting characters in this feud stay out of sight.
Other attempts at the finishers lead to failed pins and the two soon find themselves outside of the ring. We get to a part that makes very little sense to me. Triple H picks up a monitor and prepares to brain Orton with it. The ref tells him that he'll be disqualified and lose the title. That's reasonable. Triple H comes up with the idea of instead putting Orton on an announce table and trying for a Pedigree. Not only is the ref acting like the table is kosher, but directly underneath Orton's head is another monitor! What the hell?! Anyway, Orton reverses it into a backdrop into another table, then does his trademark horizontal DDT thing off one table.
Back in the ring, Triple H is thrown into the ref, knocking him out. Orton hits another RKO and fishes out a sledgehammer from underneath the ring. Huh. You would have thought one of the Hardy brothers would have found that earlier. As Randy crawls into the ring, Triple H punts him in the head and uses the sledgehammer on him. He mounts Orton and punches the hell out of him until the ref literally tells him that they only have a couple minutes of PPV time left and they need to wrap it up. Triple H hits the Pedigree and celebrates briefly before the show needs to go off the air.
If anything, this show shows off Wrestlemania's current problem. They're too into the idea of being a spectacle that it hurts the product. Ten years earlier they were having more matches for a show that was an hour shorter.
#22) WRESTLEMANIA 9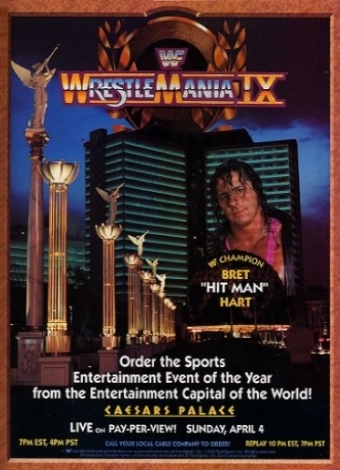 Date: April 4, 1993
Era: New Generation
Location: Caesars Palace in Las Vegas, Nevada
Notable Debuts: Jim Ross, Yokozuna, Bob Backlund, Razor Ramon, Rikishi
Wrestlemania 9 is the most hated of all Wrestlemanias by the masses and it isn't hard to understand why. All it takes is watching the last match of the show, but I have a lot to talk about prior to that. The wind was changing in the company. With steroid allegations at an all-time high, Vince decided to put the belt on popular mid-carder Bret Hart due to his size. He did it unceremoniously at a house show, but Bret proved himself to the fans by being the most fightingest champion possibly ever. On the other side of the ring, newcomer Yokozuna had been racking up wins nonstop as an unbeatable monster heel. Through a decisive victory in the Royal Rumble, he earned his title shot. In addition, the tag champs Money Incorporated viciously beat down on Brutus Beefcake, which awakened Hulk Hogan out of his 10,000 year slumber.
The Atmosphere
Either you love the Roman Coliseum style of the show or you don't. Me? I think it's grand. All the early Wrestlemanias try their hardest to separate from the pack and that was 9's way. I know there are those who believe that debuting Jim Ross at Wrestlemania in a toga is some kind of big insult, but I don't see it. Everyone was in some kind of getup. If anything, it would be insulting if he was dressed in a toga during a show that wasn't Wrestlemania 9. Ross joins the strange but enjoyable commentating team of Randy Savage and Bobby Heenan, who each are part of a lengthy, yet amusing intro sequence where Savage is brought out while being fed grapes by some vestal virgins and Heenan gets stuck having to ride a camel backwards.
That's all the non-wrestling stuff has going for it. Sure, there's a pretty good Money Inc. promo in there and Doink defacing a Caesar statue by painting it to his likeness is good too, but a lot of it is hard to watch. Mr. Perfect botches his lines, Hulk Hogan refers to Yokozuna as "the Jap" and we get so many cringe-worthy segments with Todd Pettengil. The worst is a part where he asks a couple Japanese tourists about the Doink match and one of them, obviously not understanding a word, responds with some insane laughter.
The Matches
It starts off with "The Heartbreak Kid" Shawn Michaels defending the Intercontinental Championship against Tatanka. Michaels debuts Luna Vachon in his corner, recognized immediately by Heenan as the daughter of Mad Dog. She's there to counter Sensational Sherri, who appears in the undefeated Tatanka's corner.
The match has some good stuff. It slows down late in the match, but before that there's some action worth watching. It has all the energy I wanted out of Michaels vs. Santana from Wresltlemania 8. Michaels would go for an attack off the top and get armdragged. Michaels ends up on the outside of the ring and any attempt to return gets him rewarded with a chop to the skull. He takes a really painful looking dive into the corner. On the other hand, Michaels is able to counter one of Tatanka's top-rope attacks with a sudden superkick. Tatanka does his power-up dance to no-sell Michaels' top-rope axehandles. When Tatanka goes for a Samoan Drop (Native American Drop?), Michaels slips out and tries to roll him up.
Unfortunately, this otherwise hot opener is hurt by an ending that makes little sense. Having nearly lost the match to a powerslam, Michaels slips out of the ring, grabs the ref by the leg and drags him out. Tatanka gets him back in, hits the Samoan Drop and tries for the pin. He doesn't get it because Shawn Michaels has been COUNTED OUT. What? Did the ref get hit a little too hard and lose his understanding of the difference between a count-out and a disqualification? Who knows. Following the match, Luna beats the hell out of Sherri.
The Headshrinkers (Samu and Fatu) vs. the Steiner Brothers (Scott Steiner and Rick Steiner) is as solid as a Samoan wrestler's skull. It's so weird to see Scott Steiner when he looked relatively normal. Coincidentally, this is his only Wrestlemania appearance. As it starts, the Steiners are tossed out of the ring. They get immediate revenge by climbing up a single corner and nailing both Headshrinkers with dual shoulder tackles.
There's a spot where Samu reverses a move and tosses Scott back. He's meant to clothesline him with the ropes, but the boost is more than expected and Scott goes flying out. Afa hits him with a cane to the back for good measure. The ending shows what may be the coolest part of the whole night. Fatu puts Rick on his shoulders and Samu goes for some kind of variant of the Doomsday Device. Rick catches him, twists and gets him with a powerslam. Scott gets Fatu with a Frankensteiner and it's over.
What follows is another match that some would hate, but even to this day I think it's fantastic: Crush vs. Doink the Clown. This is your classic match where you want to see the super-strong face get his hands on the trickier and smaller heel. It's like Thor and Loki, only in a wrestling ring and both of them have noticeable guts hanging out. Crush tosses Doink around and gets a lot of revenge bullying out of the way, but Doink is able to twist it around and get the advantage. He plays off the size difference with a lot of aerial attacks and a piledriver tossed in there. It isn't enough and Crush gets back to tossing him around like a ragdoll.
That's when things get interesting. Doink tries to crawl under the ring, but Crush grabs him by the leg. He brings him in and gives him the Cranium Crunch. Doink is able to twist and hit the ref, knocking him out momentarily. Crush puts the hold back on as a second Doink comes out of nowhere and wails on Crush's head with a fake arm (which the original Doink used to injure Crush leading up to this match). The two Doinks look at each other and do a Groucho/Harpo routine where they act like they're looking in the mirror. The ref wakes up and Doink gets the pin. Another ref tries to point out the second Doink under the ring, but there's nobody there.
It's such a brilliant "what the fuck?!" moment and I can't imagine why anyone would hate on it outside the fact that it involves a wrestling clown. It's also accompanied by Doink's earlier promo where he hints that by the time he's done with Crush, Crush will be seeing double vision.
Bob Backlund vs. Razor Ramon is a very pointless match. The two have no chemistry and the fans chant for the heel Razor. He wins only a couple minutes in with a roll-up. Meh.
Then we get the first main event, where Money Incorporated ("The Million Dollar Man" Ted Dibiase and Irwin R. Schyster) defend the Tag Championships against the Mega Maniacs (Hulk Hogan and Brutus "The Barber" Beefcake). Let's forget about Hogan's shenanigans later in the show for a second. Let's forget about how stupid Beefcake's red and yellow, metal facemask looks. This actually is a good match. I'm not kidding!
Yes, Hogan and Beefcake do dominate at one point to the extent that Money Inc. try to escape and get counted out like the previous year, only the ref threatens to strip them of the titles. Despite that and what we usually expect from Hogan, he lets Dibiase and IRS get their licks in. It really comes off as somewhat even. It's a very un-Hogan match. At one point he even puts over the Million Dollar Dream. Dibiase slaps it on and Hogan goes down. Then Hogan HULKS UP! …Then he goes back down because he's still in the Million Dollar Dream. It gives Beefcake an opportunity to do something outside of showing off his invincible facemask by bailing out Hogan, but I still consider it something of a big deal.
The end is complete nuttiness. With a knocked out ref, Hogan uses Beefcake's mask as a weapon to knock out the champs. Hogan's manager Jimmy Hart takes off his jacket and reverses it, revealing referee stripes. He makes a three count and the Mega Maniacs celebrate as if they actually believe they've won. A new ref disqualifies them and awards the match to Money Inc. Hogan and Beefcake beat up the referee for daring to enforce the rules and then take part in an absolutely surreal post-match celebration where they open IRS's gold briefcase, find a lot of money and start handing it out while running around like loons. I should hate this, but I can't get angry at it.
"The Narcissist" Lex Luger goes up against Mr. Perfect, with Lex coming out with a group of fine women and a kickass cape. The laugh of the night comes from Randy Savage's reaction.
"Hey there… have you met the Macho Man? …and no, Heenan, I'm not talkin' to the Narcissist!"
It's obvious that they're trying to push Luger here, especially since there's a story they keep bringing up about how earlier that day, Luger knocked out Bret Hart. Aw, look at that. A hint at a feud that never happens. Isn't it adorable? Mr. Perfect tries his best to bump for Lex and make things look interesting, but he's only able to make it above average. Them's the breaks when you're in the ring with Luger. Lex gets a roll-up and puts his feet on the ropes, getting the full pin. After the match, Perfect complains to the ref and gets SMASHED in the face by Luger's steel-enhanced forearm. Perfect later comes to and goes to the back, where he finds Luger talking to a needlessly shirtless Shawn Michaels. Perfect attacks Luger, but Michaels comes to the rescue. And so begins another feud that will job out Mr. Perfect.
Let's see what's next on the list—AH CRAP! It's Undertaker vs. Giant Gonzales. You know how a picture is worth a thousand words? Here's your picture!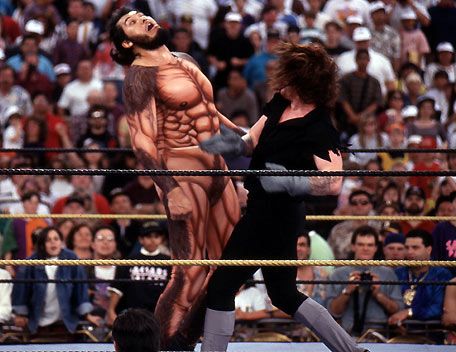 Undertaker was a monster with the purposed to be fed to Hogan who became so popular that he went face and became like a good version of Hogan. I mean that in both fictional and real life terms. He has the same kind of pull and status, but he usually uses his backstage powers for good. And like with Hogan, the WWF had to separate Undertaker from the rest of the roster and have him fight monster after monster and show off his invincibility. That caused this match.
I mean, I kind of get Gonzales' basic look. They're going for some kind of mythical bigfoot creature. That's why the He-Man fur briefs usually almost worked. But why is he now shaved to the point that he has some limb hair, hair over his Ken crotch and an illustrated bare ass on the back of his tights? On top of that, the guy is hilarious to watch in the ring. I have respect for the Great Khali because he isn't Giant Gonzales. He certainly doesn't do his drunken overselling.
Outside of the Undertaker bringing a vulture with him to the ring (they need to do that again), the only thing I can think of that redeems this match is Gonzales choking Undertaker and Undertaker climbing on the second rope to choke him back. The rest is pure shit. Undertaker can't do any moves to Gonzales other than throat strikes and jumping clotheslines. It comes to the end in the most bizarre way possible. Gonzales gets so sick of Undertaker getting up from his chokeslam that he headbutts Paul Bearer and knocks out the Undertaker with chloroform!
You know how every year they always do a video package about the Undertaker's winning streak? Notice how they always seem to omit that part.
Undertaker is taken away and Gonzales boasts in the ring as the crowd chants for Hogan to come out. Undertaker comes back and gets back at Gonzales with a jumping clothesline. What a match.
Then we have the main event, where Bret "Hitman" Hart defends the WWF Championshp against Yokozuna. People focus on the aftermath and rarely recall that this is a great showing by both men. Way better than their rematch one year later. Bret goes for the aggression and takes it to Yokozuna with immediate offense. He is able to tie up Yokozuna's leg in the ropes to help him get even more licks in. He gets a good looking bulldog off the second rope and all in all, the match makes Bret look legit. He wipes away the concept of being the underdog.
Yokozuna does get some advantage and when he pulls Bret away from the corner, Bret takes the top turnbuckle pad with him. Yokozuna's head later gets smashed into that exposed turnbuckle and Bret impressively locks him into the Sharpshooter. Mr. Fuji throws salt in Bret's eyes and Yokozuna is able to pin him with no effort.
Funny things to pick apart in this match: Yokozuna's valets don't look even remotely Japanese and the fans try to get under his skin by chanting "USA!" in a match where the face is Canadian.
Now, then. The unfortunate part. Hulk Hogan comes out to Bret's aid. They're apparently friends because 1) Hogan said so in a promo a half hour earlier and 2) it was assumed that all faces got along back then. Yokozuna challenges Hogan to a match on the spot and even puts the title on the line. Bret motions for Hulk to go for it and he does.
Yokozuna's title defense against Hulk Hogan lasts only seconds. Yokozuna grabs Hogan, Hogan moves, Yokozuna accidentally gets salt tossed into his eyes, he eats a clothesline, eats a leg drop and gets pinned. Hulk Hogan is the new champion.
Hogan's got an ego the size of Montana, but despite the controversy of this Wrestlemania's ending, I partially think it was the right thing to do.
WAIT! HOLD ON! Let me explain before you sodomize me with lit torches!
Bret's sudden title win was nice, but he was in need of an angle where he had to build himself up and earn it. If he beat Yokozuna, where would that have left either of them? Bret would feud with Luger? That doesn't sound like fun to me. Yokozuna would lose his monster credibility. Bret had to lose for the sake of a comeback that we eventually got, but you can't end an old Wrestlemania with a heel victory like that. At least the ending we got is memorable for being such a shitstorm. Having Yokozuna standing triumphant as the last image would have been ultimately forgettable. I guess the best move would have been to have Hogan confront him as they go off the air without a match, but people would still put Hogan's ego to task for overshadowing Bret.
So you have Hogan win the title. It ends the show on a happy note (the fans in attendance loved this), storywise and sets up new possibilities. Not only the return match against Yokozuna, but the major money match in Hogan dropping the title to Bret. And that's why everything falls apart. Hogan decided that maybe that wasn't such a good idea after all and screwed Bret over. Hogan drops the title to Yokozuna almost immediately, Luger is given a massive face push to make up for Hogan's leave and Bret feuds with Jerry Stupid Lawler of all people.
It was stupid, but I really believe it could have worked.
The whole show goes back to what I said at the beginning of yesterday's article. Wrestlemania 9 is remembered for Hogan being a selfish prick and Giant Gonzales putting on an anti-clinic, but underneath all that there are some actual good matches.
Day One (#25-24)
Day Two (#23-22)
Day Three (#21-20)
Day Four (#19-18)
Day Five (#17-16)
Day Six (#15-14)
Day Seven (#13-12)
Day Eight (#11-10)
Day Nine (#9-8)
Day Ten (#7-6)
Day Eleven (#5-4)
Day Twelve (3-1)
Similar Posts: