November 19th, 2009 by
Esther Inglis-Arkell
| Tags:
DC comics
,
feminism
,
power girl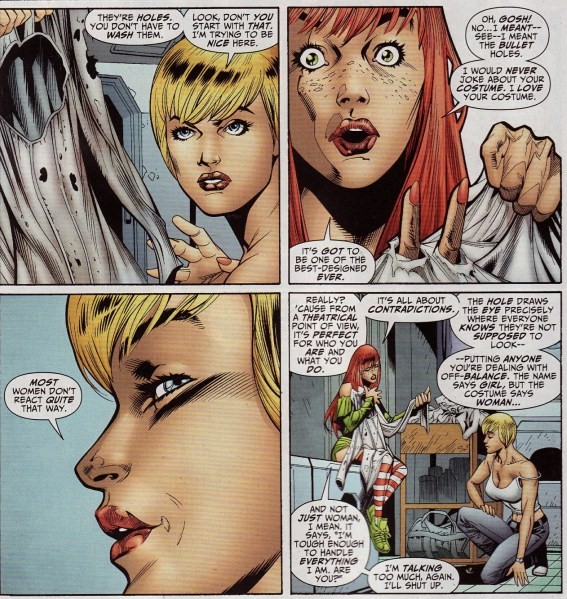 Wow, I've never read about many female characters giving her a hard time in the comics . . . oh.  Oh.  That was meta.  The 'most women' comment.  The character looking out at us from the panel.  This is a little speech given to the women who, for some crazy reason, criticize Peej's uniform.
You know, I think I've heard a similar speech.  It was about how Peej was proud of her body, and if men decided to degrade themselves by looking at her, then that was their business.  And I've heard the speech about how she had the 'S' and ripped it off, and that patch of fabric would stay absent until she found a symbol that represented her.
And I heard the justification about how Canary's outfit was in tribute to her mother, even when that means she's in panties and a jacket in the First Wave books.  And I've heard the one about Poison Ivy being a plant and therefore unconcerned about human modesty.  Oh, and I've heard the one about Supergirl being invulnerable and therefore not needing pants.  There are a few about how Huntress wanted to show off the fact that she was shot, and she lived, and that's why she fought in a bikini.  And then there's the one about Batman and Superman . . . oh.  Wait.  There aren't that many excuses for how  Batman and Superman dress because, golly, for some reason, the male heroes in this mostly male-controlled medium put their fucking clothes on when they're going to fight someone.
Are you kidding me?  I'm getting an 'I choose my choice' speech from a fictional character?  Feminist fans are getting a slap because they won't accept one bullshit excuse after another for why male heroes are mostly fully-clothed and female heroes mostly walk around in their underwear?
Let me make this clear:  No matter how many times you have the female characters talk about how they decided on their outfits, they are still fictional characters.  These aren't women who have decided on what they want to wear for reasons of their own.  These are characters who are dressed as playboy bunnies because a bunch of creators decided to dress them that way for fun and profit.
Jen Van Meter; I don't know what you were trying to do here, but you failed.
Similar Posts: