December 18th, 2008 by
Esther Inglis-Arkell
| Tags:
DC comics
In New York it is legal for women to go topless in public.  In 1992, a court ruled that if men were legally allowed to expose their chests, women should be able to do the same. 
The ruling makes sense.  Men and women have the same biological structures; mammary glands, fatty tissue, and nipples.  The structures even work the same way.  Under the right hormonal or physical conditions, men can lactate and even breastfeed.  The fact that, traditionally, men's and women's chests come in different configurations doesn't make a difference.
Of course, after eighteen years of legality in one of the most liberal cities in the world, so few women go topless that even many police officers are unaware of the law, so clearly it makes a social difference.
However, I think it's time that comics take the biological view, rather than the social one.
Why?
To avoid situations like this: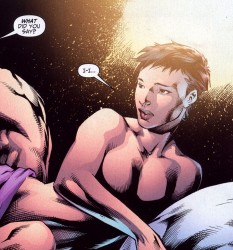 Kendra is about to answer, "I said, 'My breasts and the all-concealing shadows seem to be trying to elope together.'"
While men can stay in the light, women tend to be bending, twisting, leaning and ducking enough so that their nipples can be covered by sudden, dramatic shadows.  Or steam.  Or flashes of light.  Or parts of their own body.  Bare-chested men can stand, but women tend to bob and weave their way through their own toplessness.
Of course, there are also situations like this: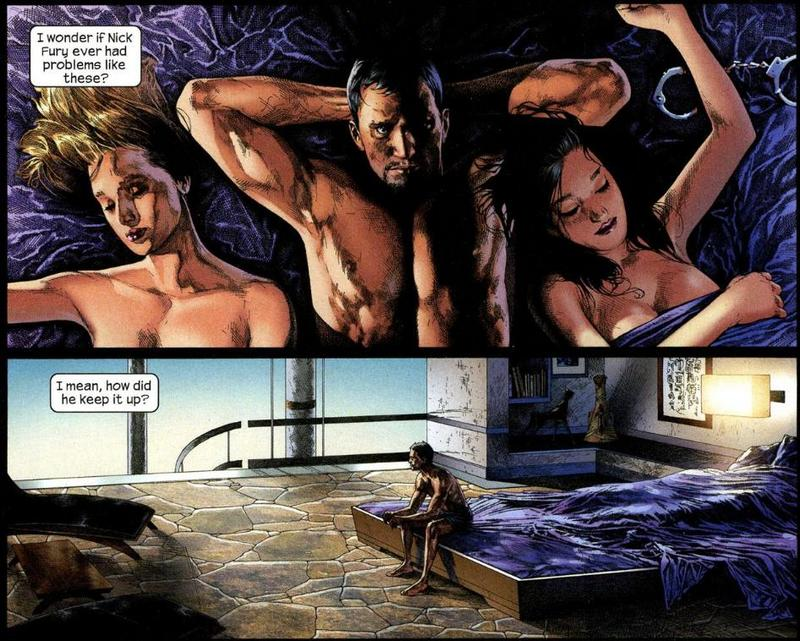 Now this scene has the trifecta.  Don't laugh.  I mean it has the three major artists' tricks.  There's Creative Cropping, over on the left.  There are the Gender-Sensing Sheets, which leave the man bare to the waist, but twist up to cover the woman.  And on the far right, you see the unfortunate result of an artist trying to get away with too much: De-Nipplage.  This woman gave her left nipple for the cause!  Won't you help her?  Won't you help them all?
But most of all I'm tired of situations like this: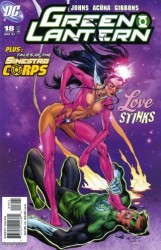 I feel that the world would be a better place if Star Sapphire nuded up for this.  Alternately, I feel that the world would be a better place if she wore an oversized t-shirt with the slogan 'Baby Or Bust.'  Or a full suit of armor.
Mostly I'd like to stop having to make-believe that we're not seeing naked boob on the cover of Green Lantern, because trust me, we are.  Pretending that we aren't seeing nakedness here would be like me taking off everything except my jeans, and then slapping a post-it note on my cleavage and pretending that I'm wearing a shirt. 
I realize that there would be a backlash if women's breasts were drawn in comics, for any number of reasons.  Comics are seen as a medium for children.  People might see the loss of another layer of clothing as exploitation of female characters.  However, I don't think that that many children read superhero comics any more.  Those that do read the special class of comics like Tiny Titans, or Superfriends, that are reserved for young kids.  Even if there were a youngster looking through Green Lantern, peeking into an adult comic and seeing a woman's breast couldn't be that much more traumatic than peeking into an adult comics and seeing someone's legs getting ripped off.  As for exploitation, I don't want more nudity in comics.  I just want the nudity that is already there to be acknowledged.
We've all got the same stuff up top.  Strip the girls as bare as you strip the guys.  Clothe the girls as fully as you clothe the guys.  But please, no more peek-a-boo.
Similar Posts: