October 17th, 2008 by
david brothers
| Tags:
cable
,
flash
,
geoff johns
,
Marvel comics
,
x-men
I just started to like Cable. The first arc was way too slow (which is why I picked it back up with the newest issue), and I'm still not 100% convinced on the Bishop turn, but I'm interested enough to keep reading. I want to say something, though.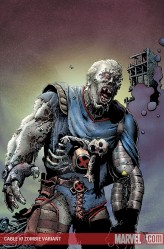 Now, I like Richard Corben. I'm coming around on Cable. But, and don't read this the wrong way, I hate dead babies. I can't think of a good usage of them in comics and I honestly think it's kind of dumb and needlessly shocking. Ohh, look how bad that guy is, he's gonna kill a baby.
This is actually the second dead baby I've seen in comics this week, with Rogue's Revenge featuring a baby getting disintegrated or time travelled or zapped out of existence or whatever– it was still dumb.
Similar Posts: