February 14th, 2008 by
david brothers
| Tags:
black history month '08
,
Colored Commentary
,
DC comics
,
firestorm
,
jakeem thunder
,
jsa
,
Marvel comics
,
steel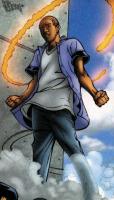 art from dc comics's firestorm
This is besides the issue that some white comic creators create bland African-American characters.
Where is the African-American Guy Gardner? Where is the African-American Batman? Where is the African-American Joker? Booster Gold/Ted Kord Blue Beetle? Oracle? Wolverine? Spider-Man?
DC's African American characters are either created to be the only person of color on a team (JSA, JLA, Teen Titans, Green Lantern Corps), or by editorial fiat to fill a diversity need (Firestorm).
–Valerie D'orazio, Three From WWII: The Twelve #2, JSA #12, Project Superpowers #0
When I was born, I was black. When I grow up, I'm black. When I'm ill, When I die, I'm black. But you – When you're born, you're pink. When you grow up, you're white. When you're ill, you're green. When you go out in the sun, you go red. When you're cold, you go blue. When you die, you're purple. And you have the nerve to call me Colored?
–Malcolm X
I've got a habit of getting into arguments on the internet regarding race. I can't help it, man, someone says something dumb and I feel compelled to respond. Next thing I know, it's a week later and I'm waking up in a ditch.
Anyway, this post is about something that bugs me to death. I'm sick of hearing the word "token." I don't mean that I'm sick of "token" black characters.
I'm sick of people using it to describe black characters.
Token, quota hire, affirmative action case, all these words have the same root and work to the same point– the black person did not work for his position, he is less qualified, and he should not be where he is because he doesn't deserve it. He's only there because it's politically correct, or editorially mandated, or because the team has to have a black character, doesn't it?
Protip: Shut up. All you're doing is reinforcing those ideas. Having one black guy on a team does not a token make. An editorial creation is just as valid as one from talent. It's in the execution.
I'm gonna be honest and say that Val's post up top there is what prompted this one. I had one all lined up about Deb Tiegel from Hitman (the best half german/half black character in comics), but I'm pushing it off for a day so that I can get this done.
In her post, she reviewed JSA #12 and said this:
The sequence with John Irons was also in need of some editing/quality control; John's opening dialog with his wife sounded like pure exposition devoid of any human quality.
John Henry Irons is not in JSA #12. That is Jefferson Pierce, a black man with no facial hair and a wife and a grip of kids apparently (welcome to NEW EARTH). Irons is single, has a goatee, no wife, and no kids. He's got a niece, though she's already an established heroine in her own right.
When called on it, she said this:
I think the problem is that Johns wants to make the JSA the catch-all group that every other DC team is rolled into/connected with. Actually having Irons & the Infinity Inc cast make an appearance would make sense to me, as the two titles were historically linked to each other. But to bring not only JLA but Batman and the Outsiders…you need to have a realllly skilled hand to work within such a scope. I'm thinking a little past Johns and more like Busiek.
I'll give her the benefit of the doubt. She didn't confuse the two. It's just that the book would have been better with John Irons, right? 'cause he is in a book with a cast of all new characters who don't actually have a connection to the JSA. Also Geoff Johns is a bad writer and Kurt Busiek would write this story better.
Okay.
The conversation continues and we get the gem above about bland black characters created by white dudes, and how we need the black Spider-Man, Wolverine, Joker, and so on.
The bland thing stuck in my craw. What is that about? White people can't create interesting black people? This means that DC's blacks all suck? Editorially created characters are bad? Yeah, sorry– no. Not the business. She closed the thread when Pedro from FBB asked her questions, which meant she didn't get to answer any of mine.
However, I have a blog of my own and I just did my taxes tonight so I'm in a raw mood so I decided to do this post. Pedro responded to her earlier, but that kid is just trying to get some e-cred so don't read his blog at all. He definitely doesn't make any good points about re-appropriating characters, writers of a different race writing characters, and comics quality.
Let's go down the list.
John Henry Irons (TV's Not Jefferson Pierce): He's about as editorially mandated as it gets, isn't he? He started out as the only one of the four replacement Superman to not claim to be Superman. He was carrying on in his name because it was the right thing to do. He graduated to being one of Superman's best friends, an integral member of the JLA, buddies with Plastic Man, and one of the foremost thinkers in the DCU. Here's his blandest moment:









Did I say blandest? I lied. Dude has not only fooled an enemy who has taken over a decent portion of a city, but he has picked up on a plan from a teammate with little prompting, and come up with a way to take out that enemy.
DC's African American characters are either created to be the only person of color on a team (JSA, JLA, Teen Titans, Green Lantern Corps), or by editorial fiat to fill a diversity need (Firestorm).
Blow by blow:
JSA: Jakeem Thunder is a member, and I guess Amazing Man is now, too. Jakeem is a kid with a magical wishing genie who didn't have the benefit of a Bruce Wayne or Hal Jordan upbringing. He's got an attitude, a rough edge or three, but he's also trying to do right. That's bland?
Mr. Terrific is a guy so smart that Batman copied some of his designs and regularly treats as an equal. He's apparently the third smartest man on earth, too. Having trouble seeing the bland here.
Teen Titans: Ain't no black people on this team.
JLA: I already went over Steel. John Stewart and Vixen are I guess who she was referring to? John Stewart is an equal GL with Hal, Guy, and Kyle. He's portrayed as the most level-headed and may even have more willpower than his buddies according to a scene in GL where his willpower is too much for his ring in GL last month (month before last?). A guy with a wishing ring and that kind of skill? That's pretty interesting, innit?
Vixen? She's a question mark right now. Meltzer's slipshod plotting left the story of what's going on with her powers to Dwayne McDuffie, but suddenly she can duplicate the powers and skills of any superhuman she's nearby. She can fake a Green Lantern ring. That's a big deal, isn't it?
Finally, Firestorm.
Poor, beleaguered Jason Rusch. First he's seen as a ghetto-bound drug-dealing quota case and now he's bland. Except… he's a college-age kid who may be the most powerful metahuman on the planet. He's got father issues, he's inexperienced, he lost his best friend because of his powers, and now he's searching for the mentor to the old Firestorm so that he can better learn how to take care of himself. He's Spider-Man meets Phoenix.
Yeah. I'm not seeing the bland, boring, editorially-mandated black characters here. All of these people have been blessed with quality writers lately. Even before the past year or so, these characters never sunk to "token" status beyond what mouthbreathers on message boards had to say.
I'm not even a DC encyclopedia. I barely even like most DC books. I've read enough to know a little bit, though. I'm not talking out the side of my neck here. You can look all this up with a minimum of time on Google or in a comic shop.
This isn't the first time I've had this issue with somebody. Around a year ago, I got into an argument with a different blogger. I'd link it, but she's since updated her layout and that hosed the 140 comments across two posts where the relevant part of the conversation was. Long story short, she came out with the line that "all black characters are mandingos and cannot be rescued from their horrible origins."
I wish that comments thread was still there so, so bad. You don't even know.
Her reasoning is terrible and horrible in a few ways. First, it supports the idea that you can't reclaim or improve something. Going by her logic, I got some family members who're gonna be hoodlums their whole life and are going to be worthless because of that fact. You go to jail and come out a different man? Who cares, dog, you're still a criminal.
Get outta here with that. You're gonna look at Bendis's Luke Cage and tell me he isn't an improvement, in terms of realistic representation and suchlike, than the one from the '70s? Falcon is always gonna be a sambo? Bishop is just there to make white women scared? *smh*
When you get down to calling black characters bland, mandingos, tokens, or whatever, and you aren't naming names? You're doing wrong. You're painting a whole bunch of characters with an ugly, ugly brush.
I'm having trouble coming up with some tokens who still appear in comics. Triathlon, I guess? I've read like half a comic with him in it, so I don't even know there. Honestly, who are some "token" characters?
You think that there are "some bland/token/boring/racist black characters?" Call out names. Otherwise, some of us get to play "Guess who" while the rest of us are just going "I knew that Luke Cage was a token! What's he doing on the Avengers anyway?"
Leave the subliminals at home and call out names. Be specific and know what you're talking about because someone (probably me, at this rate) will call you on it. At worst, you might learn how he isn't a token. At best, you might gain a new appreciation for a character you never paid attention to.
Stop looking at them as "black characters." Treat them like characters instead of pieces in your "This Is How Superteams Should Look" puzzle set. Superman isn't a white character, why is Steel a black character? Why is Priest painted as a "black writer" instead of a "writer?"
But just know that when you're calling someone a token, you're denigrating their skills, their past, and their accomplishments. You're treating that character as inherently lesser than his teammates, due solely to preconceived notions and the make-up of his team.
Be specific or don't speak up at all.
Similar Posts: