August 15th, 2010 Posted by Gavok
Tonight we have what I guess would be considered the WWE's third most important show of the year, Summerslam. I mean, on paper, it's supposed to be the secondary Wrestlemania, but everyone and their imaginary friend loves Royal Rumble more. I look forward to the show despite the roadblocks it sets up. There are only six matches signed. One of these matches is a throwaway Divas match I couldn't care less about. One of the championship matches is Rey Mysterio vs. Kane and while I love Kane and don't mind Mysterio, I don't need to be reminded of their abysmal, "Is he alive or is he dead?" feud.
So why am I so jazzed about the show? Team WWE vs. the Nexus in an elimination tag match. The Nexus has been one of the better wrestling storylines in past years, despite its own set of roadblocks (Daniel Bryan/Bryan Danielson being fired, Wade Barrett's visa problems, Ricky Steamboat's injury). I can only hope the storyline doesn't get killed as of the end of Summerslam, yet at the same time, I don't want them to last long enough to get destroyed by a returning Triple H. God, I really don't want to see Triple H involved with this in any way.
For those new to the big main event, here it is laid out DC Comics style.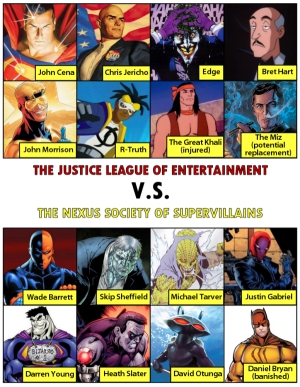 (click for bigger version)
Let's see who we got on here…