January 3rd, 2010 Posted by Gavok

December 23rd, 2008 Posted by Gavok
We've seen about three years worth of Venom's hero exploits. As I'm sure you've noticed, he sure gets a lot of guest heroes and villains from other comics. It would only be fair to see the other side of this. After all, Venom wasn't exclusive to just Spider-Man comics. He had other places to be.
I'm focusing more on the issues that took place during the extent of Venom's hero run. I mean, there was an issue of Quasar that hyped up Venom on the cover, only to have Quasar toss him back into the Vault by the second page. And there was a crossover between Web of Spider-Man and Spirits of Vengeance by Howard Mackie that featured Venom, along with Hobgoblin, Demogoblin, Doppelganger and a crapload of demons, but it's such a gigantic, pointless clusterfuck that I just can't bring myself to care about it. A lot like Maximum Carnage, now that I think about it.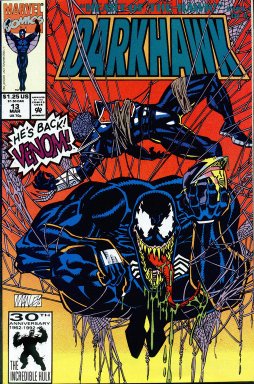 Already, I'm breaking my rule, as this is before his hero run, but I have a good reason for it. I'm starting off with Darkhawk #13-14 from early 1992. This story, by Danny Fingeroth and Mike Manley, takes place at a point in Venom's history when Spider-Man had him fooled into thinking that Venom had killed him on a deserted island. Venom spent a long while on that island, free from his vendetta, but eventually Spider-Man had to track him down and reveal he was still alive in order to get help against Carnage.
Darkhawk's got a lot of problems going on. His father's in huge trouble with some stuff and Tombstone had recently torn the special amulet from Darkhawk's chest, causing him to weaken, lash out and get ill. As part of his plan to help his father, he sneaks aboard a crime boss' cargo plane in one of the crates. Halfway into the trip, the goons on the plane discover him and a fight breaks out. The pilot gets knocked out and the whole plane takes a nosedive into parts unknown.