September 4th, 2012 Posted by Gavok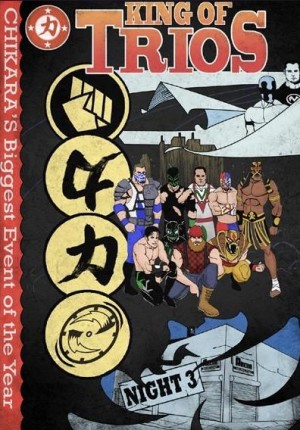 King of Trios 2009: Night 3
Match 1
King of Trios Semifinals
The UnStable (Vin Gerard, STIGMA and Colin Delaney) vs. Team Uppercut (Claudio Castagnoli, Bryan Danielson and Dave Taylor)



Pre-match Colin cuts a promo about how nobody thought they'd be able to beat the Cold Front and Da Soul Touchaz, but here they are. The arena is decked out in balloons and Claudio jokingly walks around with one before uppercutting it. As he and his partners take turns, the UnStable jump them and sadly, the balloon flies up above into the ceiling. Aw. Team Uppercut easily fight off the UnStable with uppercuts and each UnStable member dashes back into the ring to receive yet another uppercut.
Claudio manhandles Gerard, tags Bryan in and he stretches him with a modified Dragon Sleeper until Colin kicks him off. Taylor steps in to rough up Gerard, focusing mostly on a cravat hold. Gerard eye-rakes Claudio and brings him to the heel corner. Colin comes in and gives Claudio a European uppercut, which does no damage. Claudio uppercuts him across the ring, holds him up and lets his partners each get a piece. Colin desperately wraps his legs around Bryan's arm for an armbar, but Bryan picks him up and slams him down on his back. Bryan gets shoved into the UnStable's corner, STIGMA attacks the knee and Bryan ends up in peril. Gerard focuses on the knee, putting him in a Half Crab. Colin pulls him out of the ring, until remembering that – oh yeah – that means a tag, so he throws him back in. STIGMA runs into the corner and gets a boot to the face, followed by Bryan dropping him with a flying kick. Bryan tags in Claudio.
Claudio has some trouble from STIGMA and is forced into sitting position in the corner as STIGMA kicks him across the face. STIGMA bounces the ropes for one more kick, it's caught and Claudio sends him spinning with the Big Swing. Thankfully, not quite as long as when he did it to Grizzly. Right after, Gerard rolls Claudio up, almost getting him. Claudio throws him across the ropes, tosses him straight up for the Swiss Death, but Colin gets him in a backslide from behind. Claudio barely kicks out. The ring fills up for a second and when the smoke is cleared, we have Bryan vs. Gerard. STIGMA clips Bryan's knee and Gerard almost gets the pin. He puts Bryan in the STF, garnering a big, "PLEASE DON'T TAP!" chant. Claudio saves him, waits for Gerard to stand up and boots him from the ring, following after him. Taylor is left in there with Colin, slamming him with a Butterfly Suplex into pinning position. Team Uppercut are off to the finals and when Colin tries some post-match chicanery, he gets bounced back and forth with uppercuts.