May 4th, 2011 Posted by david brothers
(retooling this some.)

created
–New rules for comic book movies! Watch people get mad at me for saying The Dark Knight is not perfect!
–Five digital comics you should buy!
–Dark Horse has a digital comics app and I take a look!
–David Hine and Moritat make The Spirit good!
---
commentary
-Two things about Frank Miller's work on Sin City: Family Values.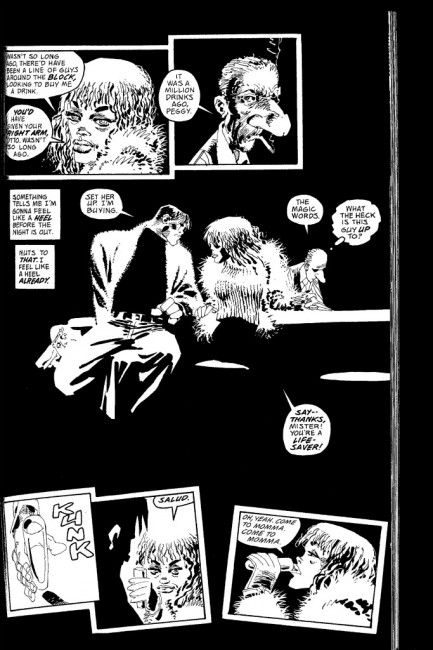 -This page is pretty nuts. A lot of what I read are mainstream comics, superhero or otherwise, which means that they're colored, sometimes garishly (in both good and bad ways). Spotting blacks is something that feels pretty rare. I can't remember the last time I looked at a page like, "Wow, look at all that black."
-Miller's pretty good at making black and white play well together, though, isn't he? I love how he minimizes certain things (the barstools), suggests other things (Peggy's legs), and then throws a bunch of detail onto the man's pants and Peggy's sweater. What's really striking is how that big drop of black that's Dwight's chest really sets off his figure.
-I like the feathery fur on Peggy's jacket, and the fuzz on Dwight's coat. What material is that supposed to be? Like a light fur? Dwight's really into his role. Shame about him sitting on his coat, though.
-There's this piece Miller did of Miho for some magazine or another. It's in The Art of Sin City, at any rate. It's sparse, hardly any details but Miho's face and pubic hair. It sounds perverted, but it really doesn't come off like that way. It's sexy, but not like… gross.
-I couldn't find the image online. Found a whole bunch of other stuff, though. Here's a slightly dirty Sergio Aragones Sin City illo, instead: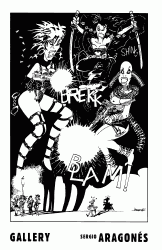 -Miho is probably my favorite character out of Sin City's cast. She's sorta the height of Miller's Elektric woman worshipping. She's an invincible killing machine, stronger than everyone around her, and only subordinate to a man when she wants to be, which isn't really submission at all, is it?
-Miller writes and draws her as a sort of ethereal, angelic figure. Her thoughts are closed to us, barring commentary from other characters, so we can only judge her actions.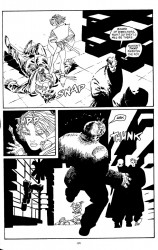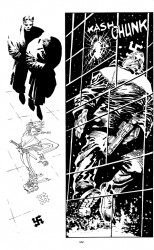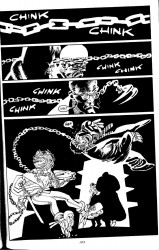 -She's entirely free of shadows in this tale. She's the only pure character in the entire book. It's an effective visual choice, because she either fades into the background, like a ghost, or really pops off the page.
-Miho spends all of her time in Family Values killing and maiming some thugs. It's great.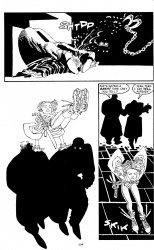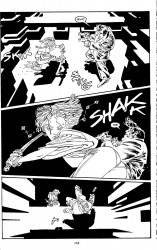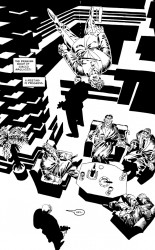 -It's great because Miller's actually pretty good at action scenes. I like how casual this whole sequence is, how Miho's just an efficient killing machine that catches everyone by surprise.
-The best bit, though, is that last page. Perfect picture of one moment in time, in that moment right before confusion turns into surprise.
-Has anyone ever looked at how Miller portrays people in mid-air? There's this sublime bit in Elektra Lives Again where Matt Murdock just steps off a balcony and falls, before hitting a wire. Miller & Lynn Varley left the snow on the wire in place while the wire fell. There's something about the way Miller shows people leaping and falling that's different. I'd have to reread a whole lot more of his stuff specifically looking at that, though.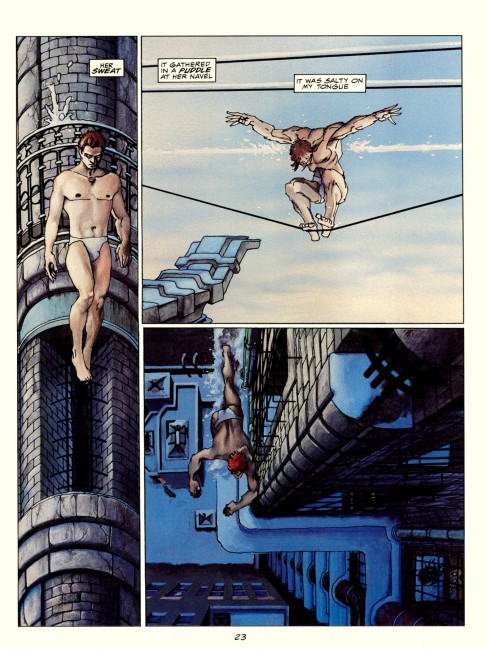 -Copped two new albums this week, both of which are actually old: Misnomer(S)'s American I(s)
and Hard Nips second EP, I Shit U Not
. One's this sorta… punk-y thing, lots of heavy guitars. The other's violin-inflected hip-hop.
-I really like the idea of violins and rap. There's no real reason why one doesn't belong with the other, and I've liked that mix since the intro on Hip Hop Respect
(scroll down, hit listen). Misnomer(S) is two sisters, Knewdles and Sos. Knewdles kicks raps that feel sorta Native Tongues-y in terms of flow (I hear a lot of Queen Latifah in her voice, but she's got De La's playfulness) and Sos is the violinist half.
–American I(s) is a pretty fun record, but that type of fun that flips between rapping about rapping to rapping about real life issues, like racism or broken relationships. I like the way it sounds, though I've only listened to it a couple of times thus far.
–I Shit U Not… I like how this sounds. I don't really know much about whatever microgenre this is probably supposed to be, but it's good music to bike to. That mix of higher-pitched vocals and deep guitars (what's the word for this type of guitar sound? somebody help me out) makes for an aural mix that's new to me. The songs feel almost… abstracted, with the music and vocals playing basically the same role to my ears.
-Is that weird?
-I'm pleased with both albums, though. Hard Nips goes onto the workout mix, Misnomer(S) into boom-bap-rap.
-Vidyas:

---
comics
David:
Heroes for Hire 6
Esther:
Yes:
Superboy 7
Maybe:
Secret Six 33
Gavin:
Axe Cop Bad Guy Earth 3, Secret Six 33, Irredeemable 25, Avengers Academy 13, Deadpool Annual 1, Fear Itself 2, Herc 2, Heroes For Hire 6, Marvel Zombies Supreme 4, Ozma Of Oz 6, Uncanny X-Force 9