August 15th, 2008 Posted by Gavok
How about the first page of Secret Invasion #5?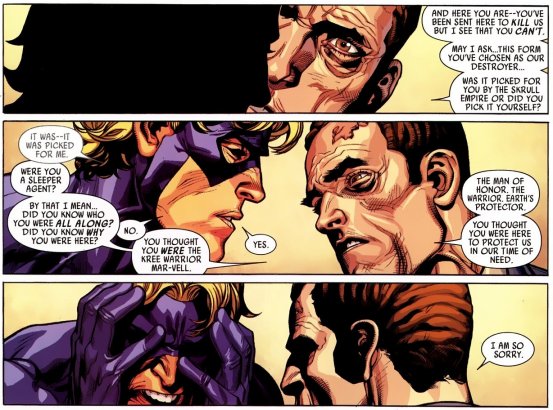 That issue had a lot of great moments in it. People were badass when needed, stuff blew up and Skrull Jewel stared horrified and confused at her green hands moments before a tiger mauled her to death. But this, this right here is the highlight for me.
It's incredible that Mar-Vell and Norman Osborn are two guys who got killed off in the 70's, but have done some spectacular stuff since their fan-reluctant resurrections. Right here, you're looking at two of Marvel's best characters at the moment. They're both so damn intriguing.
Luckily, there is some news to cheer me up. Cheer you up too, if it suits you.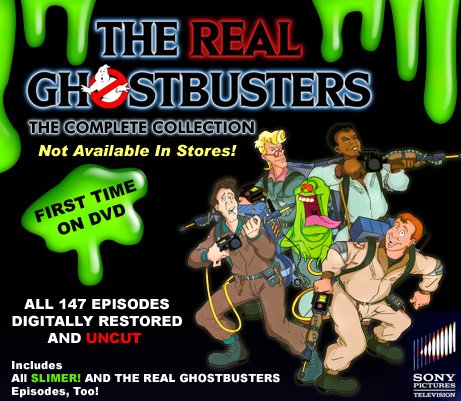 Time-Life is releasing every single freaking episode of Real Ghostbusters on DVD!
It's about freaking time! I'm sick of those $6.99 discs that only have three random episodes on them. Leave those to die in the 80's.
For the first time, all seasons of The Real Ghostbusters are available in one collection, on 25 DVDs.
Included are:
– All Episodes of The Real Ghostbusters
– All Episodes from Slimer! And The Real Ghostbusters
– Unique Collector's Box with Exclusive Art
Also included are over TWELVE HOURS of bonus features, including:
– The original promotional pilot for The Real Ghostbusters, NEVER BEFORE AIRED
– 21 on-camera Commentary Tracks with producers, voice actors, writers, animators and production personnel
– 5 exclusive Documentaries
– 86 Episode Introductions
– 16-page booklets include episode synopses, trivia, and art for every episode!
– Plus Scripts, Storyboards, Image Galleries, Music & Effects Audio Tracks, and Much More!
– Interviews with J. Michael Straczynski (Writer & Story Editor), Maurice La Marche (Voice Of " Egon Spengler"), Laura Summer (Voice Of First "Janine Melnitz"), Kath Soucie (Voice Of Second "Janine Melnitz"), and Many Others
Hells yes.
I apologize for my lack of updates lately. Truth is, I'm very sick right now. I've been sick this past week. It's surprisingly hard to type up your thoughts on Director Bones when you keep coughing so hard and so often that your neck feels like its about to snap right off.
Give me a day or so. I'll be back in form, writing long essays about Amalgam's unbeatable monster villain "Red Monarch" or something equally retarded.