May 22nd, 2008 Posted by Gavok
It's no secret that I'm a guy who loves the fighting genre of videogames, especially when you consider the kind of awful comics I've forced myself to read. With all the Street Fighters and Tekkens and Mortal Kombats out there, the one game I find unfortunate for never getting its own comic series is Fatal Fury. And I'm counting American comics here. None of that ridiculous Hong Kong shit.
The reason Street Fighter fails as a comic is because the main hero and the main villain have little to do with each other. Think of it like this. Marvel's main hero is Spider-Man. Their main villain is Doctor Doom. Have they met and fought? Sure. But if you were to do a 12-issue comic that sums up Marvel's history through the eyes of Spider-Man vs. Dr. Doom, it would be a major stretch, watered down by all the other important characters.
Fatal Fury had two things going for it that would keep it a readable comic book. One is that it's a very simple story. It's about one man (and his less important brother) trying to get revenge on the crime boss that murdered his father with his bare hands in broad daylight and was so well-protected due to police bribery that nobody could do anything about it. So he enters a fighting tournament held by this crime boss in an attempt to get close enough so he can finally get that revenge. Everyone other than those two characters is ultimately a supporting character. Like I said, it's simple. You can write the whole thing in three to twelve issues depending on how you want to go about it, not to mention sequels and spin-offs.
The other thing that would make it readable is the villain in question: Geese Howard.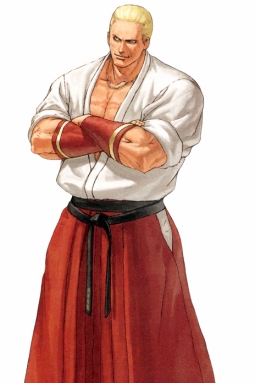 Geese Howard is a slick bad guy who's both untouchable in the criminal sense and the physical sense. Much of his fighting style is based on him casually catching his opponent's attacks and tossing them around like a rag doll. Geese has a unique aura of badass that never truly appeared in a comic book counterpart. The character closest to him would likely be the Kingpin, especially the Bendis version, and even then the similarities don't match up completely.