September 6th, 2008 Posted by Gavok
It's not easy being a Venom fan. Or, to be more specific, it's not easy being a fan of Eddie Brock. I'm more or less saddled in with him for life because in the end, he's the guy who got me into comics and is instrumental to this site's existence all together. That'll be a story for another time. Maybe I'll finally get around to that series of articles about his history next week. I'm getting nowhere with the next Deadshot's Tophat installment anyway.
Now, I've read through the 5 years of Venom being the Lethal Protector (fun fact: reading almost every Venom appearance from the 90's is so torturous that the Republicans now believe I'm qualified to run for office). It wasn't a good series, but like all failed comics, it's at least interesting when you look at what went wrong. What went wrong is Venom's flaw as a concept. Esther made a post about ailed characters who can never fix what's wrong with them (note: who the hell is Esther?). Rogue can't touch, Babs can't walk, Peter Parker can't be happy, and so on and so forth. At least those guys have strong characteristics and rich histories. Venom isn't allowed to have that.
Most of Venom's 90 run worked like this: a writer would use him for a blatant crossover story and occasionally introduce a new dynamic to the character. He'd give Venom some direction and a little bit of promise. After that storyline, said writer would leave and be replaced with someone else. That guy would toss all of that development out of the window for the sake of writing his own wicked crossover story and it all starts over again.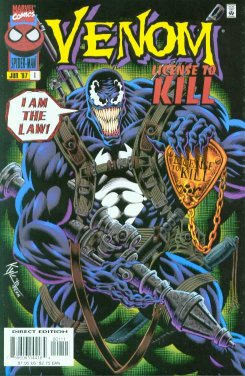 Then Larry Hama took over for the rest of the run, which is interesting for the fact that the final few arcs were based on Venom fighting for amnesty by working for a corrupt government group that's implanted him with a bomb if he gets out of line. Doesn't that sound familiar?
Not like they'll ever follow up on that connection. You see, Venom is a malleable character against his own will. Nobody cares enough to do anything meaningful with him. No matter how many girlfriends he's given or how many moments of clarity he gets, every single writer after will disregard it all because Venom's their pet dollar sign with fangs and a hate-on for Spider-Man. No more, sometimes less.
There's almost some kind of sad tragedy to it. Some kind of Groundhog Day curse, but without the hilarity of Chris Elliot.