September 3rd, 2012 Posted by Gavok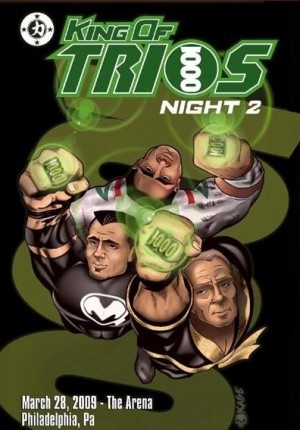 King of Trios 2009: Night 2
Match 1
Rey de Voladores Qualifier
Austin Aries vs. Player Dos vs. Matt Jackson vs. Fire Ant
Aries is suddenly a heel, explained through commentary as having some bad hotel service and sleep the night before. Player Dos is the rechristened Stupefied, now fully immersed in his partner's gimmick and wearing a new set of tights that include a Triforce, the Deadpool logo and other nerd insignias. The opening is extremely quick with a fast Dos/Matt exchange leading to Dos throwing Matt out with headscissors, throwing Aries out immediately after and then being taken apart by Fire Ant. Fire Ant throws Dos out with a Fireman's Carry, then Aries returns and slows it down quite a bit. Aries lays Fire down on his stomach and slides him out of there. He sends Dos to the outside with a dropkick, leading to Aries vs. Matt on the inside with Dos and Fire Ant fighting on the outside.
After a brief exchange, Aries applauds Matt and reaches out for a handshake. Matt accepts, but is then slapped in the face. He sends him to the outside and as Aries bounces off the ropes for a dive, Dos trips him. Aries gets up and punches him down and bounces the opposite ropes to try a dive on Dos. This time, Matt trips him. He blocks a punch from Aries and drags his throat across the top rope, opening Aries for a top-rope crossbody courtesy of Fire Ant. Matt comes in and clears the ring, bounces the ropes and this time it's Aries who comes in and interrupts him with a clothesline. Aries spends a few minutes working Matt over and ends up screwing himself over by dedicating way too much time to playing to the crowd.
Matt fights back with a Shiranui, backdrops Fire Ant and then Spears Dos. Again, he goes for a dive follow-up, but Aries smashes him with an axe-handle to prevent it. Matt clotheslines him out of there, bounces the ropes, dropkicks all three through the ropes, bounces back up and then gets them all with an Asai Moonsault. Back in the ring, he gets Dos with a twisting Ace Crusher from off the top.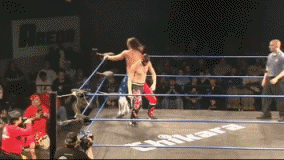 He prepares a superplex on Dos, but Aries appears and throws him off and to the mat. Aries climbs up to do a superplex on the prone Dos, but Fire appears on the apron to jumpkick Aries in the head. Fire hops to the top rope, jumps off and kicks Matt right in the skull. He follows with the Beach Breaker and pins Matt, eliminating him from the match. Dos is still in the corner and keeps getting hit repeatedly by accident as Fire and Aries focus on each other. Fire goes for a wheelbarrow-based maneuver and Aries refuses to play ball.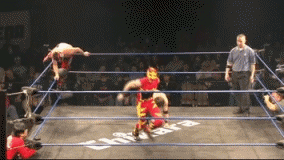 As he laughs at this, Fire gets up and gives him a Stunner. Fire gets to the second rope and jumps off for a senton, completely missing. The ailing Dos is still on the top rope during all of this, so he does a Frog Splash onto Fire Ant immediately after the impact, giving him the pin. Now we're down to two. Aries topes the hell out of Dos, garnering dueling chants from the crowd. After a second-rope bulldog, he does a variation of a Camel Clutch with a bridge. Dos makes it to the ropes to save himself. Once again, Dos is set up for a superplex, but this time he shoves Aries off and tries a Frog Splash. It misses. A Fireman Carry Slam sets Dos up for Aries' 450 Splash. As Aries readies himself on the top rope, Dos pops up and delivers a brain kick to stun him. He gets up there with him, does one of his trademarks, the B13, which is like a top-rope Snapmare that lands on the opponent's head. Dos picks up the win and advances to the finals on Night 3. Great start to the show.