October 13th, 2011 Posted by Esther Inglis-Arkell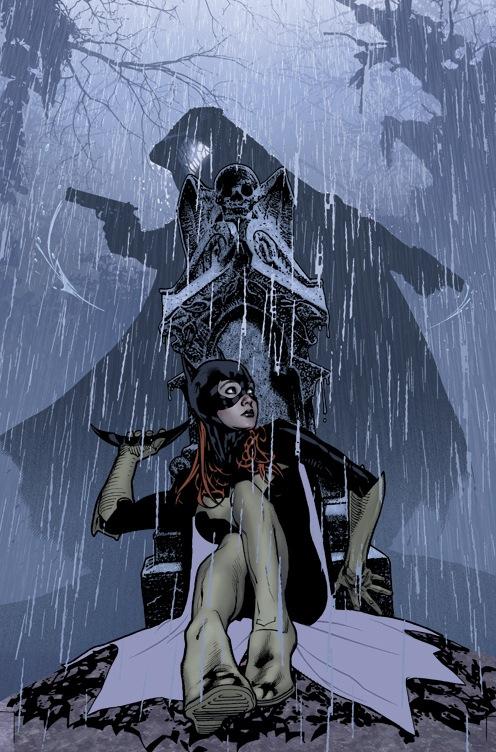 This will be a short play-by-play, since the story in this issue is very dense in some scenes while others are knock-down drag-out fights.
We start where we left off last week, with Mirror having killed a criminal, and a cop, in the hospital, and the cop's partner and Batgirl standing aghast.  I've decided that I was too hard on the title last week.  It seems the entire universe is younger, and if the male Bats are exactly where they used to be, well, it's not like that franchise hasn't always been given priority.  Batman has been the economic and public recognition power house for DC for decades, and that's not going to let up.  Since it's been established that he works with the Robins closely, and not Batgirl closely, his continuity is pretty much always going to be more protected.
Babs regains her resolve and runs after the villain as he flees.  The next ten pages are a knock-down drag-out fight between the two of them, broken up briefly by Detective McKenna telling Commissioner Gordon that they need to issue a warrant for Batgirl's arrest.  Babs manages to steal Mirror's hit list, finding both her identities on it, but at the end he disappears and she can barely change clothes and limp home.
Back at home, her roommate, Alysia, is shocked by Babs' condition, but rallies, and manages to patch her up and put her to bed.  Afterwards, she asks Babs why, exactly, she's beat to hell, and why, exactly, Alysia shouldn't call the cops.  Babs assures her she's 'not a criminal or a victim.'  I think you'll find, when you check with your dad, Babs, that the former is no longer true.  She then borrows some clothes – which I have never managed to do with all my myriad roommates because none of us are even remotely the same size, but this is comics, and there are only so many body types to go around.
The clothes she borrows allow her to go on a date with her physical therapist, who protests the entire time that this is not ethical.  Named Gregor.  Is he buff and cheerful, with black hair?  Of course he is!  Oh, Babs.  Just go back to Dick already and make us all happy.  Well.  Make me happy.
Gregor asks about how Babs got the use of her legs back.
"I'm a skeptic, Gregor.  I don't believe in miracles."
What a coincidence, Babs.  Neither does any reader of the title.
"And if someone is handing them out . . . Why should I, of all people in the world, be the recipient?"
You're recognizable and potentially lucrative.  Done!  Move on!
And the comic does.  Babs does some research, and finds out that Mirror is a federal agent whose family died in a flaming car crash.  She breaks into the agent's place and finds a small armory and Mirror talking to her on one of those giant computer screens that comic book villains love so much.
It seems that he thinks life is too painful, and that the survivors of any disaster deserved to die and be relieved of their suffering.  Why he had to kill them in the most painful and horrifying way possible is just a mystery.  His next victim is a guy who was saved from a train, and rides it to work every morning.  Mirror has put a bomb on it, to show Batgirl that there is 'an end to all miracles.'
Can't anyone in this universe just get therapy and slowly learn to live a fulfilling life again?