January 8th, 2013 by
david brothers
| Tags:
Colored Commentary
,
django unchained
,
quentin tarantino
Thanks to Gone With the Wind and the desperate machinations of lost causers, the picture we have of the antebellum south is one of southern ladies in big skirts, lemonade, and stalwart men looking out for what's right. The south, and the trappings of the south, are the closest thing us Americans have to royalty.
And people get into it, boy. You can buy all types of antique and blatantly racist trinkets and tchotchkes if you know where to look. People really dig on the Stars & Bars, too. Georgia finally managed to get it removed from the state flag, and whoops we just replaced it with a different Confederate flag sorry y'all. There's a country music group based out of Nashville called Lady Antebellum, even. It's real in the south.
The antebellum south, our picture of it, is built on a lie. The pastel paradise wouldn't have, couldn't have, existed without a grievous moral lapse on the part of all involved. It needed pain and scarred up backs to work. It ran on blood and tears and wasn't the Disneyland you think it was.
It's ahistorical, too. You can't justify the slavery of Africans on any level if you know half of anything about history. You can't argue that negroes were docile or particularly suited to slavery when you know how influential and diverse the black population of the world has been.
They could argue that back in 1858, sure, and they even brainwashed a lot of colored folk into believing that the story of Ham, Shem, and Japheth justified their toil. But it's 2013. That kind of ignorance doesn't play any more.
Django Unchained explodes the myth of the south, and it does so in spectacular fashion. We see two plantations — Big Daddy's plantation and Calvin J Candie's Candyland — and both have the appearance of the idyllic plantations of our fantasies. But once you take a closer look, you can see the rot inside them.
Big Daddy has a name like a pimp and more than a few notably light-skinned children on his plantation. Big Daddy carved out his own little slice of Miscegenation Heaven (™ and © Pedro Tejeda, 2013) and populated it with his legitimate and illegitimate family. Why do you think he makes the slaves call him Big Daddy?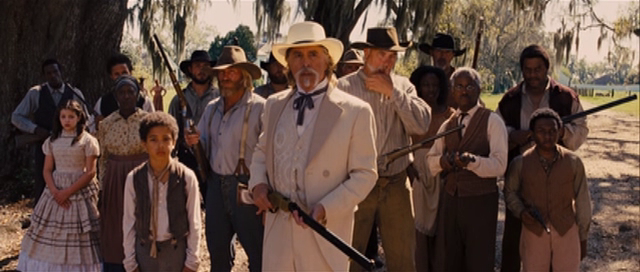 Big Daddy's slaves are generally well-dressed and the women get to play on swings when they aren't working. It sounds like the prototypical happy slave situation, and we catch a glimpse of their fun as Django storms toward two men who did him wrong in the past. They're about to punish a slave for dropping eggs by whipping her, and that's your contrast right there. The impeccable table-setting, good ol' homecooked food, mint juleps… none of that was the result of singing, happy-go-lucky, jolly slaves. That was the result of people who were beaten and maimed into submission. You complied or you got the lash. And the well-dressed pretty girls playing on the lawn? They're Big Daddy's prostitutes. Nothing is as pretty as it seems.
Candyland, on the other hand, is a small kingdom. Candie's father and father's father were cotton men, and they own one of the biggest plantations in the land. Calvin, though, has expanded into something else: mandingo fights. Take two strong slaves and pit them against each other in a fight to the death. Winner takes all.
Candie himself is the very picture of a landed southern gentleman. He's a paragon of virtue, well-mannered, educated, fashionable, and positively cosmopolitan. He's also corrupt. Worse than that — he's corrupt amongst the corrupted. His daddy and his daddy's daddy were in business. They beat, raped, battered, bought, and sold flesh to secure their fortune. Their descendant, though, has added pointless violence to the family's repertoire, expensive gladiatorial combat.
The antebellum south was nothing to be proud of, and I like how Tarantino went about showing it. The usual train of thought goes that slavery was accepted at the times, just a product of the time, but let me ask you this: accepted by who? It certainly wasn't accepted by the slaves, or else there wouldn't have been over two-hundred different slave uprisings. So who was it accepted by? The people who had a vested interest in enslaving other people? That's who we're judging the past by? Greedy cowards? It gets harder and harder to sell or believe in the pastel paradise the more you look at what it took to create that paradise.
I think Tarantino feels similarly. Whenever you see Django doing something untoward for a negro at the time, slaves look at him with a stunned expression and quickly look away. It's a "Did he just do that? Is he crazy?" look. They know what they can and cannot do, and the surprise and admiration they watch Django with is them wanting to see if he can get away with it. They know who they are and what they are expected to be, but, given half a chance… well.
Did you notice how insistent everyone in Django Unchained was that Django wasn't a typical nigger? Big Daddy and Candie both talk about his exceptional nature, with an emphasis on the "exception." Like this bit that got howls from the audience:
Big Daddy: Django isn't a slave. Django is a free man. Do you understand? You're not to treat him like any of these other niggers around here, 'cause he ain't like any of these other niggers around here. Ya got it?
Betina: Ya want I should treat 'em like white folks?
Big Daddy: That's not what I said.
Django's exceptional, but he still ain't a white man. But his exceptional nature is crucial, because the last thing you want to do is show these lil unexceptional niggers that they can be exceptional, too. Then the pastel paradise comes crashing down, and nobody wants that.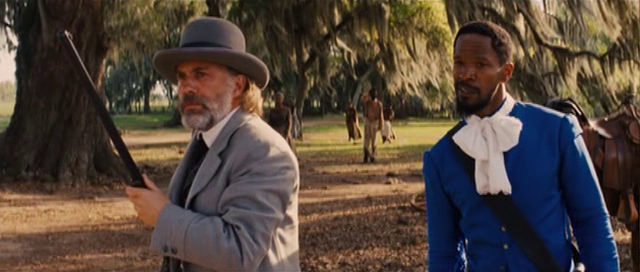 But if you keep positioning Django as just one man? Then you can keep control. You can keep the paradise and you can show the many that they are not, and never will be, the one. But they're watching him anyway, aren't they? They want a way out.
All it takes is one example.
Similar Posts: