January 10th, 2013 by
david brothers
| Tags:
Colored Commentary
,
django unchained
,
quentin tarantino
Django Unchained is controversial in part due to the fact that a slave revenge story utilizes one of the most painful periods in American history for action movie thrills. The extreme Fox News types want to know why Quentin Tarantino is producing a hate tract, Spike Lee and them want to know who Tarantino thinks he is to tell this story, and it seems like everybody else is trying to figure out if Tarantino is racist and how racist he is (this one's pretty dumb). Django Unchained is, to a certain extent and on a few different levels, something we aren't used to seeing. It's getting a lot of attention accordingly.
But what's easy to miss in all the hullaballoo is the fact that Django Unchained isn't that foreign of an object at all. In fact, Django himself is a quintessentially American hero, a type of character we already know and love. Well, to a point.
I like this bit from Andrew Dominik's Killing Them Softly, delivered by Brad Pitt's Jackie Cogan:
My friend, Thomas Jefferson is an American saint because he wrote the words 'All men are created equal,' words he clearly didn't believe since he allowed his own children to live in slavery. He's a rich white snob who's sick of paying taxes to the Brits. So, yeah, he writes some lovely words and aroused the rabble and they went and died for those words while he sat back and drank his wine and fucked his slave girl. This guy wants to tell me we're living in a community? Don't make me laugh. I'm living in America, and in America you're on your own. America's not a country. It's just a business.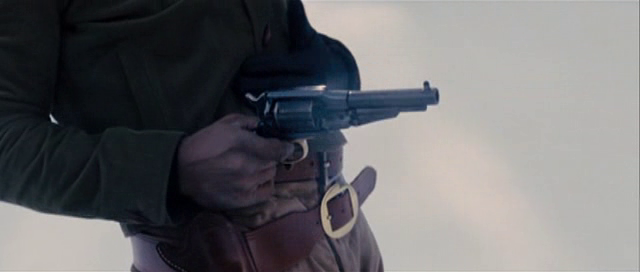 America isn't baseball, bald eagles, apple pie, and pretty blonde cheerleaders dating sturdy quarterbacks. America is John Wayne. America loves John Wayne. I could be mean and point out how Wayne's racism and white supremacist views are as American as apple pie, if not more so, but really, it's his persona we love. The reputation of the dude he played in the movies. It's the idea that one man can stride into town with not much more than a gun, a grimace, and strong sense of right and wrong, and make a difference.
We love lone gunmen out here. Men of action, not like our wishy-washy politicians or corrupt constables. Men who know how to get things done. Mavericks. We like John McClane more than just about anything. Films noir are littered with these guys. It's one man against the world, and we love it so much because the man can win.
The lone gunmen gives us an icon to look up to, a hero to aspire to. You can see it in the rhetoric that comes after shootings. "If only one man was there with a gun to do the hard thing…" It's stupid if you think about it for more than half a second, but it's undeniably sexy. We don't have a lot of control over our lives, so the idea that one man can take control, and that in the right situation, that man would be us, is wildly seductive.
Django Unchained is an incredibly American movie, isn't it? Django's up against blatant evil, an evil that has been propped up by a corrupt government and culture, and that frees him to do the hard thing without being a bad man. Generally, killing someone is something to be frowned upon, but when Django does it? It's righteous. He's giving them what they deserve and we cheer him because he is right. Never mind the murder, or the laws, or any of that. What matters is that someone has done wrong, and they need to pay for that.
Seeing this kind of story in action, the ultra-capable lone man hero, makes us feel good inside. It suggests that there is order in the world, and that our problems can be solved in spectacular fashion. It fills a need that is hard to express in polite society. It isn't fair or kind, but some people deserve to die. They've reached that point that we, as individual people or a society, say "Build his gallows high."
We want to see Django kill those folks because they deserved to die for their crimes. Tarantino mined the history of slavery, and simply seeing it in action let us mentally justify the massacres at the end. Django is our lone man, our instrument of vengeance. We have seen evil, and we want it gone.
The lone man is a stupid and evil idea, too, of course. I assume you know that already. The idea of a lone gunman sucks for everyone who doesn't want to play lone gunman. It's the pretty face of imperialism and terrible, murderous aggression. Django's just the inverse of the oppressor, a cruel answer to a cruel wound. And even then… he has to willingly take part in the exploitation of his own people. He has to stand by and let two men be murdered, just so that he can get his wife back.
It can be nice to visit, to indulge our desire to be the big man on campus, but you can't let it stick around in the back of your head. You can't take it to heart. A lone man is no way to be a part of a family or a community. Lone men just hold everyone back in the long run. America can be Martin Luther King Jr as well as John Wayne.
Similar Posts: