September 26th, 2011 by
david brothers
| Tags:
frank miller
,
grant morrison
(this is long, sorry, but i guess i have FEELINGS :rolleyes: )
In between NBA 2k11 (and soon 2k12) games, I sometimes write about comics. It's just a thing I do, you know, keep the lights on and the Hawks on my TV. I reviewed Frank Miller's Holy Terror, his big 9/11 getback novel. If you've talked to me for more than thirty seconds, you probably know I really enjoy dude's work, and was looking forward to Holy Terror with more than a little trepidation. Maybe more excitement than trepidation, but I definitely knew 1) how bad this could get and 2) that Miller doesn't have a subtle bone in his body. Which makes the fact that Holy Terror is as bad as I expected it to be all the more depressing. Read the review–it's two thousand words, and I spent a long time writing it (more on that in a bit). People are going buck wild in the comments, I bet.
Here's a quote for something I want to talk out:
There's a line from a poem that's been running through my head ever since I finished Holy Terror: "When she was good, She was very, very good, But when she was bad she was horrid." It applies very well to Holy Terror. The last page is a stinger as good as anything ever seen on The Twilight Zone. The rest of it? It's depressing. It feels almost like a betrayal. Miller has done many things that were forward-thinking or intelligent, whether exploring the ideals of black beauty in Sin City or blowing the hinges off what comics could be with Elektra Assassin. For him to do something like this, which is stupid at best, is… let's call it disappointing. He's punching far below his weight class. I'm still looking forward to the 300 sequel Xerxes, but my desire for it has definitely been tempered, if not nearly annihilated, by Holy Terror.
And "betrayal" feels like one of those things that the comics fans I hate would say in a review, in-between sentences about how this portrayal of the Vision is something something continuity joke. That got away from me, but you get my point. I wrote it in the review yesterday and then stopped. I erased it, rewrote the sentence, and then put it back, because that's what it feels like. Not a dramatic, everything-you-know-is-wrong, GOTCHA betrayal. Just a minor one. Something I thought was true was revealed to be false.
I've talked incessantly about how The Big Fat Kill pretty much completely rewired my head and is probably the thing that led to my love of straight up crime fiction. I grew up and read more and realized that Miller was bigger than hardboiled books. I was pleased to see that his body of work was not only diverse, but groundbreaking. I mean, count 'em: Daredevil, Wolverine, Born Again, Year One, Elektra Assassin, Dark Knight Returns, Sin City, A Dame to Kill For, 300, and Hard Boiled, to name his more inarguable examples of classics. He's been in comics for 33 years, so… what is that, around a one hot book every three years average? That's pretty great. He's a legend for a reason.
And so, the "whores whores whores" stuff online bothered me a whole lot. If you're pulling that card, you're ignorant of Miller's body of work. There's really no other way to say it. I did/do a lot of eye-rolling at that stuff and try to correct it when appropriate. Miller's back catalog is way deeper than that criticism suggests, and I guess because of my attachment to his work over the years, it's my pet bugaboo?
I expected Holy Terror to be pretty bad. I was hoping for ASBAR bad, where there are these glorious shining spots of fantastic storytelling mixed in with the inexplicable nonsense, instead of The Spirit bad, which was mostly bad except for those parts where I kinda sorta got what Miller was trying to do. Back in July, I said "boy do i hope this isn't super racist when it drops." And I kept doing that. I kept making jokes about how it was probably gonna be pretty offensive or racist with each new bit of news. I think it's because I knew, deep down, that it would be terrible, but hopefully if I joked about it, it would somehow become less racist or something. Denial, son.
G Willow Wilson posted this on her Twitter:
"As a Muslim comics creator, seeing an icon like Frank Miller write a book like Holy Terror is like getting punched in the face. Just sayin."
And ugh, man! I like Wilson a lot, though I don't follow her on Twitter, so this was the written equivalent of somebody punching you in the face while you're asleep. You're gonna feel it, and you're gonna remember it for a long time. It will cold ruin your day until you finally man up and take care of it. What she said crawled all the way up into my brain, and it sat there asking me why I was being stupid. I knew better, I always knew better, so why the hesitance and dumb jokes instead of facing up to what Holy Terror was shaping up to be? I knew that I needed to recognize wisdom and do what I should have done ages ago.
So I canceled my preorder. No, really. I did it the same day, a couple hours later: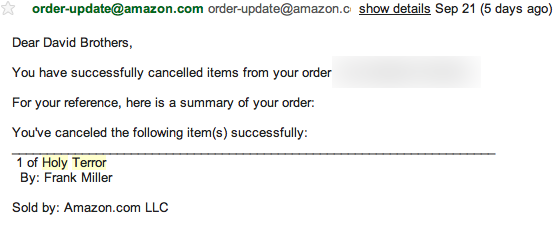 'cause I mean, I'm a smart guy, but I was being a smart dumb guy by fooling myself into thinking that Holy Terror was something that I would possibly be able to like and still respect myself. I'm a fan–not a stan. Or so I'd like to think anyway.
I got a PDF galley of the book the very next day. I laughed at the timing and read it as soon as I got home. And on the first read, I was stunned. Or not stunned–more like blank. I read every page, some twice, and at the end, I was empty. I didn't hate it, but I was completely devoid of anything to really say about it. That was it? I read it again and everything fell into place. That blankness was me working through the cognitive dissonance of someone I'd thought was a modern, progressive person doing a book that was filled with wall to wall hate for people I respect a great deal. I mean, no way, no how does that happen.
Except it did, it's real, and man, yeah, I'm glad I canceled the preorder. I would've been furious. I would've felt terrible. I would've felt a lot of things, probably. Even with not having put money into it, I felt bad about it. I felt gross. Holy Terror was everything I was hoping it wouldn't be. I was a fool for thinking otherwise.
It took me three hours to write that review. That's an extremely long time for me to take to write anything of that length. (embarrassingly long.) I spent the whole weekend thinking about Holy Terror, despite going to a Hong Kong cinema film festival, and wrote it on Sunday. Writing the review wasn't working for me at all–and maybe this is melodramatic but whatever, it's true–until I put on Spike Lee's Malcolm X. It came out on my ninth birthday and a gang of my family all drove to Macon as a group to see it. It was genuinely life-changing for me, like a watershed moment or Paul waking up on the road to Damascus. If I had to make a chart of things that have had a huge influence on my life, Denzel Washington as Malcolm X would be one of the top five biggest things. It's that real to me. I don't watch it near as often as I should, but every time it's as good as it ever was. (I forgot about the children saying "I am Malcolm X" at the end this time around, and they caught me completely flat-footed. Long story short, FYI, I got a lil choked up.)
(My man Pedro from Funnybook Babylon also hooked me up with a Kindle copy of the new Malcolm bio while I was watching the movie. Very X sort of day.)
I dunno why, but that made the review flow easier. Writing alongside something I knew and loved, and that was in a very real way directly relevant to what Miller was writing about, worked. I got that I needed to make it more of a personal essay than a "Buy this book/don't buy this book" review, and I wanted to do it from the perspective of someone who loves Miller's work in general and was disgusted and disappointed. "Betrayal." I was surprised when I wrapped up the review a little bit before the credits rolled, but there's something weirdly fitting there. I dunno. Serendipity. It is what it is.
I don't hate Frank Miller. I'm entirely more disappointed than I expected to be, but I'm still kinda sorta looking forward to Xerxes. I dunno.
I threw some shots Grant Morrison's way last month, and I didn't even bother buying (or bootlegging) Action Comics. I'm just not interested any more, and that's a feeling that's been growing for a while. I don't need his books and I don't think I'm missing all that much these days. I haven't written Miller off like I have Morrison, though I think that Holy Terror and what it represents are an objectively bigger sin than "has stupid opinions about Superman and needs to openly rep for the Siegels and Shusters or quit comics." I liked Morrison a lot at one point, but he's never been as fundamental to me as Miller was. Is that why I haven't entirely quit his comics? I dunno, but that feels like the correct answer.
But even then, I'm giving a lot of thought to Xerxes. The comic is one of his best, and the movie felt offensive in ways the comic didn't. Vagaries of the medium, maybe. I don't think that's stannery. I feel like that's probably true. I've liked what I've seen of it, but I'm still thinking about it a lot. I dunno.
The Miller and Morrison things are sort of identical, in that both situations involve a creator I respect proving that my faith was misplaced. We build up these pictures of others in our heads, and we fill in the blanks based on what we know or what we want to believe. Seeing those differences made as plain as day is always a shocking, surprising thing. It's unfair, maybe, but we still do it.
I have a hard time separating the art from the artist once I become aware of something I would personally find loathsome about the artist. Sure, they're still talented, but there are SO many things to take that I can live my entire life experiencing new things before working my way over to them. Other people are better at it than I am, and I'm a little jealous. But I don't like the idea that my money would go to supporting someone who represents something I hate. And it's disappointing when people you like give you reasons not to like them.
Every time I see their name, I'll think of what they did. I dunno if that's being an informed, responsible consumer or just thinking too much about comics or both.
But you know, whatever whatever. I'm glad I got to see a dozen or so brand new and genuinely incredible Miller pages, despite the words that were on them. You speak of "love and hate." This is it in a nutshell.
This post is around ten words longer than the actual review and took me around an hour to write. (More words now.) Sorry. I'm kinda bummed out.
Y'all probably shouldn't buy Holy Terror though.
Similar Posts: