April 26th, 2010 by
Esther Inglis-Arkell
| Tags:
DC comics
,
lex luthor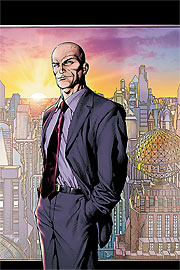 And I like it. 
Lex Luthor has always been one of my favorite villains.  Well, any character can be my favorite or least favorite depending on how they're written, but I like the concept behind Lex a lot better than I do most villains.
For one thing, businessman Lex is not the kind of villain who will kill everyone in the room.  The Jokers, the Deathstrokes, and the Prometheii made me pretty sick of that.  Luthor is the type to slowly, surely, brilliantly grab for more and more power.  He undertakes plans with a specific and productive end and doesn't just go for off-the-charts death and destruction.
Which isn't to say that there isn't emotion and insanity in there.  Luthor's main motivation has always been more clear and – for me – more understandable than the motivations of other villains.  When he got a Lantern Corps ring, his motivation was Avarice, but for me, he's always been ruled by envy. 
This is a guy who prides himself on being the master of the universe, and all of a sudden a bigger, stronger, more powerful, and more popular guy shows up.  In his city.  And that guy isn't even of Luthor's own species.  I can just feel him burning with frustrated rage and jealousy, and twisting it around in his head until he has the moral high ground. 
And when you put him in a business suit, he has to keep himself restrained enough to keep that moral high ground, at least in his own head.  It makes for a great drama, great stories, and great, stable, continuity.
At least in theory.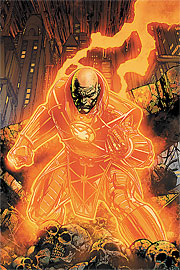 *sigh*
Maybe that cover's just a fantasy sequence.
Similar Posts: