June 19th, 2009 by
david brothers
| Tags:
billy tan
,
brian michael bendis
,
brother voodoo
,
Colored Commentary
,
Marvel comics
,
new avengers
,
punisher
,
rick remender
,
tan eng huat
Two instances of dumb ways to write "ethnic" characters, one counter-example, and a brief explanation.
The first two! On the left, we have Brother Voodoo Brudder Voodoo. On the right, we have the Shaolin Scientist Squad. From New Avengers #53 (Brian Michael Bendis and Billy Tan) and Punisher #6 (Rick Remender and Tan Eng Huat), respectively.



A counter-example for Brudder Voodoo, from Gambit #9 (John Layman and Georges Jeanty):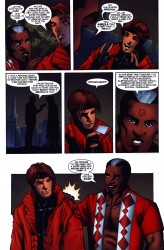 A brief explanation:
Brother Voodoo was needed to fill a role. As part of filling that role, he's got to talk with a comic book Carribbean accent, I guess. Even though he hasn't been portrayed as talking like that recently, nor originally, I believe. But, you know, he practices voodoo, and voodoo dudes need to have that authentic accent. Never mind that he's a psychologist and Haitian ex-pat who's been living in the States for years– he needs to be de likkle Claremontian stereotype, brudder. Just so you know he's foreign.
The other is the Shaolin Scientist Squad, who are kind of like an evil Sons of the Tiger, I guess. My problem with them? Having Chinese villains refer to a "Great Western Satan" is like having a Jewish villain screaming about how Captain America is merely an avatar of Yacub, maker and creator of the Devil. GWS is something I've only ever seen in regards to Islamic extremist rhetoric, most notably courtesy of Iran a couple decades ago, not Chinese.
Nah, son. You got to do better.
Similar Posts: