May 20th, 2009 by
david brothers
| Tags:
manga
,
naoki urasawa
,
osamu tezuka
,
pluto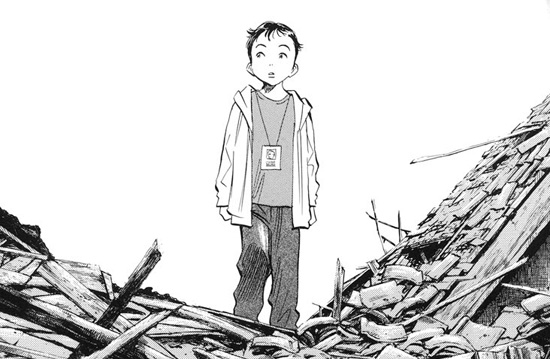 Pinocchio is probably my favorite Disney movie, bar none. It isn't the one I've seen the most. My little brother watching Lion King four times a day for two years straight means that there's no chance of that. I'm sure that there are some deep psychological connections which betray a stunning lack of _____ on my part, but the fact of the matter is that I genuinely enjoy it. The story hits my buttons, the animation (from what I remember) is good, and Jiminy Cricket was a great sidekick. I can't reliably whistle to this very day, and that was a shortcoming that bothered me as a kid.
I read Pluto: Urasawa x Tezuka, Volume 1
a few weeks back, and received volumes 2 and 3 from Amazon last week. I'm going to give the series a thorough review later, but I wanted to talk about something that leapt out at me in Volume 2
. Pluto is Naoki Urasawa's re-telling of a classic Osamu Tezuka tale, The Greatest Robot on Earth. It was the story of a robot killer named Pluto who wanted to destroy the 7 greatest robots on Earth. Deb Aoki of About.com explains the deal here. Urasawa is the man who created Monster, one of my all-time favorite books.
I'm not exactly familiar with Astro Boy. I know the basics, but I don't know that I've ever seen a movie or tv series, or even read the originals. So, for me, Pluto is an introduction to both Astro Boy/Atom and Tezuka himself. Bear with me if this is something you've heard before.

While reading Pluto v2, I realized that Atom is what happens when Pinocchio gets to be a real boy, while Gesicht, the inspector and star of the book, has only gone partway down that path. It was a gut feeling that struck me when Atom scanned Gesicht's memory chip. Rather than discussing what he saw that bothered him, he came up with an excuse to go to the bathroom, where he began bawling his eyes out. That scene quickly became one of my favorite scenes in comics. I've had comics that are purely emotionally manipulative, but this scene was honest and extremely sad.
That moment, when combined with the anti-robot bigotry of a police detective and probing questioning from Gesicht, made me realize why Atom is a "real boy," despite being wholly artificial. The bigoted detective kept asking Atom questions, trying to prove that robots can't feel genuine emotion or appreciate beautiful things. Gesicht wasn't as rude as the other detective, but he also wanted to know about Atom's feelings.
Both detectives want Atom to quantify these very fleeting feelings as a way of either proving his humanity or his robothood. "Do you really feel that? What is this like? You can't appreciate this, can you?" Atom can't articulate what these feelings mean. Either he can't pin them down or he doesn't know. Either way, he can't express how the emotions work or what effect they have on him.
However, humans are the same way. We have dozens, if not hundreds, of ways to say that food tastes good. There are high level ways to say it. Food is delicious, tasty, appetizing, or succulent. There are more specific ways, as well. Food can be spicy, tangy, sour, or sweet. If you asked someone to describe why they liked pepperoni pizza, they'd probably use some of these words. If you asked them to describe why the spicy pepperoni tastes good, what would they say?
Can you turn "I like it" into something quantifiable? What about love? Art? I think that you can approach it, and you can certainly give reasons why, but when it comes down to it, you like things because you like them. They touch something inside of you. You can try to figure out exactly why and explain it to others, but you can't communicate some things. You can only approach it. Describing "sad" as a bio-chemical reaction in your brain is one thing, but does it actually cover "sad"?
Judging by Urasawa's other work, this reading is almost definitely intentional. Atom can't articulate certain things inside him, and he isn't human, but he is not human in a way that all humans are not human. He can't reliably articulate the same things we can't, and that is what makes him human.
Gesicht is the opposite. He's a robot who wants to know all about how Atom isn't a robot, and how that relates to Gesicht's own robothood. He's picking Atom's brain to see where he stands.
He's essentially a Pinocchio who hasn't realized that he is a real boy. Where Atom knows that he's a robot and accepted "fake it until you make it" as something he can do, Gesicht isn't comfortable with faking it, and therefore isn't comfortable in his own humanity.
Obviously, I'm only two books into a multi-part series, but at the moment, I'm completely fascinated by Atom. Everything about him, from his tousled hair and innocent looks to the contrast between his robotic skills and very human demeanor makes him a character that I just have to see more of.
Similar Posts: