June 26th, 2008 by
david brothers
| Tags:
frank miller
,
movies
,
spirit
,
will eisner
The first work of Will Eisner's that I ever read was Eisner/Miller. I may have purchased Autobiographix first, but I barely remember it at this point.
Eisner/Miller, though, sticks out in my mind because it was a conversation between two respected creators. The press lead-up to the book was probably the first time I'd ever heard Eisner's name. All I knew going in was that he was a) old, b) highly respected, and c) crazy talented. I hadn't read The Spirit, A Contract With God, or any of that. Regardless, Eisner/Miller was a fascinating history lesson and very interesting.
I looked up a few trades of The Spirit and didn't get it. Ebony White was dumb, The Spirit was just kind of a dopey generic dude, and the art was all right. The idea was neat, at least. I filed it under "Things that aren't for me," a box which also contains LoSH, heavy metal, dungeons & dragons, and Angelina Jolie. Out of sight, out of mind, and so on.
I scoped out Darwyn Cooke's Spirit when it dropped. It was okay– the art was good and the noir-y feel was pretty decent, but it didn't really grab me. I might grab the hardcovers for the art, but you know, that's when I get around to it.
By this point, everyone's seen the trailer for The Spirit movie. It's written and directed by Frank Miller, stars Gabriel Macht, Sam Jackson, Eva Mendes, and a grip of other people. Most of the fan response I've seen for it, mainly online, has tended toward the negative.
"He's just remaking Sin City." "Oh, is everyone gonna be a whore?" "Psht, he's ruining Eisner's vision." "Frank Miller lost it." "The trailer is overwrought."
Honestly, I don't get it. I know that ASBAR and DKSA are pretty much the definition of "Love it or hate it," and the "WHORES WHORES WHORES" meme is very prevalent (though boiling down a man's decades-long career into a webcomic catchphrase is ridiculously reductionist), but I see the trailer and see a movie that I genuinely want to see.
It hits more than a few of my buttons. It's noir, it's got Sam "I'll Play Any Role For Money" Jackson, Miller is involved, and it's got a striking visual style. Even the posters are different from what I've usually seen for movies.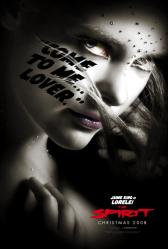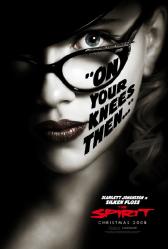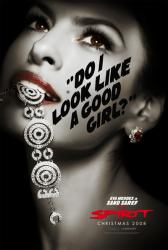 So, you know, I was trying to figure out why basically everyone I know hates the very idea of this movie. I think it comes down to two things. One is that my default stance with Miller is "I'll check it out." I generally like his work, and he's produced some of my favorite comics. I think he's got an interesting, and off-kilter, perspective on things, so I'm curious to see where he's taking the movie.
The other is that I just don't really care about the Spirit at all. I don't have the attachment that people who're more steeped in comics history do. He's just another hero to me. He isn't Flash or Spider-man. He's like… well, he's still more than Captain Atom. He's Katana or Wildcat– interesting in theory, but not so interesting that I'm going to seek out books featuring them.
The movie looks like an interesting way to try and get into the character, and it actually takes less commitment to watch a two hour flick than it does to buy a trade and have to live with it being terrible and sitting on your bookshelf. I think it'll be a fun action flick, all things considered, and a good way to waste away an afternoon.
Plus, the movie's got Eva Mendes.
Similar Posts: