February 9th, 2008 by
david brothers
| Tags:
4th world
,
black history month '08
,
black panther
,
Colored Commentary
,
DC comics
,
jack kirby
,
jla
,
Marvel comics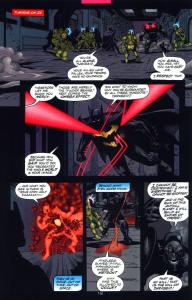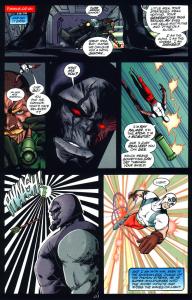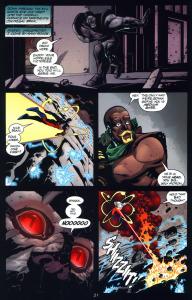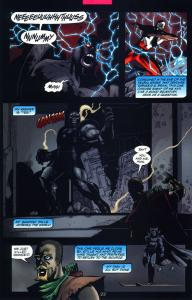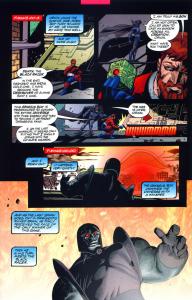 from dc comics's JLA #14. grant morrison and howard porter on words/art.
Unseen. Unexpected. I come by many roads.
–Black RacerWe all know that DC sucked at repping black characters until the '80s, while Marvel was all up in your face by the mid-70s. But, you want to know about "unexpected?" Let me give you a list.
Gabriel Jones, Black Panther, Flippa Dippa, Vykin the Black, Black Racer, Sam "Falcon" Wilson, Princess Zanda, and Mr. Miracle.
That's eight black characters, right? Spread out over maybe fifteen years from the first to the last. Every single one a Jack Kirby creation.
The man may not have been the greatest with names (Black Racer, Vykin the Black, Black Panther) but he had a sick visual style and a willingness to throw black characters into his books with no problem at all. His characters have legs, too. Four of these characters are still players to this day (Falcon, Miracle, Panther, Racer), Gabriel Jones appeared in the 65th Anniversary issue of Captain America (with no lines, sadly), Vykin bit the bullet with Death of the New Gods, and Zanda had a good cameo in Black Panther where she was described as the "Paris Hilton of Africa."
Well, I guess Flippa Dippa gets no love, but that's just because he's too awesome for anyone to write.
But really, eight fun black characters? Eight black characters with different origins, various abilities, all without falling into the trap of "Oh, he isn't a stereotype!" or "He's from the hood!" Fully realized, treated as equals, and completely interesting. It's good stuff.
Similar Posts: