February 8th, 2008 by
david brothers
| Tags:
black history month '08
,
Colored Commentary
,
Marvel comics
,
priest
,
the crew
,
white tiger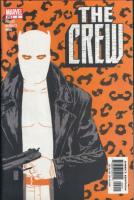 from marvel comics's the crew, art by jh williams iii
I'ma protect my family, that's my word
My wife, child, my dogs, cat, and my birds
I got a happy house, homes, you can't disturb
You might clapped in the dome, clack, now you heard
–C-Rayz Walz, "Protect My Family"
Most heroes suit up because it's the right thing to do. Spider-Man, Batman, Superman, all those guys are just trying to do the right thing. The X-Men and JLA suit up in reaction to a threat.
Kasper Cole, the White Tiger, puts on the costume so he can feed his family.
He's one of the Crew, Christopher Priest's late, lamented series about a group of men who, if not trying to do the right thing, end up doing the right thing while going about their business.
Kasper's got a pregnant girlfriend and a nagging mom at home. His cop's salary really isn't cutting it, but he lucks out when he happens upon the Black Panther's costume one night. Now he can engineer big busts, get promoted, and maybe stack some cash on the way. Of course, the Panther doesn't necessarily appreciate him wearing his colors. Instead, he's given a new costume: that of the White Tiger. He's got most of the abilities of the Panther, he taught himself to put on a Wakandan accent to throw people off, and he hits the bricks to make sure that his family can eat.
Kasper is a great character who honestly never should have went away. Where the original Marvel characters were characters who did good, but had flaws in their personal life, Kasper is motivated by his flaws. He's easy to relate to– who wants to be hungry? Even worse, who wants their family to be hungry? Kasper is a dope twist on the old Marvel formula, and one that kids nationwide could instantly understand. "He does this because he has to do the hard thing to make ends meet."
He provides a nice mirror image up to The Hood, as well, from the girlfriend to the mother. Talk about perfect enemies!
All Cole needs to be a hit is for a Bendis or Brubaker to remember him and bring him back. He's a character that has legs, an edge, and a ridiculously awesome visual hook.
Similar Posts: