October 1st, 2006 by
david brothers
| Tags:
100 bullets
,
daredevil
,
Marvel comics
,
rap
,
vision
,
wolverine
A quickie!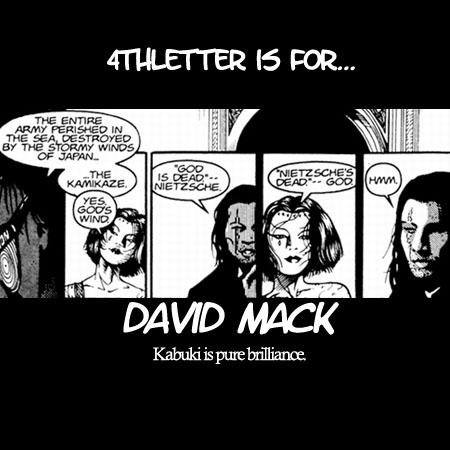 David Mack, (very informative site here), is one of my most favorite creators. Kabuki: The Alchemy is hands down the best comic Marvel puts out and the second best comic being published after my beloved 100 Bullets. His Echo – Vision Quest arc on Daredevil was a high point for the series and for Wolverine in particular.
What I'm trying to say is that David Mack is the man and you would do well to read his works. If anything, pick up the first few issues of The Alchemy. They're well worth your time and I guess are "deep" comics if you want your pretentious comic artsnob card.
I prefer to call them "good" comics, myself. Mack has a lot of interesting things to say about life and living. Check it out. Also his first name is awesome and that practically makes us brothers (see what i did there?).
(I kind of feel like I'm doing Mack a disservice by not mentioning the art on Kabuki or Echo, but, crap, man. I don't think I could do him justice. His stuff just works and it all goes toward servicing the story. There is a reason why Kabuki forms her thoughts as a children's book in a recent issue, and it isn't because she's writing one. It's because children's books are meant to teach.)
Similar Posts: