May 29th, 2012 Posted by Gavok
Kind of a scattershot article this time around, so bear with me.
Things are overall pretty swell for me these days and I thought I'd take a couple days to sit back and talk about positivity. More specifically, as you can see in the big letters above, 31 things that make me happy. The kind of stuff that I can look at, think about or just plain talk about and I'll turn my frown into a smile. This isn't really a countdown, as there's no actual order. In fact, it's just a bunch of random crap meant to reach that number. The neat stuff I don't talk about, I'll save for next year when I discuss 32 things that make me happy.
Why 31? Because I'm becoming increasingly grizzled in the next couple days. I suggest other bloggers give this a try when their time comes. It's fun.
1) That What If Story Where Galactus Turns into Elvis
I wrote about this last year, so you can read my lengthier review here. The short of it is that Galactus is magically transformed into Elvis Presley and shot to Earth, where he finds family and a new meaning to his life. More importantly, he redeems the names of Galactus and Elvis Presley by assuming the throne of King of Rock and Roll.
Yeah, comic books are sweet.
2) "Learn to Fly" by the Foo Fighters
I can't say that I have a favorite song, but I'm sure "Learn to Fly" is in my top five. It's a beautiful tune that gets me pepped up to do whatever it is I'm preparing myself to do. For me, this is one of those songs that you listen to a million times, only listen to half of the words and get this image in your mind of what the song is really about, which is completely off-base. I can't be the only one who does that.
For me, I always imagined the song as being about a World War I pilot in a nasty dogfight whose side is getting cut down by the enemy. He's trying to get out of there with a handful of enemy fighters on his tail. He prays that his luck and worth as a pilot will let him live one more day to the point that he even considers selling his soul to the Devil. In the end, he maneuvers his way to safety to the point that he thinks his survival was caused purely by divine intervention.
Apparently the real meaning of the song is that it's Grohl explaining the mental desperation of trying to write a good song under pressure. That's pretty cool too, I guess.
3) Whenever Somebody Awesome Beats Up Superman When They Really Shouldn't
When you ask the average man on the street who the strongest superhero character is, they'll say Superman. Sure, a comic geek could say that Superman is nothing compared to the might of the Spectre and you're always going to have that one guy desperately jumping through hoops to come up with a scenario where Batman makes a fool out of the guy. At the end of the day, Superman is considered one of the most unbeatable dudes in comics.
So it's always a blast when he loses a fight to someone who isn't even in his weight class. Sure, there's always an explanation, but it doesn't change the fact that Superman got his ass kicked by someone like Evil Spider-Man.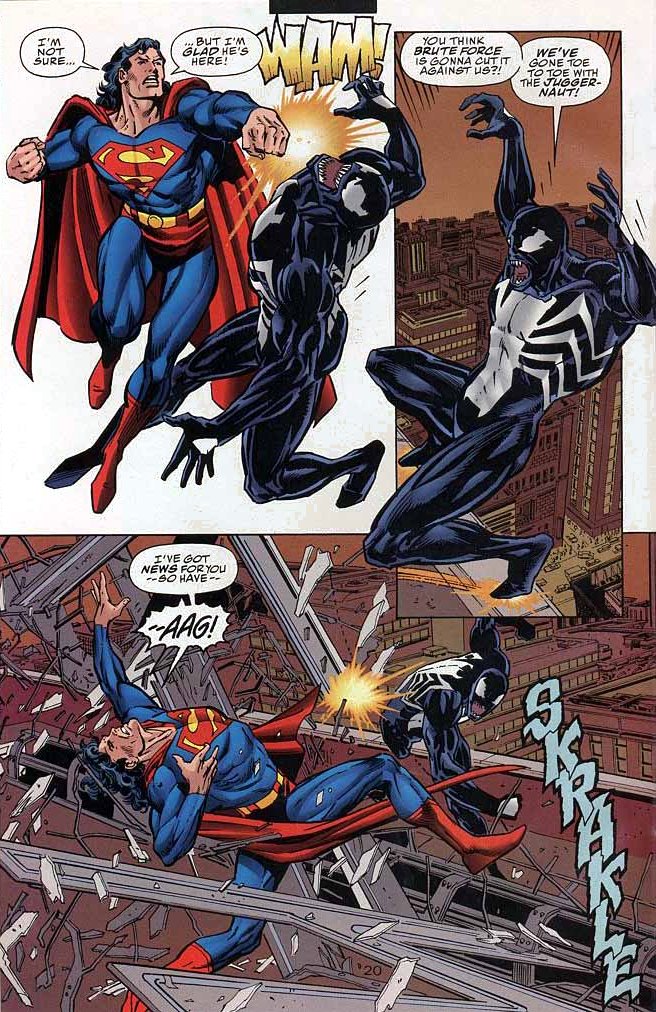 Yep. Back in All-Access #1, Venom showed up in the DC Universe and was quick to getting in a couple fights with Superman. He absolutely thrashed him again and again. And this was written by Ron Marz, a DC guy! Even when Spider-Man showed up, Venom kicked both their asses until the lame-oid Access showed up with a giant sonic cannon to save the day.
Some fans will explain it away that this was after Final Night, meaning that Superman wasn't fully cooked up by the sun's rays and was at a disadvantage. Too bad. My guy beat up your guy, so ha!
There are other examples. In one of my all-time favorite comics, Superman boxes against Muhammad Ali on a planet with a red sun, so naturally, Ali beats him down. Even though Superman has no chance in his vulnerable form, he still proves himself a badass by taking a beating and not falling down until the bell rings.
There was a crossover from when DC had the rights to Masters of the Universe and Superman ends up in Eternia. Despite having been thwarted by He-Man at every turn for years, Skeletor is able to pretty easily take down Superman without breaking a sweat. He just slices him in the chest with his magic sword and then zaps him with it until he stops moving. The dude beat up Superman, saved Christmas one time AND has a skull for a head. He's the best.
Slightly related, but that JLA/Avengers crossover had a scene where Superman and Captain America are at each other's throats to the point that the other heroes are pulling them apart. I've always thought this scene was great in its own flawed way because, really, what is Captain America going to do? His powers are that he's good at doing crunches and talking. Superman can turn a mountain into glass by looking at it. It's one of those cool little moments where Captain America is so in over his head but doesn't care because he's so determined that you believe he has a chance.