November 15th, 2011 Posted by Gavok
The New DC experiment continues with the second week of the third month. As it is right now, I'm reading 32 of their titles. Let's see what I'm left holding onto after another go.
Batman and Robin by Peter J. Tomasi and Patrick Gleason is up first. I'm loving the relationship between Alfred and Damian. Even when you take away Alfred being slick with his chess and tracker skills, you get this feeling that he's stealth-fathering Damian much in the same way he did Bruce. Only here, we're able to see it happen more clearly. The villain has yet to do anything for me, but I enjoy the rift of disagreement he brings to Bruce and Damian. Damian feels underappreciated and underestimated, when Bruce is genuinely afraid for his wellbeing. The idea of Batman being so afraid for Robin hasn't really been done all that much since he was babying Tim based on the death of Jason. There's a strong desperation in his actions and a question of which Wayne is right in this situation.
Meanwhile, Gleason's art is looking fine. I feel this comic is getting stronger by the issue. Definite stick.
Batwoman by J.H. Williams III and W. Haden Blackman continues to be an entertaining pile of barely-connected scenes featuring a bevy of subplots. I don't care because I have no trouble following it and the art is fucking nice. The best part of it all is how all these different subplots are coming together more and more and the varying art styles are starting to interact. The realistic ghost, the well-shaded Batwoman, the Mike Allred-style Kate Kane, the noirish Chase, and almost comic strip-like Bette. A cool touch I really like is how the art starts to change in the characters. Now that Bette is Flamebird out of spite for Batwoman, she is shown to be in the same shaded and detailed style that Batwoman had before losing her mojo mid-issue. I mean, just look at the final page.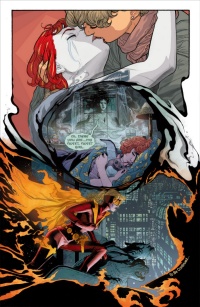 I barely even notice the "to be continued" and feel a groan come on when I turn to the next page. I'm in for the next go. Stick.