April 30th, 2009 Posted by Gavok
Welp. Thirty more to go. Let's do this!
30) Submissive Blind Al
Deadpool #15-17 (1998)
Writer: Joe Kelly
Deadpool's relationship with Blind Al is completely weird, but it goes from being wacky on the outside to disturbing on the inside. Despite being Deadpool's prisoner and a victim of plenty of abuse, we see the Wade/Al dynamic as little more than slapstick. It's shown to be so cartoony that we aren't even supposed to care that Deadpool – for whatever impaired reason – has an old woman held in his house against her will.
The seriousness doesn't truly show itself until Deadpool's breakdown, which as some of you can figure, is going to be popping up later on the list. The short of it is that Deadpool did some horrible stuff to Blind Al and we got a better scope of the dark history of their relationship. After a couple issues, Deadpool gets over what he's done and tries to sweep it under the rug, much like he handles many of his mistakes, but Blind Al won't let him.
Deadpool comes home from his latest meeting with LL&L, high off of his good guy potential, only to find that Al has cooked and cleaned. She closes the door to her room, saying nothing more than, "Good night… master." Deadpool remembers how much of a tool he's been.
He tries what he can to get a rise out of her and maybe get her to joke around like they used to, but all she does is act completely submissive to everything he says. She acts like his servant and refers to him as the master and herself as the prisoner. He knows he has to apologize, but like the Fonz, he just can't bring himself to saying he was wrong.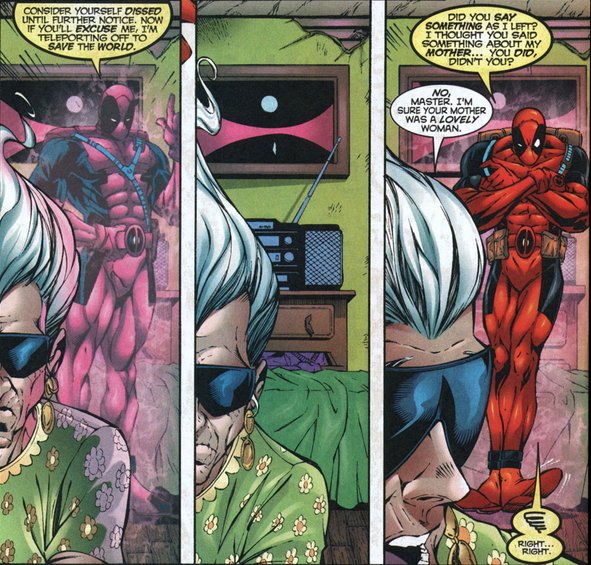 Jayce Russel also loved this whole bit.
The entire situation with Blind Al is just full of awesome bits, but issue #17, the scene that starts with, "Will you shut up and talk back to me already?!," and the two pages that follow of Blind Al beginning her elaborate plan to attack Deadpool with kindness kills my ass. The neatly hung Deadpool outfits, the alphabetized ammunition, the grating way she drops "master" in constantly, they're all the slap in the face that Pool spent the whole series working his way towards. I honestly might prefer Al to DP, and this is one of those moments that explain it. The way an old blind lady gets under the skin of one of the world's best mercenaries is well-written, amusing and, maybe most of all, kinda tugs at the heart. She obviously thinks somewhat fondly of Deadpool, or she'd not bother with trying to save him, and watching him stubbornly trudge past all hope for redemption until almost the bitter end? Now that's a motherfucker.
When Deadpool receives Montgomery's predictions on the future, he's seemingly inspired to do the right thing. Al hears Deadpool hammering on a wall and finds that he's been boarding up the Box – the room he'd use to torture Al – and that he genuinely is sorry for what he's put her through lately. She snaps out of her ruse and embraces him, saying that this is a good start towards forgiveness. Deadpool tries to grant her freedom from this life he's forced her into, but he's cut off when Ajax teleports him away.