April 22nd, 2008 Posted by Gavok
The weekend of chunky guys dressed like Colossus and hot women dressed as Slave Leia has come to an end. I myself had a great time, spent with hermanos from this very site and a whole bunch of guys from Funnybook Babylon. Sadly, Thomas "Wanderer" Wilde deemed himself "too broke" to consider joining us and Hoatzin would have probably involved a gigantic plane ticket paid in rare diamonds, since he's from Europe. I don't know. I really have no grasp on how that type of thing works. Besides, Hoatzin seems to have vanished from our planet. What happened to that guy?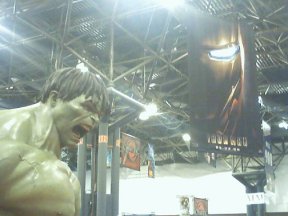 This one movie sent the other movie into space.
Day One
Last year I got to New York the day before the con started, which allowed me enough rest and whatnot. This year I had to come in the first day of the event and kill time until David Uzumeri came in from Canada, since he was in charge of dealing with the hotel. I walked straight from the Port Authority bus terminal to the Javits Center, which tired me the hell out.
After getting my swanktastical press pass, I met up with hermanos and Joseph of FBB. They were at a panel starting up that was a screening for a new Will Eisner documentary. Since I was tired from all that walking, I decided to stick around and watch it. I found it interesting in the sense that I honestly didn't know all that much about Eisner, which is almost a sin if you're a comic fan. The four of us (David U. showed up towards the end) mostly agreed that while it had some fantastic stuff in there, such as taped conversations between Eisner and guys like Kirby, the sum of it was incredibly dry.
Shortly after, we went to the panel on online journalism, with guys from Newsarama and CBR there. It wasn't as good as the comic blogging panel from last year and mostly focused on arguing over criticism vs. getting press releases. Once that was done with, I was rested up enough to do some wandering.