February 4th, 2010 Posted by david brothers
I'm hoping to make a few interviews a weekly part of Black Future Month '10. I thought about doing the usual rigamarole–"How you doing, how's it feel to be a black artist in the predominately white comics industry, have you ever been a victim of racism, have you ever been shot, so whatchu think about Obama?"–but I'm having trouble thinking of anything more boring/depressing/terrible. Why interview anyone if you're going to ask them the same old questions?
Instead, I want to focus on the work. These cats are people who you should be watching out for. This isn't a comprehensive list, obviously, just a few people whose work I dig and who deserve your attention. Given enough time and knowledge, I'd hit up everyone I ever liked for interviews.
My (loose) plan is to follow each interview up with a piece that is related in some way. The first of those hits on Saturday. It may provide some continuity, it may not, who knows.
First up is Ron "D-pi" Wimberly, artist of Sentences and several other works. Check out his DeviantArt and website. All art is, I assume, copyright to him.
---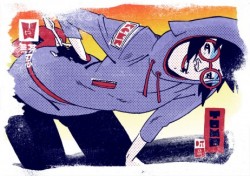 I think the first work of yours I saw were the covers for Vertigo's old Hellblazer: Papa Midnite miniseries. You've done work on a few other books for Vertigo, including an OGN
, and you're working on Gratuitous NInja, too. When you add in the magazine work, you're wearing a lot of hats when it comes to art. Why such a diverse body of work? Is it so you can flex different artistic muscles?
I get bored easily. That's the long and short of it. I also have alot of ideas. Usually if I am working on an idea I didn't come up with I am a little unhappy as well, so I have to get my kicks somewhere else. I'm just trying to make great work and be happy. I hope that doesn't make me too difficult to work with.
I like hats.
Another thing is I gotta eat. 
I want to talk about Gratuitous Ninja for a minute. Its title describes the series perfectly, but where did the series come from? Was it something you did on a lark one day and kept up with or was it more planned out than that?
Gratuitous Ninja started in the Static Fish, Pratt University's Student Comic Magazine. We had a talented group of contributers on that run, cats that are really ill, of whom you may or may not know. Raphael Tanghal, Ted Lange, Dan James– really talented individuals came together on these books. I was fortunate to be a part of it.
I always loved Ninja. GratNin was originally a love letter to one of the great loves of my life. A woman I met in college. The original run of GratNin is a silent comic wherein a kunoichi saves this shinobimono from the belly of a walking prison. It's also a love letter of sorts to Moebius, the original that is, the latest rendition not so much.
You probably can still order the reprint of the book online. It was called the Ninjaversary and it featured pin ups by Tanghal, LeSean Thomas and even a collabo with Aerosyn Lex from the KDU. 
GratNin: Loan Sharks is the latest volume of Gratuitous Ninja and is running weekly on your site right now. I get a real Jet Set Radio feel from it, with the mixing of Japanese aesthetics and mythology and American storytelling, particularly when combined with the addition of real youth culture- something that crosses color lines and and country borders. How'd you develop this style? Is it a synthesis of things you're into or did it spring fully-formed from your head?
Yeah… uh… weekly.
…the answer to your questions is, "Yes"
I love jidaigeki, chambara and I am a city kid transplanted into the suburban wasteland. The style is born from my experience.
Illumination via juxtaposition. 
Read the rest of this entry �