July 25th, 2011 Posted by david brothers
I was out of the news loop while I was in San Diego. No, that's both true and untrue (Schroedinger's Anecdote I guess). I was clued into the Image and Marvel news, as I was covering their panels (as seen on ComicsAlliance!), but DC and Fantagraphics and everyone else? I got their news via Twitter or word of mouth, if I got the news at all. At some point, I checked in on the DC blog and saw this post, which had the art for all of their Edge titles. The standout is easily Travel Foreman's work on Animal Man, with the I, Vampire pages by Andrea Sorrentino being the surprise "whoa, that actually looks cool" of the day. (It looks very Jae Lee.) There were also these two pages by Sami Basri, artist of Voodoo: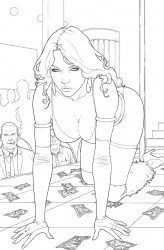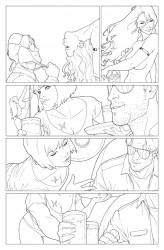 And you know, the pages are aight or whatever. Basri's style is very clean, but not particularly… spectacular, right? He can do the pinup, cheesecakey stuff fine, but he's never really done anything that made me go "whoa." DC uses him to make sexy girl comics, which is apparently what Voodoo is going to be. And I dig Voodoo, I love the whole Wildstorm Universe (or I did, anyway), but man, talk about a pitch that fails to grab you.
I saw the pages at… I don't know, waking up o'clock in the morning and tweeted about it a little bit, with the intent of leaving it at these quick hits: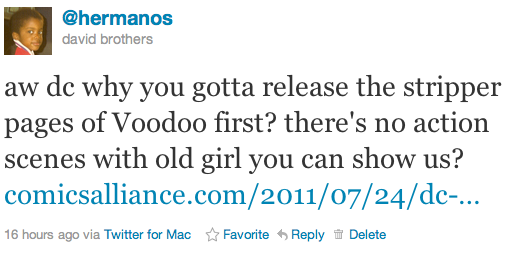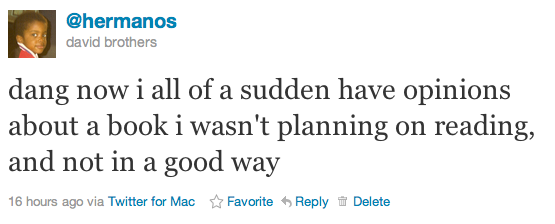 'cause I mean, I don't have to tell everyone every single one of my opinions. There are hundreds of comics I've never mentioned here that I don't care about, right?
buuuuuuuuut there was this: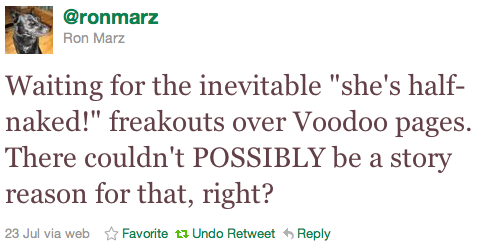 which immediately brought to mind one of my favorite Jadakiss bars: "Fuck boys do fuck shit" and probably a whole bunch of unfair (psyche) ad hominems. It's not even a foot-in-mouth thing, it's just a dude turning into a defensive jerk in an attempt to head off a controversy that, near as I can tell, didn't actually happen anywhere. This guy is all, "Heh, look at all these dummies jumping to conclusions from the preview images released to sell my comic to them." and there's not even anybody on Twitter, the ultimate in personality spamming technology, talking about it beyond me and one person I know with locked tweets. As far as freakouts go, this is on the same level as taking a swig from a soda bottle and going, "Hm, is this a little flat? Maybe not."
Anyway, it's midnight-something, and I gotta be up in the morning, but I really don't like how this guy is assigning all types of bad faith arguing on the part of readers who (probably) have very reasonable questions about Voodoo. So: let's freak out.
"Waiting for the inevitable 'she's half-naked!' freakouts over Voodoo pages."
Thought about writing a rebuttal to this, but it's late and this isn't really the part I want to focus on because it's stupid. The meat is in the second sentence. But I mean, congrats on being defensive without someone even challenging you. He sounds like the little kid who tells his mom that nobody ate any cookies while she was out and the dog broke the vase not me, I promise when she comes home and just says "Hello."
"There couldn't POSSIBLY be a story reason for that, right?"
There's a story reason for everything. Dizzy Cordova from 100 Bullets is hands-down my favorite lady in comics and her introduction to the world featured a chick forcing a kiss on her in prison. Elektra wears a stupid looking costume. Blah blah blah, there's a reason for everything.
There's probably a great reason. She stripped in Jim Lee's WildC.A.T.s, too. That's reason enough, I'm sure. "It's faithful to her origin!" We'll find out the reason later on, when we get to read the actual comic. The reason doesn't matter, though. Months before the books hit the shelves, the only thing that matters is the perception that the PR tour DC is currently on creates in the minds of readers.
This interview with Marz at CBR and this interview with Dan Didio at The Advocate are the most substantial sources of info on the new series.
The CBR interview begins with this:
Ron Marz: Well, obviously, we're trying to stay away from giving out a whole lot of detail on any of the stories. I think there's unfortunately a great desire to have spoilers in this business, period. And frankly, I do think it takes away from the experience of the story. So even if I could tell you what we're going to do, I probably wouldn't anyway. I feel like people should approach these books — or any books, really — not knowing what they're really getting into.
and as a result, here is a list of things we know about Voodoo in the New DC Universe:
1. She's a point of view character for the new universe
2. She takes her clothes off for dudes
3. She likes kissing boys AND girls
The first point is a bit bunk, because every single character will serve as a tour through the new universe, and the second is expected. I'm from Georgia–we might as well have invented strip clubs down south, so that's fine, I don't have some bias against strippers. The third is new, to my knowledge, and to the knowledge of a couple of my other Wildstorm Fan Club Crew. It's not a big deal–kissing girls is fun, I know girls who kiss girls, it's 2011, I live in San Francisco, whatever whatever–but it is a surprise.
Taken all together, though, it's crap.
Voodoo is now (inexplicably) one of the highest profile black characters in the DC Universe. (She's specifically Louisiana Creole, I believe, which was maybe/probably finally established in Alan Moore's Dancing in the Dark? [as opposed to "generically ethnic" i mean]) It's her, Mr Terrific, and Cyborg. Voodoo and Terrific have their own solo series, which I would argue puts them a notch above Cyborg, who is just a member of the JLA. Arguable point, to be sure.
(morningtime edit: I forgot about Static, whose series I want to buy, and Batwing. John Stewart's going to be in a series, and Jason Rusch is costarring in another, too. My point stands, though: Voodoo is top dog when it comes to DC's black ladies.)
Voodoo is starring in a book that, judging by the choice of artist, is meant to be sexy. Now, all comics should be sexy, but this is a sexy first sort of thing. "We got a comic starring a lady and it's gotta be sexy so the fanboys buy it" sexy. "Bad girls for fanboys" sexy. "We need hot girls falling out of their tops while serving drinks to dudes rocking ugly sunglasses, as seen on page two of our preview images" sexy. That's what Basri does, and that's fine. He did the job on Power Girl. The problem: all we've heard about the interior of Voodoo has to do with her sex life. With Power Girl, he was brought on to draw her boobs real big or whatever, but we still got story info, relationship teases, villains, and so on. Voodoo gets none of that because this guy is afraid of spoilers.
DC sucks at black people. They especially suck at black women. So for the first taste of the most important (and the only one to have any measure of press–I think Vixen is on the JLI, but hasn't gotten any press focus?) black superheroine in their entire universe to be about how you get to see her boobies sometimes, and oh man, wait until you see her kiss a girl at the beginning of issue two (we taking bets on that?) and hey hey hey look at these awesome pages in a strip club bros is crap.
It's worse than crap. What message is that sending? Mr Terrific has been described as the most eligible bachelor in the DCU in the run-up to his series, so obviously love and/or sex will play a major role in his series. You know what Eric Wallace and them haven't done, though? They haven't spent time subtly letting us know that he's gonna be running through every white woman in the DCU with his big black mandingo johnson. They've said that he's highly sought after, but also talked about the types of stories he's going to be in (I believe he'll be in outer space by issue four?), his supporting cast (of black people! of a variety of ages and skillsets! also at least one white dude, and probably a civilian version of Power Girl), his status quo (he's rich!), and plenty of other bits intended to whet your whistle. What do we actually know about the series? Probably nothing that we won't find out in the first eight pages. We don't know details. We don't know plot points. We know the barest hint of teases. We know the equivalent of an iMDB summary and cast page–that's it. And it got my interest! It worked! Here DC Comics: have three (or two) dollars!
Here's what we know about Voodoo, in case you forgot:
1. She'll make out with a girl with her top off while making eye contact with you, brother, and let me tell you–whooo!–it is hot.
Great advertising, dudes. "Here's a black lady–she might give you a chubby. ~diversity~"
So yeah, it's nice that you have story reasons for Voodoo stripping. Alan Moore did, too, and so did Jim Lee and Grant Morrison and Joe Casey (well, post-stripping in that case) and everyone else who ever touched the character. But we aren't reading the story. We're I'm reading the advertisement for the story. I'm trying to decide if I want to test the series out or not. I'm doing exactly what all of this information, as unbelievably scant as it is, to meant to do: decide whether or not Voodoo is worth my three (or two, actually) dollars.
If my reaction to your preview material is "Oh, well, this looks like the same old garbage," that's not my bad. That's your bad. That's you not being able to sell water to a man who's dying of thirst.
As a black dude who has been increasingly and pretty much unceasingly disappointed in how DC approaches colored folks over the past few years, Voodoo isn't worth it for me. And with Ron Marz already on the defensive, throwing up stupid, mean-spirited snaps that anybody could take apart with five minutes thought about the portrayal of black men and women in comics, Voodoo isn't even worth stealing.
DC needs to muzzle their boy and maybe start thinking outside of the fanboy box. Listen to "Black Girl Lost" or "Dear Mama" or "White Man'z World" or something, man. Read some dream hampton. Find some dumb college kid in a daishiki who'll talk to you about "the black experience."
Do something. Anything, really. 'cause I'm basically what should be the target audience for this book, being both a Wildstorm fan and black, and every word out of this guy's mouth is making me less and less interested in the series. Wait, no, that bit's a lie–it's turning me from bored apathy toward actual scorn.