September 9th, 2006 Posted by Gavok
Today I bought the Essential Luke Cage, which has his first 27 issues. Sadly, Mr. Fish shows up in issue #29. DAMN IT!
Anyway, the article.
60) WHAT IF THE KINGPIN OWNED DAREDEVIL?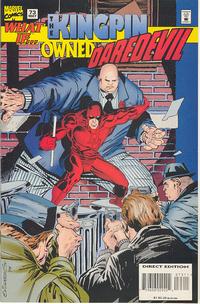 Issue: Volume 2, #73
Writer: D.G. Chichester
Artist: Tom Grindberg
Spider-Man death: No
Background: The Fixer had Jack Murdock killed for refusing to take a dive during his big fight. Matt Murdock was already training under the martial arts master Stick, and with his drive for justice, one day became Daredevil. Years later, he would become the mortal enemy of Wilson Fisk, the Kingpin. Here, Kingpin hears about the Fixer/Murdock incident and how young Matt has been seen with Stick. This interests him and he decides that this boy might be worth looking at.
We see young Matt Murdock on the day after his father's death, unaware but suspicious of why he hasn't seen him yet. It's a day in the life as we see him deal with bullies and briefly talk to Stick. Policemen show up and bring him to the morgue to identify his father. As Matt is leaving, Kingpin's assistant arrives and gives him a card (then realizing his obvious mistake, since the words are in print) telling him to meet Wilson Fisk at spice warehouse near a pier. Matt recognizes the name and goes even colder.