April 1st, 2011 Posted by Gavok
Guest article series by Gabriel "TheJoker138″ Coleman.
We start off this week in Zhu Zin, with Kung and Siro in the marketplace, browsing around. Siro stops a pickpocket, but lets him go, saying if he tries anything like that again he's likely to lose a hand. He and Kung look at some knives for a while, but Kung isn't interested in them and goes to browse other vendors while Siro stays. The pickpocket comes back, with three of his friends and we get our first fight scene of the episode. By the way, there's another onscreen title on this episode. It's "Queen," which, much like the last time I noticed the title, has nothing at all to do with anything that actually happens in the episode.
In the other episodes, when they have our heroes fight some nameless adversaries, at least they're usually henchmen or something. This time it's just a group of completely unimportant street rats. I can forgive it this one time though, as this fight is actually a fairly major plot point to this episode. Siro beats them all pretty badly, but one of them gets a lucky hit in that sends him careening through a tent and then they overpower him via sheer numbers. Kung makes a timely return, the pickpocket recognizes him as the victor of Mortal Kombat and they all run away. Siro seems off-put by Kung coming in to "save" him and stays to look at that knife while Kung goes home.
It was at this point I had the realization that there were no half-naked women hanging around in the marketplace like usual, but luckily one showed up. Instead of just an extra though, this one is an actual character, named Ankha. She tells Siro that he should visit her and her friend, Kiri, at the House of the Falcon. Kiri is a seer and Ankha says that it seems like Siro could use her guidance and she gives him a falcon talisman. Siro is skeptical, but keeps the talisman and heads home.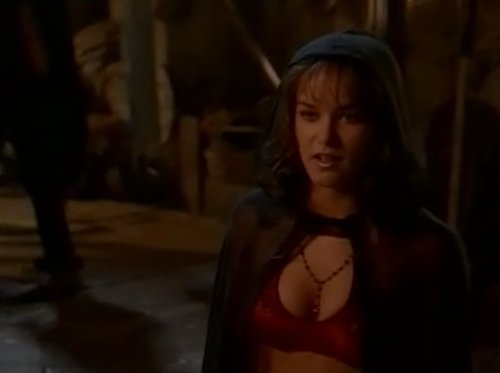 Oh yeah, that's more like it
When he arrives, Taja has already heard about the fight and gives him some crap over it, saying that at least he got hit in his thick skull instead of somewhere more easily breakable. It seems she's finally started to lighten up, but now Siro is a humorless jerk. He's really acting out of character so far in this episode. I'm actually kind of amazed that he has a character to act out of, as I wasn't expecting anything more from this show than ridiculous freak-of-the-week monsters and kung fu fighting.