July 27th, 2011 Posted by Gavok
It's kind of a bad time for my writing. All my go-to articles have been running dry. Jeph Loeb stopped writing Ultimate Marvel comics, so no more of that. I've finished writing about Venom. I don't have too many wrestling PPV shows to rank and review. Just as bad, Marvel has stopped releasing novelizations of their movies. I can no longer know the story of movies in the Avengers Saga a month or so before they're released. Because of that, I can't do any informative lists that show all the scenes that were taken out of the original version of the screenplay.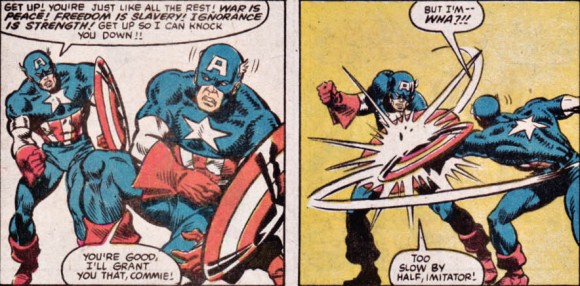 Or can I? While yes, it appears that there isn't any novelization for Captain America: The First Avenger, that doesn't mean I'm empty handed. I called in some favors and got to see the extended original cut of the movie. Oh, man. You won't believe some of the stuff they got rid of! Mostly because it's all lies.
An entire hour was cut. Removed scenes include:
– A scene where pre-experiment Steve Rogers gets sand kicked in his face at the beach. He meant to gamble a stamp and send a couple bucks to Charles Atlas to make him a man, but got distracted by news of Pearl Harbor.
– When playing hangman with Bucky, he had only one turn left and only the first letter revealed. After biting on his pencil for a moment, he asked if that letter stood for France. Lucky guess.
– When talking with Erskine, the two of them had a long, hearty laugh about how Disney had released a cartoon where Donald Duck was a Nazi. Steve kept insisting, "This is a thing that actually exists! Look it up! Donald is saluting Hitler and everything!" He later had this same conversation with Colonel Phillips, Peggy and even Red Skull. I'm not sure exactly why Marvel would remove this reference.
– When Red Skull steals the first Cosmic Cube and shatters it on the ground for being a forgery, he then curses a blue streak and realizes that he just busted up the real thing after all. Much of his villain plot is based on him trying to find glue and tape, which was scarce in Nazi Germany.
– Much like Arnim Zola was introduced via his face reflected off a monitor, the character of Helmut Zemo was there too. He was introduced by putting his hands behind his back and his shoeless feet on the table while the shot lingered on his purple socks.