September 15th, 2010 Posted by guest article
(Gavok note: On the heels of Marvel announcing What If #200, it's fitting to take on the topic of alternate reality stories. Truth be told, the idea of doing an Elseworlds list much like how I did one with What If has been a looming menace hanging over my head and for years I've been afraid of forcing the other shoe to drop. Thankfully, Fletcher "Syrg" Arnett was inspired enough to fight the dragon in my stead and has offered to do a series of guest articles on the subject. You might remember Syrg from his fantastic take on the comic disaster Marville last year. If you don't, go read it anyway. He's good people. I plan to throw my hat into his series here at least twice before he's finished, since there are a couple Elseworlds that I feel the need to talk about. This includes one that I've considered to be the worst comic I've ever read that I've been putting off writing on for years. But enough about me. It's Syrg's show. Enjoy.)
Marvel has their What If…?s, and DC has their own brand of "But what happens if we take X and change Y?" tales, called, depending on when you ask, Elseworlds/"Tales of the Multiverse". (Juuuuust kidding. I don't think anyone aside from Dan DiDio has ever used that last one seriously.)
The thing is, though, Marvel's usually (I added the qualifier for a reason, Gavok, I know about that Timequake crap) come from a formula of "take big event/origin of character, change outcome slightly, go from there". DC runs a little looser with the format, like that one where Bruce Wayne is an amnesiac immortal and Alfred is actually Merlin. Or the time the Justice League had to mount an assault on the Planetary Organization to break their shadowy hold over the planet. Maybe you know the one where Lex Luthor, singer-turned-record executive, sold his media empire to Darkseid?
Elseworlds are almost always entertaining, intentionally or not, because before 2010 and a run of titles like Rise of Arsenal and that other trainwreck I forget the name of*, you never thought you'd be buying a DC book where Superman got turned into a gender-swapped nazi centaur. (We'll get to that one. Later.) Point is, the fact that so many of these are out of print and forgotten is a damn shame, and so just like Gavok running through all the What If…?s in the world, I'll hit every damn Elseworld I can get my hands on, and probably a few other eccentric DC projects that didn't earn that banner, usually because they were written too early or too late.
There's going to be a lot less order to this than Gavok's project. For one thing, I don't think there's any way to come up with a coherent set of criteria/checklist to hit for all of these, and I'm unsure as to what the "Peter Parker Dies" of Elseworlds is. Probably "Martian Manhunter Out of Fucking Nowhere", that dude shows up a lot in the otherwise-grounded stories (and it's usually to inspire Superman to go use his goddamn powers, that guy takes pacifism way too seriously in these).
Also: no order, no rankings. Some of these are books I haven't even looked through since I picked them up, and this project is good motivation to finish looking at the beaten-down copies of a couple. There's no way I'll be able to come up with a full scale to judge them on and pick a favorite. (Even if I did, people would bitch at me forever because technically, Kingdom Come is an Elseworld, and lord knows the kvetching if I put that below something like Speeding Bullets.) In fact, let's just say it: I'm skipping a lot of the big ones. Kingdom Come/The Kingdom, Red Son, Destiny (since Gavok covered it a while back), Dark Knight Returns/Strikes Back. (I want to skip True Brit because it's rather awful, but I suppose I'll play canary in the coalmine for people who might go "John Cleese? Sold!") I leave myself wiggle room on this as I go, but rest assured I'll give you more than those and then some in extras by the time we're done.
This is getting to be a bit text heavy. Let's dive into the first book, Elseworlds: Superman's Metropolis.
Superman's Metropolis is an interesting book for a variety of reasons. It's why I started off with it. But first, let's look at the stats: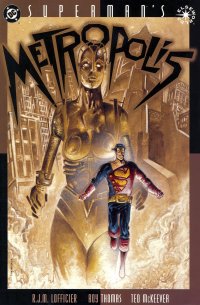 Superman's Metropolis
Focuses on:
Superman (for now)
Self-contained/Multiple books:
Multiple (trilogy)
Published in:
1996
Central premise:
Superman and cast as placed into Fritz Lang's
Metropolis
Martian Manhunter Out of Fucking Nowhere?
No