March 10th, 2009 Posted by guest article
Article by Fletcher "Syrg" Arnett.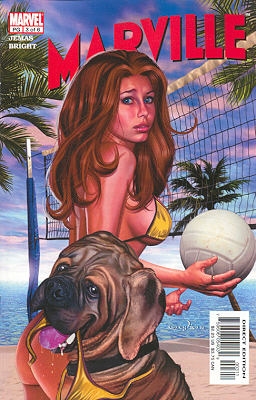 Every time I see that cover, I keep thinking it's Lockjaw, the Inhuman dog. Anyway. This time we get a recap page full of straight-up lies.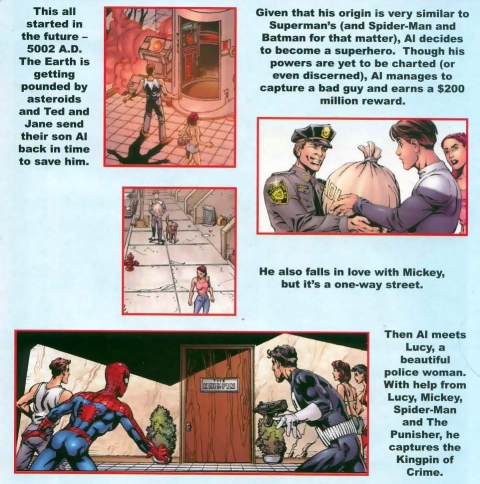 Shot 1 is actually them sending back the time machine, from last issue, sort of ruining the "last son" thing they were aiming for. Why they didn't mention, "Oh hey Al has a time machine now!" is anyone's guess. The origin thing I can't really debunk, the love story is mentioned here for a second and final time (and is still using panels from issue 1 because it does not exist), and I don't know how the hell Al got credit for capturing Spike Lee when he, uh… just walked out of the room, and left a confused Frank Castle to talk with the irritated director.
Now, issue 3 of Marville is entirely different from the last two. For one, they didn't bring in an inker on this one, and the change actually gives it a look I like. This will, of course, be tossed out in an instant when this issue ends. The second is that there are no word balloons, thought bubbles, or for that matter, anything beyond "what will make this shot look the best", no real in-between panels for motion in here. Dialogue and actions are conveyed in the script laid on top of the images throughout the issue. It's almost like a storyboard.