June 22nd, 2013 Posted by Gavok
60) Eternal Champions: Challenge from the Dark Side – SENATOR
1995
When Eternal Champions was upgraded into its Challenge from the Dark Side form, they introduced a lot of new characters. Some were other fallen would-be heroes from throughout history. Some were playable animals. There was even Death himself, who had mysteriously lost his status. The most memorable new guy was the Senator, a spoof on the government focus on violent video games and a headswap of Larcen Tyler.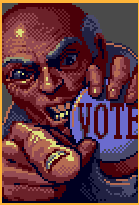 The Senator was a selfish, corrupt politician who sold out to all the corporations and special interest groups until making an actual humane decision for once and being rejected by his Republican brethren. He ran as an independent and lost by a landslide, causing him to die of a heart attack. In the game, his fighting style is described as "Dishonesty", which includes throwing red tape, banning violence and turning invisible while yelling, "I AM NOT A CROOK!"
Given a second chance, he calms down his heart rate and gives a concession speech where he admits his own wrongdoing, but also incriminates the other fat cats in Washington. This takes the world by storm and a mulligan election is demanded. Truly, this man has learned his lesson and will bring true political reform to the government!
Only a flood of scandals come out about the Senator, such as how he hires illegal immigrants, has sold military secrets to other countries and has a mistress in each state. It ruins his political career, but he still comes out a winner due to his budding career of writing books, selling the movie rights and appearing on talkshows for the rest of his life.
59) Mortal Kombat 9 – RAIN
2011
People joke about Raiden being a complete, destructive dumbass during the course of the Mortal Kombat reboot, but at the end of the day, he did win. Sure, all the good guys other than himself, Johnny Cage and Sonya Blade are dead and the world is easy pickings for fallen god Shinnok, but at least he succeeded in stopping Shao Kahn for good, right? Maybe the idea that Raiden being a dunce is overblown. Maybe…
Rain's story is that he's the adopted son of an Edenian general who fell to Shao Kahn years ago. Rain had trained with the Edenian resistance, but grew arrogant due to his own skills and was offended that he didn't get his own army to lead. He betrayed his people to join Shao Kahn, but in his ending, he turns on Kahn for refusing to give him his own army, as agreed. Not the most heroic of reasons by any means, but he got the job done and that's worth something, right?
Raiden congratulates Rain and considers his actions heroic and befitting of a man of his bloodline. Raiden brings it to Rain's attention that he is the long-lost son of Argus, a god of Edenia and Raiden's counterpart as that realm's protector. In a moment that's meant to inspire Rain to greatness, it has a different effect.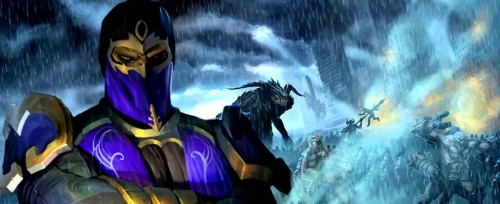 Seeing that he's a demigod, Rain figures that domination is his birthright, so he finally gets his own army by taking over where Shao Kahn left off. He conquers Earthrealm as a first step in overtaking all reality.
Thanks a lot, Raiden!