October 27th, 2010 Posted by Gavok
As of this writing, we're fresh from the finish of Bragging Rights, the latest PPV in WWE's overcrowded schedule. A lot of the event centered around Wade Barrett holding John Cena in his thrall against his will. It's another chapter in what's been a really good run for Barrett's short-termed WWE legacy. I thought the show NXT was a fantastic concept, followed by an interesting second season (as long as you ignore the trainwreck final episode) and a hilarious self-aware third season where the commentators are open to how awful the show is. The Nexus storyline has been top-notch outside of random unfortunate instances that you can't blame on the writing. Injuries, stupid firings, temporary deportation and even the stupid ending of Summerslam was improvised from time restraints.
Now it's in an entertaining stage where John Cena is forced to follow orders from Wade Barrett or get fired. Wade has been demeaning him on a weekly basis, but it's showing more ripples than just Barrett vs. Cena. Wade has been alienating himself from his Nexus peers by focusing far more on himself than the team. Cena is beginning to raise the ire of his friends in the locker room because he'd rather attack them based on Wade's orders than be a jobless millionaire. A lot of it is borrowed from the Shawn Michaels/JBL storyline from a couple years ago, but it's stronger here. For one, the villain is a man in his first year in the company, rising up and only getting better, as opposed to being a dude long past his prime like JBL.
But there was another "forced lackey" storyline this kept making me think of and the more I look back on it, the more I realize it was one of my all-time favorite wrestling storylines. When I think of my favorite angles, I think of things like Jake "The Snake" Roberts vs. Rick "The Model" Martel or Ric Flair vs. Mr. Perfect or "Stone Cold" Steve Austin vs. The Rock (and by that I mean joining all their different feuds into one overarching story). The one in question isn't even a WWE story, WCW, TNA or even ECW. No, it's from the wonderful world of CHIKARA.
Since CHIKARA is far from mainstream, I thought I'd take some time to go over the angle for the uninformed.
Readers might recall that CHIKARA is my indy wrestling fed of choice. I've talked about CHIKARA a lot here and I've stated the wackiness of the product, but it isn't completely dependent on it. Sure, they have storylines like a wrestling knight whose tag team partner is a younger version of himself pulled out of the timeline and they end up feuding and have a match where the loser is thrown in a time machine. They would have a tag team named 2.0 change their gimmicks and become the Badd Boyz, leading to a Badd Boyz vs. 2.0 match where the Boyz win by count-out due to 2.0 not showing up. There was a time when two wrestlers had a no-time-limit falls-count-anywhere match that went outside until the cameraman lost track of it and it continued to the next night's show at another venue where there was finally a winner (23 hours and 36 minutes, longest match ever). Not to mention the time a tag match took forever to start up because two of the guys were too busy having arguments about the Sega CD.
Thing is, not everything is goofy in CHIKARA and even when they are silly, the booking is really good. They like to build each year up as a season with a basic main storyline with enough of an ending during the finale that would lead to the next year's big angle. Our storyline here is one that mainly takes place during the year of 2007, but with more than enough lead-up and aftermath. It focuses on this man, Claudio Castagnoli.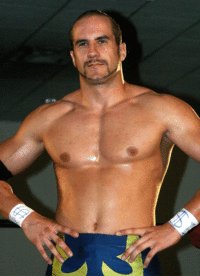 The 6'5″ Swiss powerhouse could be argued to be one of the best performers in the world. It's still a complete wonder why he isn't tearing things up in the WWE right now, considering he's a total package. He's got size, strength, speed, agility, good psychology, a good look and loads of charisma. As a heel, he's an egotistical, bullying Swiss banker with more money than you. As a face, he's the chillest dude you've ever met. I'm getting a little ahead of myself.