February 20th, 2008 Posted by david brothers
I was contacted by M80/Warner Home Video the other day, and they asked me to talk a little bit about the movie New Frontier movie. For this kind of thing, a bit of pimpery is a-okay. It's a worthy cause. Let's get it.
You know what New Frontier is. Don't pretend like you don't. Darwyn Cooke? Best-selling graphic novel? Absolute New Frontier, one of the best looking Absolute volumes? It is, basically, a story of the DC Universe if it aged in real time. It's set post-Korean War and it's a rocking good time. It's probably one of my favorite DC Universe stories, in fact. It's self-contained, easy to get into, and beautiful to look at.
Look, here's three links so you can catch the flavor:
Absolute Cool
John Henry I
John Henry II
See that visual style? Sharp writing? Okay, now check these out.














(yes, i did raid the press site.)
Looking good, right? There's some video, too.

Cool, right? Here's the DVD cover.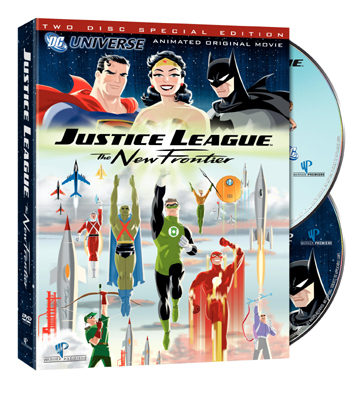 I hate to come over all hucksterish (though they do call me Honest David), but I'm honestly psyched. I'm gonna get my Absolute New Frontier signed this weekend at the world famous Isotope Comics. Check out this superhot flyer: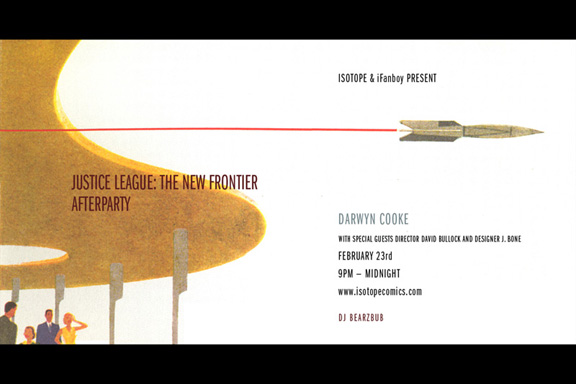 The long and short of it: movie drops 02/26, it's based on one of DC's hottest comics, and you should probably check it out!
For those of you who want just the facts, check the press release below the jump.
Read the rest of this entry �