March 13th, 2010 Posted by Esther Inglis-Arkell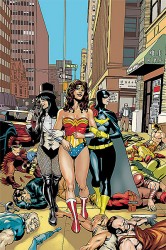 To wedge myself out of the pit of mild crankiness I've been in regarding comics, I have started looking ahead to things that I look forward to.
Thank you, The Brave and the Bold, for seemingly being an impossible title to bog down in misery, no matter what medium you are in.  Here we have a female team-up book, a happy-seeming story, and complete indifference to current continuity.  It has everything I'm looking for in a book.
Moreover, it has Barbara Gordon as  part of it all.  This is the kicker for me.  She's a sentimental favorite, and while I think her role as Oracle is great character development, I can't get over the fun she had as Batgirl.  I'm always willing to see more of that.  This and Wonder-Con, another reason to look forward to April.