February 16th, 2014 Posted by Gavok
Wrestling company CHIKARA has gone through some interesting stuff in the last nine months. They died and did a rebirth, partially told through a series of YouTube movies that will be shown in its full form in a theater setting in a couple months. So yes, weird.
For Den of Geek US, I've been working on a primer for the Death and Return of CHIKARA angle as told via a who's who of all the players involved. While that should be going up sometime next week or so, there's one part that I felt such joy in writing about and that's Archibald Peck. The time-traveling marching band leader's ridiculous storyline since starting in CHIKARA has been an absolute treasure and even summing up his recent behavior in a couple paragraphs felt wrong. So join me as I go in-depth on the man.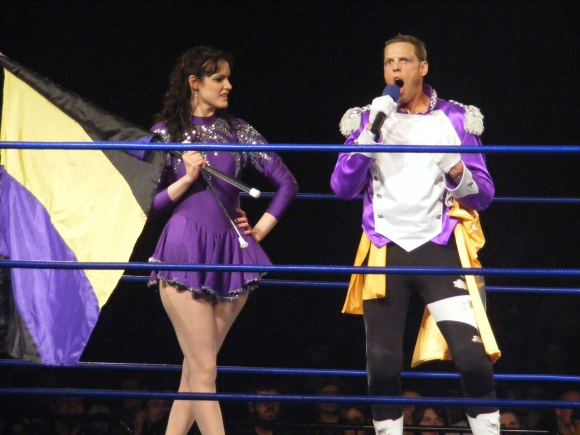 It all started in early 2011. CHIKARA started releasing videos hyping up that the Band was coming. The videos acted like this was a major huge deal and included black and white historical footage and the first two seconds of the New World Order theme. The timing here was key. Kevin Nash, Scott Hall and X-Pac, three major members of the nWo, just left TNA, where they called themselves the Band due to rights issues. CHIKARA was about to build up towards its annual King of Trios tournament, so were they really suggesting that Nash, Hall and Pac were on the way to compete? It was possible. Those guys did do a lot of indy appearances. On the other hand, it probably wouldn't have been a good idea in the long run due to their personalities and the fact that only one of them was capable of putting on a decent match at the time.
As it came closer to the debut time, it became a little more apparent that it wasn't going to be the nWo in CHIKARA. Nash just made a big appearance in WWE and Hall was in no condition to compete. Coincidentally, X-Pac would show up at King of Trios a few months later as the 1-2-3 Kid, but the whole "Band is coming!" thing was just a red herring. The band was really Archibald Peck and his majorette Veronica.
It usually takes people months to pick up on how they're "Archie and Veronica."