September 11th, 2012 Posted by Gavok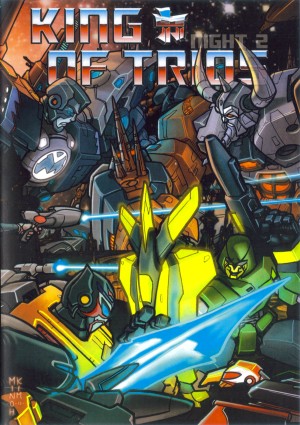 King of Trios 2011: Night 2
You may have noticed that King of Trios 2011 has a major Transformers motif going on. There's a reason for that. As it turns out, Mike Quackenbush is good friends with musician Stan Bush, best known as that guy from the Transformers: The Movie soundtrack. His more modernized take on his memorable song "the Touch" is the official theme to King of Trios 2011. As part of that, he got to do a live performance of it at the Fan Conclave.
Also at the Conclave, they had a contest to see who could bodyslam Tursas. Many tried, including both fans and wrestlers, but nobody could do it. All of the sudden, Green Ant marched out and challenged him while wearing American flag Zubaz pants and a fanny pack. The two got in a scuffle and Green Ant briefly held him up. Before he could do anything, Jakob clipped Green Ant's knee and Tursas crushed him. The rest of the Colony ran into the ring and Tursas backed off… for now.
Match 1
Archibald Peck vs. ???
A little background on Archibald Peck. In the months leading up to King of Trios, CHIKARA started showing these videos on YouTube about how "the Band" is coming. The videos acted like it would be this major event with a split-second sample from the nWo theme song. As it turns out, the Band is the name for the former nWo guys in TNA. That led to speculation. Would CHIKARA really have a team of Kevin Nash, Scott Hall and Sean Waltman show up in King of Trios, let alone at all? Would that be a disaster of epic proportions? Well, that didn't happen. The Band turned out to be bandleader Marchie Archie and his valet Veronica. If it was someone less entertaining, this would have fallen flat. Luckily, while Archie isn't the real Band, he is the real deal.
He's announced an open challenge against anyone in the back. He comes out to a marching band cover of "Any Way You Want it" by Journey and, much like the nWo, starts his promo with a survey. What month is it? April? No. It's irrelevant because as long as Archie and Veronica are around, it's always MARCH MADNESS! A taker to his challenge shows up in Colt Cabana. I wonder if he and Matt Classic crossed paths backstage. Archie challenges him to a duel by slapping him across the face with his glove. Colt removes his boot and does the same as to accept.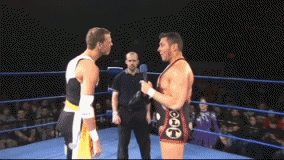 As he tries to put that boot back on, Archie puts him in a headlock. Archie keeps attempting shoulderblocks, but he bounces right off each time. Then in one instance, he stops himself and takes out Colt's feet. After Colt falls, Archie goes around celebrating like he just won the lottery. Maybe twice as long. Colt gets up and knocks him over with another shoulder and does a mock celebration. Archie doesn't take this too well.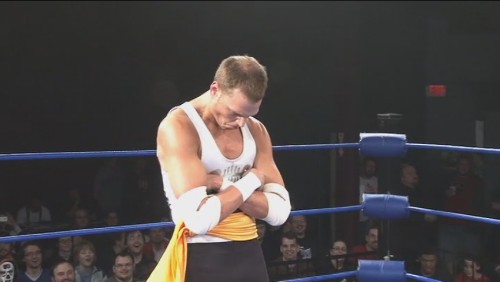 The crowd chants at Colt, "SAY YOU'RE SORRY!" but he refuses. He spends the next few minutes making an absolute fool out of Archie, as if Archie needed the help. Archie gets some offense in there and knocks Colt down. He climbs to the top rope, sees Colt already standing and shouts at him to lay back down so he can do his finishing move. Colt can't believe this and the ref asks him to just humor him. When Archie does jump off the top, Colt gets up and punches him in the stomach. Archie gets some fortune when he kick-shoves Colt so that he hits the corner post shoulder-first. He tries another top-rope diving headbutt and Colt moves out of the way. A minute later he tries yet again and this time lands on Colt's boot. Colt gets up and goes on a rampage of clotheslines and elbows, knocking Archie down again and again. And again. And again. And again and again and again. Archie keeps getting back up only to be knocked down. Colt even stops putting effort into his strikes.
He prepares a Butterfly Suplex and Archie's able to reverse it into a Playmaker. He makes another trip to the top rope and gets crotched. As he's sitting there prone, Colt runs over, jumps and nails him with his posterior. He goes to the top for a superplex and Veronica starts distracting the ref. During this, Archie pulls out a baton and clocks Colt in the skull. Colt goes down, Archie FINALLY lands a diving headbutt and he wins the match.