December 30th, 2013 by
david brothers
| Tags:
sports
,
takehiko inoue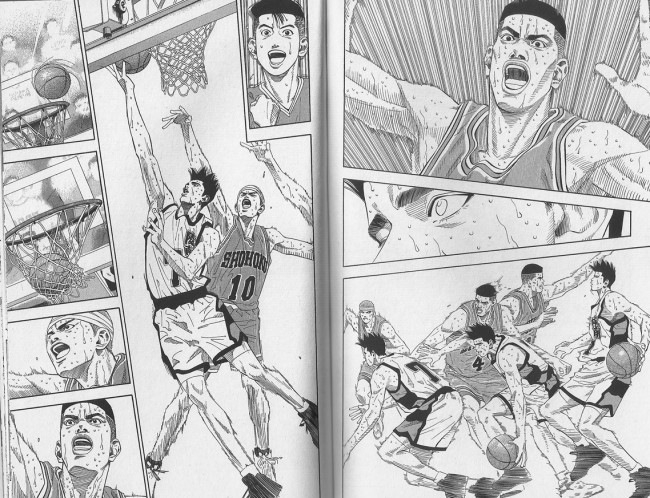 Takehiko Inoue's Slam Dunk (manga
, anime) is basketball. Inoue is a tremendous talent, one of those guys who I always forget is a favorite artist until I trip over his work or am reminded of it. Inoue worked on Slam Dunk from 1990 to 1996, long before he reached the heights he would achieve in Vagabond and Real. It's interesting as a time capsule. There are a couple moments where Inoue's art takes a leap forward, becoming closer to what we're used to seeing from him. I think volume 12 was the first major one, but even the gradual growth is pretty impressive.
There's a story in Slam Dunk, full of cute characters and motivations and things that make for good comics. It's geared toward children, so the bad guys are rarely out-and-out bad. They all have their reasons, and most of them are very good. But what I'm here to talk about isn't stories. I want to talk about basketball.
Part of the reason why Slam Dunk is so good is that it's about the fundamentals. Kuroko's Basketball, the current hit basketball anime, works on magic. The main guy is invisible and racks up dozens of assists per game, other characters have unlikely specialties, and there's generally not much real basketball to be found. It's all right, but it's not real. In Slam Dunk, every character has a skill, but that skill's the result of practice based in real world fundamentals. The main character sucks at basketball, so they make him shoot two thousand shots as practice. Another character may be the greatest one-on-one player in Japan, and it's a direct result of not just his drive, but the fact that he played against his father since he was knee-high all the way up through to high school. He put in the hours and earned the results.
Inoue will explain basketball terminology in the middle of a story, but generally in a natural way. The eyes of players or journalists will widen, they breathe the name of the move that they just witnessed, and break down how and why it works, but only rarely dip into Naruto-style "Here's a few diagrams and charts and exposition." It feels more like commentary than edutainment, but like good sportscasting, you come away from it with new or deepened knowledge.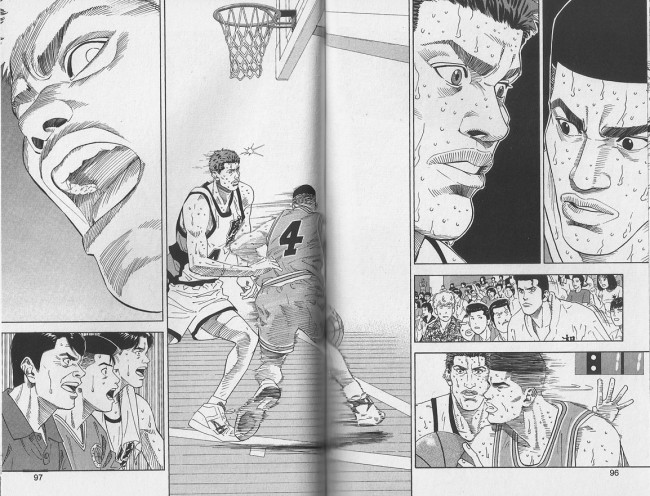 That grounding makes Slam Dunk really enjoyable. Kuroko's isn't bad by any means, but it's not basketball basketball. It doesn't scratch that same itch for me. It's a drama set in a basketball gym, rather than a basketball drama. Slam Dunk is all ball. The realism makes the cartoonier aspects work, because you've already bought in. It feels like the real thing.
I'm knee-deep in basketball right now. I was reading Slam Dunk and playing NBA 2k14 before the season started, and now I'm doing both of those, watching NBA games a few times a week, and going to a game a month or so. Next year, I'm going to start going to pickup games with a coworker, because why not?
There is something about that is pleasing, relaxing, stressful, and wonderful. I was watching Hawks @ Cavs on 12/26 while I cooked. I was listening mostly, but the closer they got to the end of the 4th quarter, the more time I spent standing in front of the TV while mixing or waiting out a cooking time. At the last play of the quarter—in a game that I did not bet money on and have no stake in beyond liking the Hawks—I threw my arms up and cheered when Jeff Teague hit a deep three to tie at 108 with 0:04.2 left in OT. I was into it, I was feeling it, and that's a feeling that's worth chasing.
That feeling has levels, too. Slam Dunk is by far the most passive basketball experience, but it's still incredibly deep. The NBA season has narratives and storylines, but they're nothing like the stories in Slam Dunk. Slam Dunk will squeeze tears out of your cold heart when you realize what's at stake for the cast and how bad they want a win. The non-basketball parts, the relationships and history, are lethal when combined with Inoue's storytelling abilities. In real life, it's never so cut-and-dry, which is fine. They're serving different masters.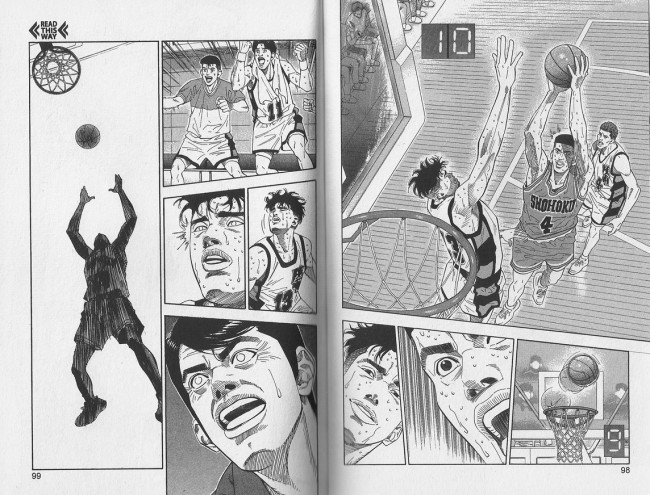 Watching ball is active, especially with friends. You're critiquing the game as it evolves, hoping for your team to come home with a W and maybe a few good highlights you can brag about and watch on youtube or tumblr over and over. You then take that experience to work with you the next day and talk about your favorite plays, like this absurd Iguodala almost-highlight that dominated my day job. The athleticism and acrobatics will stun you in every single game if you let them. I've got an NBA League Pass account, and being able to watch replays on demand is incredible. (Not being able to watch Warriors games live, however, is garbage.)
NBA 2k14 is video game ball, a fantasy land where you can make anything happen, assuming you're good enough. In previous versions of the title, I binged hard on a single mode (create a player, Jordan, Association, whichever appealed) and playing online with a friend. In NBA 2k13, before we called it, I'd won 57 games and the homey won 66. We kept a spreadsheet, too, so I knew that I'd racked up 8489 points to his 8498, and we were both averaging around 69 points per game—69 on the dot for me, 69.098 for him. Keeping track of that stuff changed the game, in a way. The stakes changed from trying to beast him in one game to trying to match him in dozens. That changed how we played, and I think made the games even more interesting and intense for us.
I'm taking it easy in 2k14 this time around, though. I play a few times a week, usually the featured game of the day or whoever the Hawks or Warriors are matching up against that day. (Sometimes I use it for revenge, too.) I'm only dabbling in the Lebron James fantasy mode, and I'm not playing a full season or two in a sports game for the first time since they put seasons into sports games. It's all about will and skill this year, because the AI is punishing enough that if you slip for a quarter, you're going to have to fight to get it back. But it's all about you. It's what you can and cannot do, your own personal talent for fake basketball. You can't re-create things you've seen in real life, but you can get into the ballpark and make highlights of your own. I've been paying closer attention to how the commentary will guide you or subtly suggest tactics or players to focus on. If you pay attention, they can give you vague hints that'll let you turn a game around or avoid a pitfall you keep running into. (I shoot a lot of frustration threes, and the gang is rarely happy about it.)
I can't get enough of basketball, be it drawn, broadcast, or programmed. It's my favorite sport, hands down, at this point. It feels good.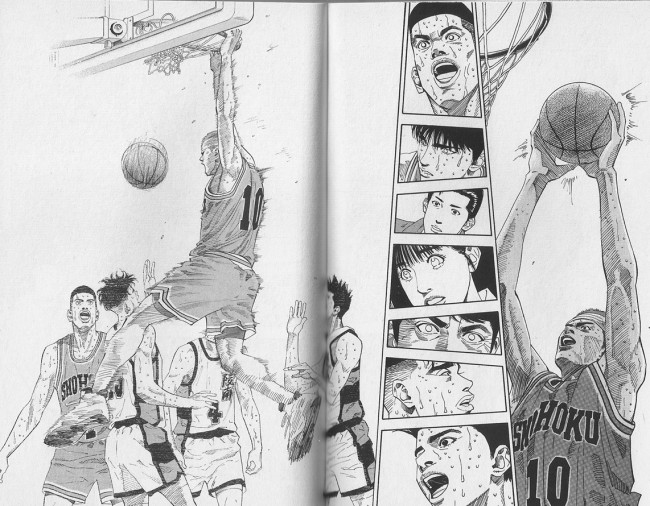 Similar Posts: