February 2nd, 2011 by
david brothers
| Tags:
bhm11
,
jackie ormes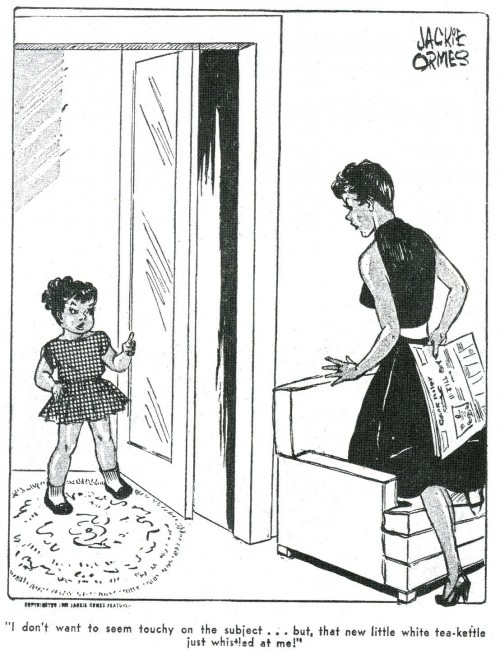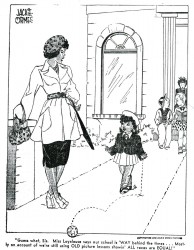 Jackie Ormes
Selected Works:
PattyJo 'n' Ginger
,
Torchy Brown
, but the only thing you'll find in print is
Jackie Ormes: The First African American Woman Cartoonist
by Nancy Goldstein
I don't know half as much about Jackie Ormes as I wish I did. I was introduced to her by Cheryl Lynn and her Ormes Society. This essay by Karen Green helped quite a bit, too. (I also bit the images from there.)
I like that what Ormes represents as a person is reflected in the content of her strips. She slipped a certain level of biting commentary into her work, but coded for people in the know. It's an affirmation that someone else feels the same way you do and has noticed the same things you have. If you've ever been in public and seen something scandalous go down and then lock eyes with someone else and know you're thinking the same thought–that's the feeling I get from the strip about the white tea-kettle whistling at the little girl.
Ormes's work is, for lack of a better phrase, aggressively normal. Part of overcoming a four hundred year head start is proving that you're just as much of a normal person as everyone else. In her strips, black kids are just as smart as white ones, black families are equal to whites, and people do groundbreaking things like "have regular relationships" and "tell jokes." Her work outside of comics reflects that normalcy, too. She had dolls made of her characters, and took part in campaigning for social issues and supporting her community.
Herriman and Ormes are both icons of black comics, as far as I'm concerned. Herriman was there and worked at a point in time where I didn't think there were any black people working in comics, much less legends of the craft. Ormes provides a valuable counterpoint to the frankly crap portrayal of blacks in mainstream books, in addition to emphasizing the normalcy of black citizens. I just wish more of her work was in print, but that doesn't seem too likely.
Similar Posts: