March 24th, 2010 by
david brothers
| Tags:
blogosphere
,
chad nevett
,
Five Years Gone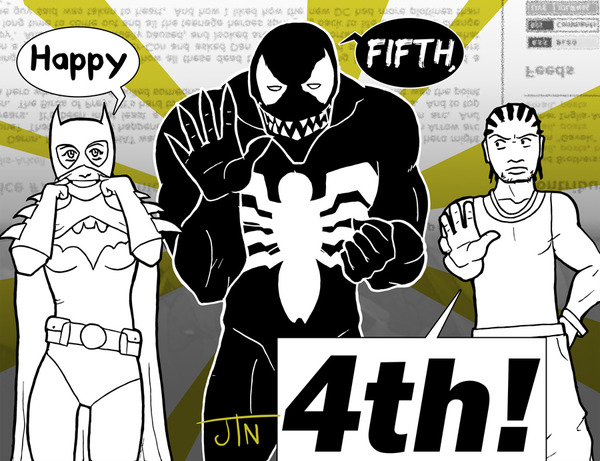 Chad Nevett
had the good idea to do some kind of team-up for our fifth blogging anniversaries. We ended up doing an informal chat, going over our respective histories, approaches, and various things related to blogging. I think we both like to talk, because it ended up being pretty huge. Hopefully it's interesting, too, in that "two guys talking about each other and themselves" sort of way. I liked doing it, hopefully you like reading it.
The image up top comes from Jordan T Neves, a reader who shot that over to me on Twitter a couple weeks ago. Thanks Jordan! Check out his site (with sketchaday) or his twitter.
On with the bloggers talking about blogging! There are going to be several parts spread between 4l! and Chad's site over the next few days, each in relatively easy to manage chunks. I'll update this with links as we go along. Chad's piece should be up later today.
---
Chad Nevett: I guess we should begin at the beginning… February and March 2005. Where were you at the time, what were you doing, and why did you begin a blog?
David Brothers: I'd have to push back to January 2005, when I started Guerilla Grodd. Or actually, a few months prior is the true secret origin of 4thletter!. I'd spent the past couple years making side money reviewing video games for a fistful of websites while sleeping my way through state school. I noticed that a comics site had an open call for reviewers. I figured, hey- I can do this for video games, why not comics? I picked JLA Classified #1 (a Grant Morrison and Ed McGuinness piece), wrote a review, and mailed it off. I never heard back, or maybe I didn't wait to hear back, and posted it on a brand new Livejournal account.
Basically, I began a blog just because I could. Why not, right? After a couple months and 54 posts doing brief reviews, a couple of analytical pieces on the first two Grant Morrison and Cameron Stewart's Seaguy (which remain unfinished, but are still online), and some pretty basic and personality-less linkblogging, I bought a domain, moved the site over to Blogspot, and christened it 4thletter! because I'm an unbelievable narcissist. I drafted Gavin "Gavok" Jasper and Thomas "Wanderer" Wilde, old e-friends of mine, to help out and we took off running.
Kinda. We made 50-some posts between March and late September, mostly courtesy of me and Gav, before petering out. But, it was enough to build a small fanbase as a foundation and kind of get our legs under us, comics blogging-wise. I put down some money on a server in November and launched all over again.
What about you? I feel like I was a Millarworld poster/reader/lurker (now reformed) back when Graphicontent first launched. I know that I was aware of it back when I started writing about comics. Did I imagine the Millarworld connection?
CN: Nope, I am a Millarworld alum… if you can call it that. GraphiContent began with myself and another Millarworld poster, vacuumboy aka Steve Higgins. We, in our naive way, were bemoaning the lack of intelligent blogs about comics and decided to start our own. If you read the GraphiContent missions statement that I wrote for the blog's launch, you can cringe with me. Some big goals and high ideals brought about by not knowing what else was out there (though, there was a lot less then, I believe). At the time, I was in my third year of my undergrad at the University of Western Ontario, earning a combined honors BA in English and political science, and, oddly, looking for anything to do outside of school. I was also writing for the school paper and felt pretty confident that I had something to say. Which I did for a couple of posts on Marvel Boy and Codeflesh with the odd 'snippet' thrown in. Sometime near the beginning, Steve and I recruited a few others to join, but that didn't really increase our output and the blog remained pretty unused for a couple of years as my life got a little busier with school and being an editor at the school paper.
Things didn't really pick up again until the fall of 2006 when I moved out of my parents' house and a couple of hours away to Windsor to get my master's. Being in a strange city resulted in me needing to fill time a bit more, so I began writing about the trades and random issues I got at the school's bookstore, which slowly became writing about all of the comics I bought and my opinions on various developments in the industry. And slowly building back a readership after so much time giving them no reason to visit us. Around this time, I officially made the blog just Steve and myself with me doing the bulk of the posts. I don't know how, but people slowly noticed that I was alive and I began making nice with others like Tim Callahan… the rest, as they say, is history.
I find it funny that both of us went the groupblog route and maintain that mentality now. Why did you get others to join you? Why not just go it alone? And when did Esther join?
Continued over at Chad's spot!
Similar Posts: