November 23rd, 2009 by
david brothers
| Tags:
manga
,
reviews
,
tekken
,
Video Games
Tekken 6 came out on PS3 and 360 a while back (and is forty-four bucks on Amazon right now and totally worth the purchase
) and captivated my attention, just like the five prior games did. The fighting, the Barbie to the nth level dress-up/customization stuff… half of the games I play online with friends are all about how awesome that bit of hair you put on that character is, where did you get that? And that skirt, whoo! Way to go!
(It's like playing with dolls, only they fight.)
The thing with Tekken, though, is that its story is dumb. It has a space alien/ancient Japanese ninja who looks like a bug, a bear who takes over a corporation, a kangaroo that gets divorced and that kangaroo's son who goes on a quest to find his deadbeat father, and a series of people being thrown into volcanos, off cliffs, and into space so that someone else can become president of Mishima Corp. Everything is treated as having happened, including the dumbest "I had a secret twin all along!" twist I've seen in my entire life.
It would work very well as a comic, and luckily, Japan is on top of things. Ultra Jump, a spinoff of Shonen Jump, has an online arm called Ultra Jump Egg. And on Ultra Jump Egg is… TekkenComic, a Tekken manga by Rui Takato (author of Scape-God, summaries available here), produced for Tekken's 15th anniversary and Ultra Jump's 20th.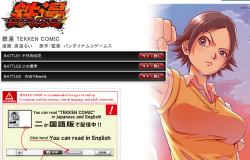 The twist is that it's also available in English, which is new and neat. Pressing a button overlays English text over the Japanese balloons. It's a little punctuation starved, save for… ellipses, and the font could scale better, but it reads pretty well. And it's funny. It opens on the story of Paul Phoenix, who, along with Steve Fox and Marshall Law, have entered the King of Iron Fist Tournament to cheat their way to the ten million yen.
The comic has three chapters up (of three?) and it's pretty entertaining. The shower scene is kind of gratuitous, and I hadn't realized exactly how much of a stereotypical anime girl Asuka Kazama was before now (all she needs is a magically appearing hammer). Despite that, Lili as Schoolgirl Imperialist really, really works. And I dug Leo's brief interlude, too. Considering the last page of Battle 03, if this is an ongoing thing (and some 4l! reader with Japanese language skills please let me know!) I'll tune in once a week. It's just as delightfully dumb as the game's story, which may well be the anti-pull quote of all anti-pull quotes, but I like it. Maybe Viz will license it and put it out over here?
Fair warning, though. Battle 03 is basically frilly panty heaven. Or maybe hell, depending on who you are and where you work.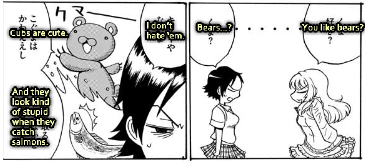 Similar Posts: